If you are one of the more than 43 million women that suffer from painful menstrual cramps a TENS unit is a safe and medication free way to get quick pain relief. Keep reading to find out where to place the electrode pads.
TENS Unit Placement for Menstrual Cramps
The placement of the electrode pad will be important. You want to focus the electrode pad around the pain. From researching various placements many women seem to get pain relief from the following placement: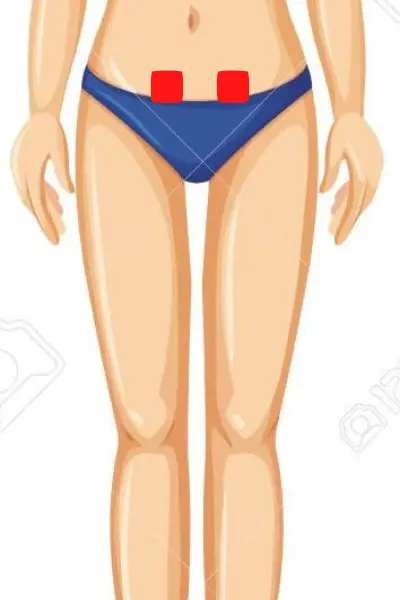 Place the electrode pads just about the pelvic region. As you can see the electrode pads are placed about an inch or two apart from one another.
Make sure to firmly press on the electrode pad to ensure a good seal with the skin in order for the TENS unit to deliver consistent pulses.
You can experiment with the placement a little to target where the pain is worse. Start off on the lowest setting and slowly increase until you feel a firm pulsating feeling.
As far as what mode or setting to use it will depend on the type of TENS unit. Choose a setting that delivers a pulsating or wave for best results.
To read more about what type of settings are best check out my article: How High Should I Set My TENS Unit?
Lower back pain is common with menstrual cramps. You can also use a TENS unit to get relief from back pain. See below for the proper placement: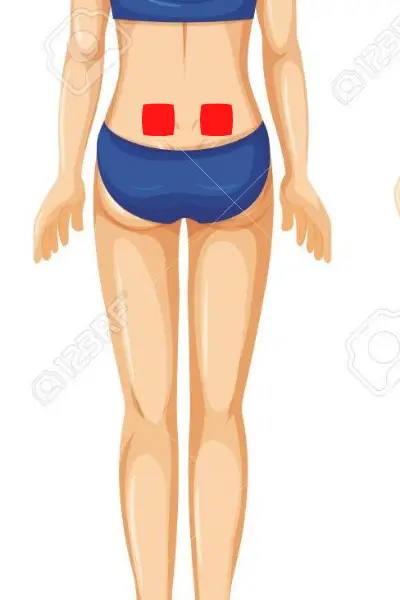 Is It Safe To Use A TENS Unit For Menstrual Cramps?
Yes. Using a TENS unit is safe and an effective way to get pain relief from menstrual cramps and a list of other ailments. When using a TENS unit here are 5 tips to make sure your getting the most out of your TENS unit:
Never place the electrode pad on broken skin as repeated TENS use will result in discomfort.
Make sure to first clean the area where you will be placing the electrode pads. Removing any oils/dirt from the skin will allow the TENS pads to adhere to the skin better. Also the TENS pad will last longer.
Always start on the lowest TENS setting and slowly increase the strength until you get a gentle pulsating feeling. If you start feeling any discomfort or pain turn down the setting
Keep the electrode pads about 1 inch from each other when placing them on the desired area
To get effective pain relief use the TENS unit for about 20-30 minutes per session. You can use the device multiple times a day.
Does a TENS Unit Work On Menstrual Cramps?
Lets look at this study here from the National Institute of Health. They conducted a study on the effectiveness of TENS units ability to provide pain relief from menstrual cramps. You can read the full study here but below are the highlights:
One of the noninvasive treatment methods is transcutaneous electrical nerve stimulation (TENS) that delivers electrical currents through the skin. High-frequency (HF) TENS was demonstrated to be effective in reducing menstrual pain in a 2002 Cochrane review of seven previously published studies by Proctor et al4 This review was updated in 2009 without the addition of new studies.4 Since the 2009 update,4 six new trials had been published that further support HF TENS as an effective treatment modality for PD.
The results of previous studies demonstrated the positive effects of TENS in reducing pain and related Primary dysmenorrhea symptoms (menstrual cramps), the improvement of the quality of life, and the decreased use of additional analgesics.
So using a TENS unit reduces pain and more importantly decreases the need for over the counter pain medications. They are affordable and easily purchased online or at a pharmacy with no prescription needed. When your looking at TENS units make sure that they have been FDA approved.
Best TENS Unit For Menstrual Cramps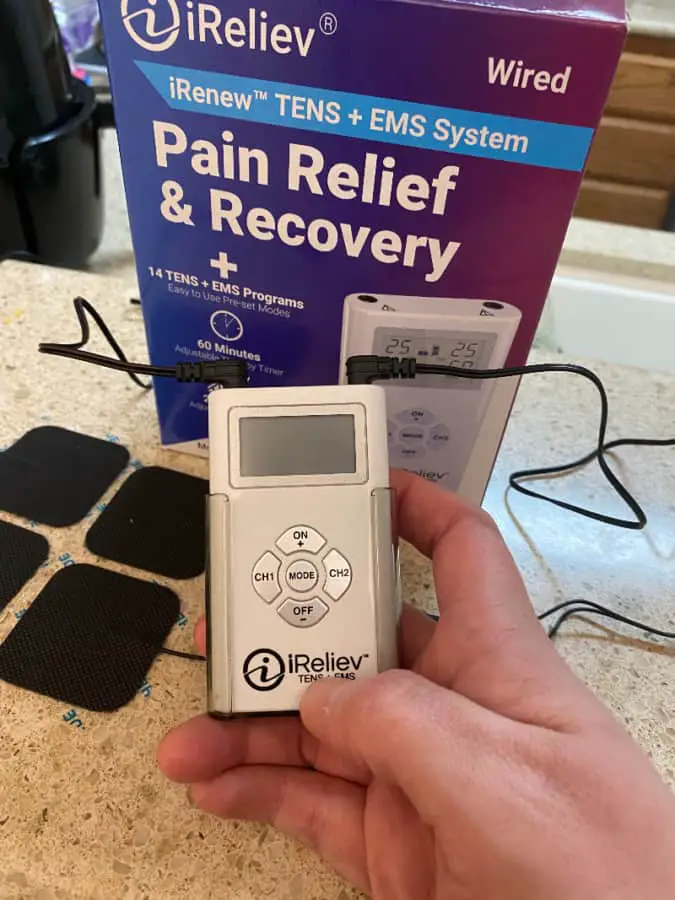 I primarily purchase TENS unit devices online from iReliev. Their devices are FDA approved and the company is based in Dallas, Texas. If your needing a TENS unit check them out here. The iReliev is a great little device and has a lot going for it. It is well under $80 and has several programs to choose from and is small enough to fit in your pocket.
You do not need to spend hundreds of dollars to get a quality TENS unit and iReliev gives you a ton of value for the price being paid. Best part is they have phenomenal customer service FREE shipping and delivery in less than 5 days.
Get yours today on the iReliev website by clicking here. 
Want to know where a TENS unit can be placed?  Check out my TENS placement guide here. Below are a few common TENS electrode pad placements: