Finding an effective arthritis treatment is essential for 23% of American adults currently living with some form of arthritis. A transcutaneous electrical nerve stimulation (TENS) unit may help alleviate pain associated with arthritis, but with hundreds of models from which to choose, it can be a challenge to pick the right one.
So, what is the best TENS unit for arthritis? We found that the NURSAL unit was the best overall model, as it's effective, affordable, and chock-full of practical accessories. The budget-friendly Ohuhu unit is also a fantastic option, and users who long for an upgraded model can always opt for the Massage Therapy Concepts unit.
This review will explore all three of these TENS units in explicit detail, allowing you to make an informed purchasing decision without spending hours on research. We'll discuss crucial features and aspects to consider, including battery life, ease of use, mode options, and included accessories.
Best TENS Unit for Arthritis Reddit
When it comes to the NURSAL TENS Unit, you'd be hard-pressed to find a more affordable, effective, and convenient arthritis-relieving TENS device. The fact that this model also comes with a wide range of accessories, including an excellent selection of reusable pads, also sweetens the deal.
This unit is about the same size as a credit card. In addition, it only weighs about 12 ounces, which is lighter than the average handheld TENS unit. To ensure that users don't accidentally lose the unit, NURSAL includes a nifty drawstring storage pouch that's just large enough to hold everything you'll need, including:
The display unit
The USB charging cable and wall outlet adapter
The 8 included electrode pads
The handheld display/operation device has a nicely backlit screen and large, easy-to-read icons. Users can view the battery percentage, timer setting, chosen program, and level of strength. If you'd like to adjust any of these settings, you only need to press one of the four directional buttons below the screen.
There are six different types of programs that users can choose from, and these groups are represented by the six circles on the screen. Users can choose among the following types of treatments:
Kneading. There are four different kinds of kneading available within this group. Each one focuses on the hands, with crosscut fist kneading and vertical fist kneading being the two TENS treatments. However, users can also choose to try the two EMS options.
Shiatsu-Deep. Both of the therapies within this category are EMS functions, but that doesn't make them any less effective at helping users relax and find comfort. Within this circle, you could choose to either try the Thai massage or the Shiatsu massage.
Tapping. Both of the treatments included within this group are fantastic examples of TENS therapy. Users can choose between a vibrating manipulation and a lifting-pinching manipulation, both of which are designed to treat the shoulder area.
Cupping. While no TENS unit can perfectly replicate the sensation and benefits of cupping, they can get fairly close. If you decide to try the cupping mode, you'll have three treatment options from which to choose. There are rubbing reduction and fibrillation massage modes, in addition to a basic cupping option.
Acupuncture. The acupuncture kneading therapy is technically an EMS function, but the moxibustion and acupuncture options are purely TENS. Again, while it's impossible for a TENS unit to accurately replicate an authentic acupuncture experience, it can produce similar benefits within the treated muscle and tissue.
Auto-Combination. There are two auto-combination modes from which to choose. There's a TENS combo mode and an EMS combo mode. For those looking to enjoy a full-body therapeutic experience, this mode may be the most beneficial option.
The NURSAL TENS unit contains a non-replaceable, rechargeable lithium battery. To charge, you need only connect the handheld display unit to the USB charger cable and insert the USB adapter into a powered PC or USB outlet. A completely drained unit may take up to eight hours to fully charge, though most will experience a far faster charging time. At full battery, this model can last for up to 20 hours of continuous use.
Speaking of the number 20, users can choose from among 20 levels of strength, allowing for perfectly customized treatment. Rather than struggling with an overpowered unit, or an ineffectively weak one, this model allows you to find the perfect settings for your arthritis relief needs.
When you order this TENS unit, you get a set of multi-sized adhesive pads. There are eight pads in total (two large, four medium, and two small), and though they are disposable, they can also last multiple uses before losing their stickiness. The gel adhesive on the pads is latex-free, making them an excellent option for those skin allergies and sensitivities.
For maximum ease of use and enjoyment, you can set the NURSAL TENS unit to a specific time limit. This way, you can close your eyes and relax while the unit goes to work. Timer options include 10, 20, 30, 40, or 60 minutes. Also, operating this model could not be easier. Users can complete all of the setup steps in as little as two minutes, depending on the areas being treated.
To operate the NURSAL TENS unit effectively, you only need to:
Connect the pads to the lead wires.
Attach electrode pads to the areas you'd like to treat.
Plug the wire adapter into the bottom of the unit.
Turn the unit on.
Adjust to your desired setting.
Press and hold the center button to lock-in the treatment and begin.
Lastly, this unit is backed by a limited lifetime warranty and 1-year money-back guarantee. If, for any reason, you're not completely satisfied by this tiny-yet-powerful device, you can return it. And if you're happy with the NURSAL TENS unit, you can feel confident that it will last a long time. 
Overall, this model is an exceptional option for individuals of all budgets and pain levels. Anyone seeking noninvasive arthritis relief can feel comfortable using the NURSAL TENS unit.
Battery: Rechargeable 
Programmed Modes: 16
Hours of Continuous Use: 20
Included Pads: 8, various sizes
Backlit Screen: Yes
Budget-Friendly Option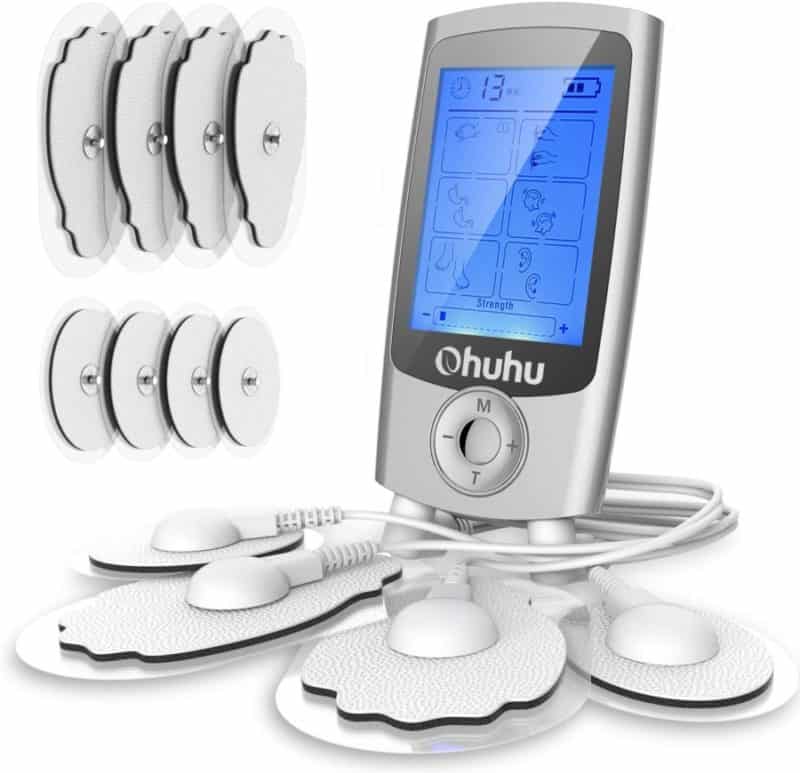 Those looking to enjoy the best possible price on a quality TENS unit may want to consider the Ohuhu model. Though it is a little larger and heftier than comparable units, the benefit of this size increase is a wider, more readable display screen.
And while the Ohuhu TENS unit doesn't come with as many accessories as the NURSAL model, it makes up for this lack of extra with dependability and an excellent assortment of pads. The kit comes with 12 electrode pads, six small and six large. 
It is a little disappointing that they don't offer medium-sized pads, but this can quickly be solved by pairing small pads together. Also, those who experience localized arthritis that only affects a single area of the body may benefit from using a single size of electrode pads. These large or small applications should be placed slightly above, below, or beside the sore region.
The large, backlit display is nearly identical to the NURSAL unit's display, and the 16 pre-programmed modes are shown as six distinct groups. However, while this layout looks eerily similar to the NURSAL model, it has different, distinct labeling.
For example, the six categories for this model include:
Knocking. This category features four spine-focused therapies that are somewhat similar to the "Tapping" category found in the NURSAL unit.
Abdominal Massage. Displayed as two floating stomachs, the abdominal massage group consists of three unique therapies.
Foot Reflexology. This mode features two-foot reflexology programs that target stiffness and soreness in the toes, heels, and bodies of the feet.
Acupuncture. Similar to the NURSAL's acupuncture grouping of programs, Ohuhu's acupuncture setting contains three modes. While this setting won't exactly simulate the feeling of traditional acupuncture, it gets fairly close.
Ear Massage. This grouping is incredibly rare, and it's not often found in a TENS unit. That's because placing electrodes on your face, neck, and other sensitive areas can be dangerous and uncomfortable. Placing electrodes too near your ears could cause damage to your eardrum, so this setting may be best left unused, which is a shame.
Brain Massage. Like the ear massage function, this group of programs is misleading and potentially dangerous. That's because no one, for any reason, should place electrode pads on their head, ears, or neck. 
Best TENS Unit for Arthritis Reddit (2022)
And like the NURSAL model, the Ohuhu unit has 20 levels of strength, so users never feel over or underwhelmed by the unit's strength. Another similarity comes in the form of reusability, as the adhesive pads can be used multiple times. 
However, unlike in our favorite unit, this budget pick allows for dual usage. That means that two people can enjoy the benefits of TENS treatment at once. Still, this attractive feature does have an immediate drawback. If you do decide to use both ports at once, the dual users must agree on a shared intensity level, which is simply not possible for most users.
Still, the Ohuhu unit is far from perfect. Besides the two virtually unusable program groups, this model's greatest downside may be its lackluster battery life. Though it does feature a lithium battery, it doesn't hold an impressive or long-lasting charge. At most, the Ohuhu TENS unit can only operate for ten consecutive hours. 
This relatively low battery life makes the timer feature slightly less attractive. And while this model has an automatic shut-off mode, those hoping to take a nap during treatment may be disappointed to find out that their device turned itself off after the first hour. So, though the Ohuhu unit is wallet-friendly, it's not the best option for everyone, and it may be better to simply invest a little more and enjoy the security and practicality of an upgraded model.
Battery: Rechargeable 
Programmed Modes: 16
Hours of Continuous Use: 10
Included Pads: 12, two sizes
Backlit Screen: Yes
Get an Upgrade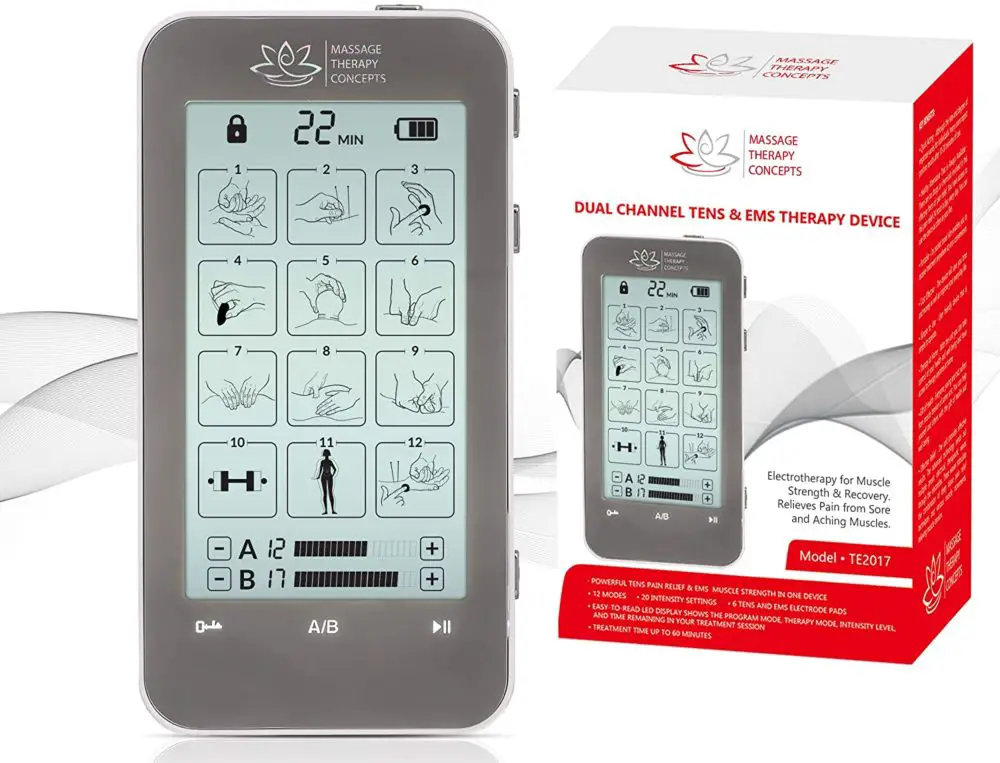 If you're looking for the ultimate TENS/EMS unit for arthritis and you're willing to dole out the extra dough, look no further than the Massage Therapy Concepts TENS/EMS unit. This model isn't dramatically more expensive than the two previous units, though there are additional costs to consider when purchasing this TENS device.
For starters, this model only comes with six pads (small, large, and extra-large), and their adhesive qualities aren't very impressive. This means that prospective buyers will want to order a set of replacement snap connector electrode pads while purchasing this unit. Depending on the exact brand and amount of pads purchased, this may greatly inflate the total price.
Still, these disadvantages are far outweighed and outnumbered by the Massage Therapy Concepts unit's benefits. Upon first glance, you could easily confuse this device with a smartphone. It is sleek-yet-substantial and features an intuitive display and touchscreen operating system. 
Each mode is clearly labeled with a number and small, representative icon, allowing users to quickly and easily select their desired program. And while it does have a smaller selection of modes and programs than comparable models, choosing to do so also simplifies the entire process and ensures that the device performs at ideal standards.
After all, the Ohuhu unit may have more modes, but nearly ⅓ of them are completely inoperable due to safety reasons. It is better to have fewer modes that are of high quality than to have tons that are potentially dangerous. Yet, this model does share one feature in common with our budget pick. It offers dual usage.
However, unlike the Ohuhu, users can specify their preferred intensity. That way, Person A can enjoy their low-level therapies, and Person B can experience more intense treatments, all at the same time. And while this practice would quickly drain the internal battery of most handheld TENS units, this is not the case for the Massage Therapy Concepts model.
The battery life is astounding and may take several days to fully drain. However, this device can go from dead to fully-charged in as little as four hours, especially when users choose to charge via the AC/DC adapter. Using the USB charger is just as straightforward, but it's likely to take slightly longer.
In addition to the multiple charging cables, there are a few other nifty accessories included with this unit. The pads holder is practical and can help keep your pads safe and clean. But the acupuncture points chart is thoughtful, educational, and a very nice overall touch. 
Like most other handheld TENS units, this model has a timer setting that functions within 10-minute intervals. The maximum session timing is 60 minutes. Within that time frame, you could enjoy about half of this unit's programs. And it's important to note that the Massage Therapy Concepts unit has some of the most effective and ingenious program options out of any other home TENS unit.
This model's 12 programs are:
Tui Na. This mode simulates a type of ancient Chinese massage. It's most often applied to the neck, hands, and shoulders and may help relieve pain associated with sciatica and arthritis.
Acupuncture. The included acupuncture chart can definitely help with this mode. The electrodes produce sharp, direct shocks to replicate the feel and benefits of acupuncture.
Tapping. The tapping program can help relax muscles in the back, legs, and shoulders. However, it is a generally more intense experience.
Gua Sha. This mode is meant to be used on the abdomen, lower back, and chest regions. It should only be used on lower intensity settings to reduce health risks. 
Cupping. Traditional cupping helps to contract the muscles, and this mode does the same. By forcibly making sore muscles contract, you can help them to eventually relax, reducing painful sensations.
Shiatsu. A peaceful massage experience that promotes mental and physical relaxation.
Pressure. This program is designed to target deeper layers of muscle, making it an ideal option for those experiencing lower back pain or thigh soreness.
Back Pain. As the name of this mode suggests, users should choose this option when dealing with lower back pain. It may increase circulation, allowing muscles to heal and unclench.
Deep Tissue Massage. If you combined the Pressure mode with the Shiatsu mode, you'd end up with the Deep Tissue Massage program. While effective, this option could be too intense for some users, so it's important to experiment at low-intensity levels during the first several uses.
Body Building. The EMS functions included in this device are fantastic for helping bodybuilders achieve a more toned look. 
Weight Loss. This mode is technically a combination of many modes, including acupuncture. It is a more targeted toning program that can help users achieve a healthier, more fit look and feel.
Combination. The combination option is best-suited for those looking for the maximum amount of relaxation. With a wide range of massage types, it's difficult not to fully enjoy this final mode.
There's no doubt that this model is the ultimate upgrade for those looking for a sleek, efficient, and easy-to-use handheld TENS unit. 
Battery: Rechargeable 
Programmed Modes: 12
Hours of Continuous Use: 20+
Included Pads: 6, various sizes
Backlit Screen: Yes
Final Thoughts
If you're suffering from arthritis of any kind, including rheumatoid arthritis, a TENS unit may help relieve painful symptoms. With less pain, you'll be able to better enjoy your favorite hobbies and activities. Still, if you are pregnant or epileptic, you should not use a TENS unit or any other device that emits an electrical impulse. The same goes for individuals with heart issues or pacemakers. 
Those who are able to appreciate the benefits of a TENS unit will find that there are several quality options from which to choose. We appreciate the NURSAL TENS unit for its effectiveness, affordability, and included components, and the Ohuhu unit is a great budget-friendly alternative. For those willing to invest a little more and upgrade, the Massage Therapy Concepts TENS model might be the best option.
Though the final purchasing decision relies on your budget and preferences, hopefully, this review has given you an excellent place to start.
Sources