Approximately 80% of adults will experience some form of back pain during their lives. Transcutaneous electrical nerve stimulation (TENS) may help lessen the severity and occurrence of chronic or acute back pain. But choosing the best unit for back discomfort can be a real pain. 
We think that the best TENS unit for back pain is the iReliev Premium TENS + EMS Therapeutic Wearable System. And while the TENS Unit Pain Relief System is an affordable option, the most upgrade-worthy model is the iReliev TENS + EMS Pain Relief & Recovery System. 
This article will delve into the features, benefits, and drawbacks of each of these units and explore some of the potential advantages of using a TENS unit. We'll also address some of the most frequently asked questions regarding nerve stimulation for back pain relief. 
Our Favorite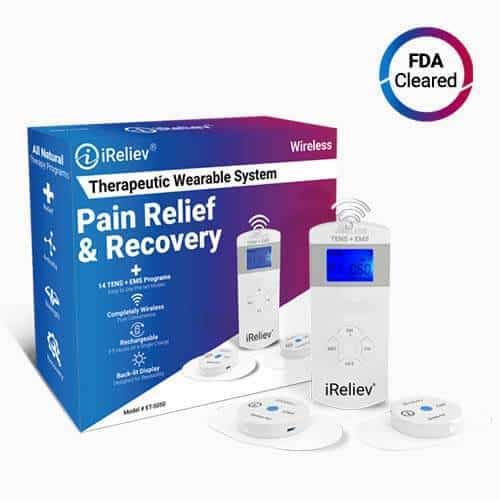 We thoroughly believe that the best TENS unit for back pain is the iReliev Premium TENS + EMS System. It has a wide selection of both TENS therapies and EMS treatments, but it's also great for all-day wearable pain relief. This may be the model for you if you're looking to reduce pain and improve muscle strength. 
Many wireless TENS units have complicated control systems, but that's not the case for this device. Its easy-to-use design and multiple channel allowance ensure that users have access to a wide range of therapeutic TENS and EMS therapies. Using this unit is as simple as snapping-on the receiver pods, turning the remote on, adjusting the settings, and relaxing. 
This model may come with just two electrode pads, but these two pads are quite large and perfectly capable of providing effective back pain relief. These pads have an adhesive-covered bottom that can readily secure to clean skin. And, the included receiving pods simply snap onto them to generate electrical impulses, making set-up incredibly quick and easy.
This system can function wirelessly by transmitting the receiving pod's power, with work in tandem with the wireless remote. These pods must be attached to pre-arranged electrode pads to function correctly, and surprisingly, their weight doesn't encumber the wearer. These transmitting/receiving units are easily wearable beneath light, roomy clothing. 
One of the most distinctive aspects of the Wearable System, besides its effectiveness, is its charging cable. The majority of charging cables have only a single device adapter, but the one included in this set has three device adapters. This ensures that users can load multiple components simultaneously, which is a practical and thoughtful touch. 
Another unique design benefit included in the Wearable System is the fantastically fast charging time. The receiver pods take as little as an hour and a half to fully charge, and the wireless remote typically charges in about three hours. The result is a TENS/EMS system that won't quit and can stand up to all-day usage.
But when internal batteries begin to lose power, the components will let you know in a few various ways. Firstly, the receiver pods will flash a bright blue light to warn users that they're about to shut down. Secondly, they'll emit a vibrant orange light while charging to signify that it's not fully charged yet. 
And finally, the indicator will turn gray when charging is complete. While the remote doesn't display the same kind of battery indicator, it does alert users when energy is beginning to run low. This is where the display screen comes in handy, and it also shows users a special battery icon when charging is complete, which is incredibly useful.
Even if it isn't related to battery usage, another fantastic light feature can be found on the screen. The display screen is fully lit and easily readable in any environment. There's quite a lot of information users can view on this screen, including: 
The time remaining during an active session
The set timer amount for a session
The set intensity level
The wireless connection status
The set program number
Users can control these settings by using the directional buttons located beneath the display screen. There's an ON/increase button, a program set button, a channel key, and an OFF/decrease button, and each one is clearly labeled for owner convenience. 
This system offers a selection of both TENS and EMS therapies, which is an excellent feature for anyone with back pain. This is especially true of active individuals or athletes who experience consistent muscle soreness or tightness. That's because while TENS therapies help reduce pain levels, EMS therapies help strengthen, tone, and facilitate the healing process of muscles.
The iReliev Wearable System includes some excellent pain-relieving programs, including but not limited to: 
Six TENS therapies for various levels of chronic pain
A specialized TENS program for arthritis-related pain
A unique burst-mode program for acute pain
You may want to check out this model's Output Mode guide for more information on available programs and program usage. Still, it's challenging to find a more effective TENS/EMS system that covers so many areas. Thanks to this device's quad channel capability, users can treat several areas at a single time, or large areas (like the upper and lower back) concurrently. 
Want to know how high you should set a TENS unit? Click here
However, if you're determined to make the most of the four channels, you'll definitely want to purchase more receiving pods and electrode pads. That's because this system only comes with two of each of those components. Still, ordering replacement pads is something that every TENS unit owner goes through eventually, even though the stickiest pads degrade over time. 
Also, the extra accessories are a surprisingly practical bonus. Take, for example, the hard plastic carrying case and soft tote bag. Both of these items help to keep the wireless remote, receiver pods, and electrode pods safe and in fantastic condition. Besides, they're both stylish. 
When it comes to back pain relief, it's challenging to beat the iReliev Premium Wearable System. There may not be a better at-home TENS/EMS system than this one because of its excellent selection of pain-reducing TENS therapies and practical muscle-strengthening EMS options. 
Battery Type: Rechargeable 
Channels: 4
Wireless: Yes
Included Pads: 2
Programs: 14
EMS: Yes
Budget Pick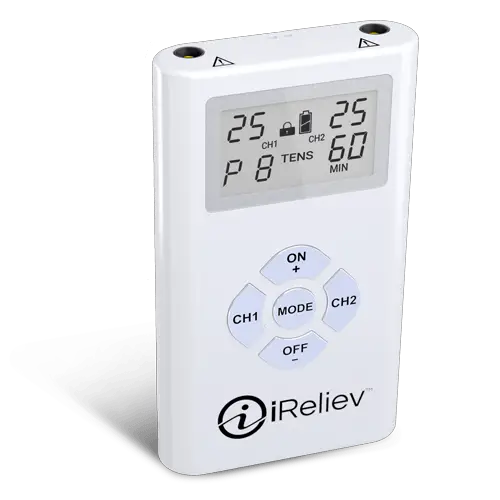 You don't have to break the bank to experience productive and enjoyable TENS unit therapy. The iReliev TENS Unit Pain Relief System is an affordable alternative to the Wearable System. While it doesn't offer any muscle-strengthening EMS programs, its set of TENS therapies is impressive. 
Unlike our favorite model, this option is not rechargeable. Admittedly, this does result in a slightly higher maintenance cost over time. On the other hand, replacing batteries can increase the lifespan of a TENS unit, ensuring that users have a trustworthy therapy device on hand for several years, if not longer. 
Getting free stuff is never something to scoff at, and shoppers could earn four additional electrode pads when they order this model. They may even walk away from the deal with a nifty carrying case as well. iReliev often offers exceptional deals and sales throughout the year so that you could save on this already-affordable TENS unit. 
If you're short on time and you can't afford to wait to make a purchase, that's equally fine. This model is entirely budget-friendly, lightweight, effective, and portable. Its dual channel system ensures better overall coverage during treatment, even if the included electrode pads are quite small. 
Reusability is another factor to take into consideration, as the sticky adhesive found on the bottom of these pads is applicable often. Also, the lead cables that connect the control unit to the pads are pretty long, allowing users to keep the unit in their pockets while they tend to minor errands. However, it's important to note that you should never operate a vehicle while using a TENS unit. 
The battery life on this machine is also an attractive feature, and this model can last months between battery changes. This is partially aided by the automatic shut-off feature that helps to save power. And users who plan to tuck this model away into a free pocket will benefit from the locking mechanism that prevents accidental and potentially damaging button mashing. 
When you add this locking feature with an included belt clip, you have a portable TENS system that can travel with you, no matter where you go. Of course, if you don't feel like donning pants, you can also utilize the soft tote bag that helps to keep components safe and sound. Since you're most likely using this device for back pain relief, the choice of how you'd like to carry it around is all yours.
Need to know where to place a TENS unit? Check out our placement guide here
Despite this model's lack of EMS programs, it has an exquisite range of TENS options for users to try. These are all designed for targeted pain relief, and this unit can treat both chronic and acute back pains. It also has a program for those suffering from arthritis symptoms, and this particular option focuses heavily on cyclical rhythms to stimulate circulation and reduce the sensation of pain. 
However, if you're searching for a TENS unit that also offers an extensive range of EMS therapies, you may feel disappointed after purchasing this model. But the fact that this unit can be used on 11 different regions of the body shouldn't be ignored, as those with back pain may experience some other type of inflammation or discomfort later in life.
During those times, this nifty little device is sure to be a handy, practical, and entirely convenient solution. Still, if you long to choose from a selection of both TENS and EMS therapy options, you may want to opt for the upgraded iReliev TENS + EMS Pain Relief & Recovery System.
Battery Type: Replaceable
Channels: 2
Wireless: No
Included Pads: 8
Modes: 8
EMS: No
Get an Upgrade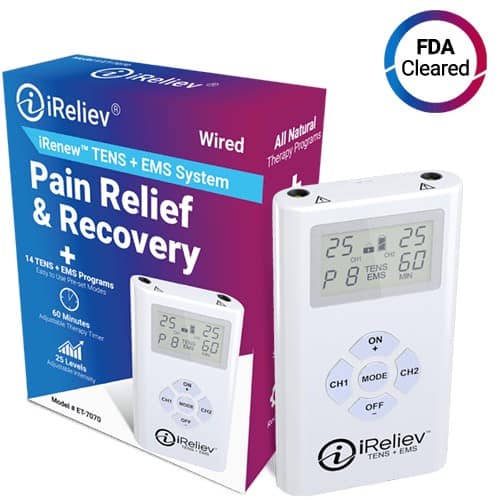 The iReliev TENS + EMS Pain Relief & Recovery System is a unique compromise between the Premium Wearable System and the Pain Relief unit. While it doesn't feature a rechargeable battery or wireless connectivity, it does offer a great selection of both TENS and EMS therapies.
With a total of 14 programs from which to choose, users will never want for a potentially pain-relieving or muscle-soothing therapy option. This system utilizes all of the programs offered in the Pain Relief unit. It expands on them with six EMS functions that range from exercise warm-up therapy to active muscle recovery therapy. 
Another fantastic benefit of this model is how easy it is to use. You only need to attach the adhesive-covered electrode pads, snap the lead cables into them, plug those cables into the control unit, and choose your preferred program and settings.
In terms of settings, you can adjust:
Your session time (five minutes to hour-long periods)
The level of intensity you'd like to experience
Which channel you're accessing
Your preferred program
You can also switch back and forth between TENS therapies and EMS options, allowing for greater user clarity. You'll never wonder if the fifth program is a pain-relieving mode or a muscle-strengthening one with this system. 
Additionally, because this system comes with a belt clip and longer-than-average lead cables, it's an excellent choice for those who'd like to multitask while using their TENS/EMS machine. You could tuck the control unit into your pocket, or strap it to your belt loop. Either way, accidental button-pressing is a thing of the past, thanks to this unit's session-locking feature. 
Need to know how to use a TENS unit for back pain? Click here to learn more.
Those with back pain are bound to appreciate the included large-sized pads. These fit d comfortably over larger body areas, including the lower back, upper back, and shoulder region. Thanks to this model's dual channels, you can use two large pads at once.
If you're serious about experiencing fast back pain relief, but you're not willing to go all-the-way by investing in the wireless Wearable System, this upgrade-worthy model may be just right for you. 
Battery Type: Replaceable
Channels: 2
Wireless: No
Included Pads: 12
Programs: 14
EMS: Yes
Benefits of Using a TENS Unit for Back Pain
TENS has been used to help alleviate specific types of chronic pain since the 1960s. But over the last half-a-century, there has been startlingly little progress made toward understanding how TENS devices work. Sure, we understand the basic mechanical principles of these devices, which is how we can build and replicate them. 
The process by which these machines can manipulate the human perception of pain is still a complete mystery. Consequently, it can be complicated to interpret the benefits of TENS therapy. What may seem like a positive effect associated with TENS may be a completely unrelated effect that happened to surface at an inopportune moment. 
There is an abundance of evidence supporting the idea that TENS devices can increase localized circulation to a treated area. However, the amount of iron or niacin in a person's blood before treatment can significantly skew results, as both of these minerals tend to make the skin feel warm and appear more sanguine. 
The most widely accepted benefit of TENS therapy is a significant reduction in pain, especially during the first several months of treatment. Intensity levels may need to be increased over time to maintain this effect, and TENS therapy is most effective when combined with smart lifestyle choices and low-risk medications.
Frequently Asked Questions
It's perfectly normal to have questions, and that's why we compiled a brief list of some of the most frequently asked questions regarding TENS units and back pain. Please feel free to reach out to the greater medical community for clarification on any matter not addressed below. Safety always comes first. 
Is a TENS Unit Good for Back Pain?
A TENS unit is a popular option for back pain relief and muscle therapy. This is especially true of TENS/EMS devices. Many TENS devices offer specialized programs designed specifically for the back region. 
Because most TENS units also have an adjustable intensity level, users can experiment to find a level and program that best soothes their back pain. However, a TENS/EMS unit may be the best option for individuals with back pain. Often, this pain is the combined result of weak musculature and damaged or pinched nerves.
While the TENS programs can help users find temporary relief from consistent or sudden pain, EMS programs can help to strengthen and soothe tired muscles. Together, both of these types of therapies enhance the effectiveness of the other. They're perfectly functional on their own, but they produce far better results when they work together. 
How Do You Use a TENS Unit for Back Pain?
There are multiple ways that you can use a TENS unit for back pain. Specifically, there is a wide variety of pad placement combinations you could use to achieve a specific type of upper or lower back relief. Still, no matter how many pads you're using, or where on your back you decide to place them, the general process remains the same. 
To use a TENS unit for back pain, you'll need to: 
Attach the sticky electrode pads above, below, or beside the painful area.
Attach any lead cables you need to the electrode pads and the control unit.
Turn the control unit on.
Select your desired program, intensity level, and timer setting.
First-time users should limit themselves to a single 15-minute trial session before jumping into the more intense programs and levels. For the most effective TENS therapy for back pain relief, be sure to set your timer for at least thirty minutes. 
Want to know where a TENS unit can be placed?  Check out my TENS placement guide for lower back pain here.
Using the unit for more than three hours per day could result in sore muscles, reddened skin, and general discomfort. It's crucial not to overdo it, especially when you're just starting TENS therapy and treatment. 
How Often Should You Use a TENS Unit for Back Pain?
How often you should use a TENS unit for back relief depends on several vital factors. Firstly, your type of pain will help dictate the frequency of therapy. If you have chronic pain, you'll benefit from regular treatment. 
But if you're suffering from occasional acute pain, you may want to use your TENS device far less frequently. Most models have specially-designed programs and modes for all types of pain, allowing you to select a personally customized option that meets your needs and recovery plan.
Does a TENS Unit Help With Inflammation?
There is some evidence to support the idea that TENS units help with inflammation, especially joint inflammation. TENS units are commonly used to help treat arthritis and its symptoms, including redness and swelling in the joints. 
Unfortunately, it's still not completely understood how these electrical signals can influence tissue inflammation, but studies concerning this subject are currently active. In the future, we may better understand how TENS affects the healing process and lowers perceived pain levels. 
How Long Do TENS Pads Last?
TENS pads will last up to several months when properly maintained and cared for. The maximum potential lifespan of any disposable pad is half a year, though most will end up wearing out far sooner.
Still, you could follow a few simple steps to lengthen the life of your electrode pads. For example, you could:
Always replace the protective plastic covering before storing used pads.
Always place the protected pads onto the pad holder.
Apply electrode gel or spray to the adhesive side.
Brush or wipe the adhesive side with a damp cloth to remove dirt.
Always read the manufacturer's recommendations and guidelines before cleaning any electrode pads. Doing so could save you from getting a literal shock. 
Where Should You Not Use a TENS Unit?
TENS unit electrode pads are perfectly safe when applied to the majority of the body. However, there are a few places that are entirely out-of-bounds for safety and health reasons. You see, our bodies run on electricity. 
Our brains act like CPUs, and they control nearly every biological system in our bodies. Everything from your heartbeat to your ability to walk is controlled by a vast series of electrical impulses that travel back and forth from your brain to various nerves throughout your body. These signals impart vital, nearly instantaneous information that helps to keep us alive.
Consequently, disrupting those signals is a terrible idea. Doing so can lead to heart failure, loss of brain activity, and death. And because TENS units emit electrical signals, they can be dangerous when they are incorrectly operated. Still, the messages that a TENS or EMS device produces are relatively low-strength, so they're not a threat to most users. 
Still, individuals with heart conditions or pacemakers will want to find an alternative to TENS treatment. The same may be true of some pregnant women, though an obstetrician may advise otherwise. Epileptic individuals must be exceedingly careful with TENS units, or they must avoid them altogether.
The stimulation provided by a TENS unit may cause some epileptic users to seizure violently, and absolute caution is required. If you're not sure if you belong to any of these groups, or if TENS treatment could be a bad experience for you, be sure to speak with your physician. They'll be able to review your current condition and medical history to determine which pain relief option is right for you. 
Can TENS Make Pain Worse?
In rare cases, TENS units can make the pain worse. However, this only happens if users misuse their device or overuse it. Generally speaking, TENS units reduce overall pain; they don't increase it. 
During the first few sessions, especially at the very start of a session, users may experience a strange tingling sensation near the attached pads. Still, this sensation should never be painful. If it is, you need to shut the TENS device off and safely disconnect the electrode pads. 
Some individuals may experience an adverse and potentially painful allergic reaction to an electrode pad's material or gel adhesive, but this happens very rarely. Avoiding latex-based pads may help. Pre-washing the area you intend to treat can also help users avoid unwanted injury or site pain during or after TENS therapy. 
Conclusion
Our favorite TENS unit for back pain is the iReliev Premium TENS + EMS Therapeutic Wearable System. It's a combination of TENS and EMS therapies, wireless capability, and rechargeable battery are all extraordinary features that make this one-of-a-kind. 
The budget-friendly iReliev TENS Unit Pain Relief System is an excellent affordable alternative. While it doesn't offer any EMS programs, it does provide a robust core set of pain-relieving TENS programs. And when you're ready for an upgrade, you can always check out the iReliev TENS + EMS Pain Relief & Recovery System. 
TENS units are still somewhat mysterious, but their abilities are a little more transparent. They can be an excellent solution to powerful and addictive pain relievers, and they're incredibly safe to use. Still, it's crucial to heed critical health warnings, as TENS units are not for everyone. 
However, if you can utilize the healing, pain-reducing benefits of a TENS/EMS device, you just find that daily at-home stimulation changes your life in a massively positive way. 
Sources