The WiTouch pro boasts that it's wireless TENS therapy device is the answer for your lower back pain problem.  When a company makes such a claim it peaked my interest so I decided buy one, test it out and write a review so you can decide if the WiTouch pro lives up to the hype.
I purchased it on Amazon.  If you want to check it out and buy click here. This TENS unit specifically targets lower back pain so if you are looking for it to treat other areas you may want to choose a different device. With that said, this device is a must buy for what it can do: Alleviate lower back pain.  Keep reading to find out why.
What's in the box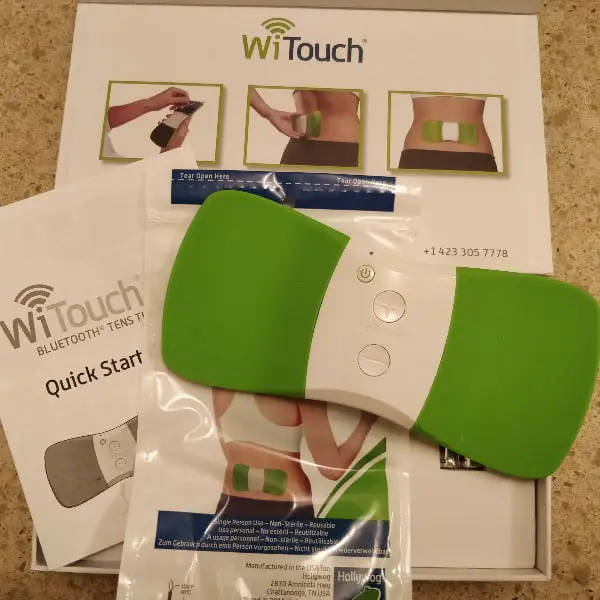 Right off the bat I noticed there isn't much in the box.  This is a good thing.
No wires to untangle and plug in as with traditional TENS units. No USB cord for charging. This device takes AAA batteries (included). Most surprising, no remote to control the TENS unit.
How do you control the TENS device?
From your smartphone.  Just go to your Android or Apple store and download the WiTouch Pro app and install it on your phone. This is the first TENS unit I have owned that is controlled by an app on your smartphone.  More on that later.
You also get 3 pairs of Gel pads that connect to the back of the TENS device. These are very high quality, some of the better gel pads I have seen in any TENS unit.  These will attach directly to the back of the WiTouch unit.
If you need WiTouch TENS gel pad refills for the WiTouch Pro you can get them on Amazon here.
Lastly, you get the instruction manual which goes over some basics.  All you need to do is place the batteries in and download the app. So lets connect this bad boy to our smartphone and see what happens…..
WiTouch Pro app
Once you downloaded the app on your phone connecting the device is a breeze.  Enable bluetooth on your phone and turn on the WiTouch.
Click pair on the app and hold down the +/- buttons at the same time on the TENS unit.  That's all.  It should connect and pair with your phone.
Using the WiTouch Pro
Using the WiTouch Pro is simple and straightforward.  After you connected the device to the WiTouch app on your smartphone, just attach the sticky gel pads to the device.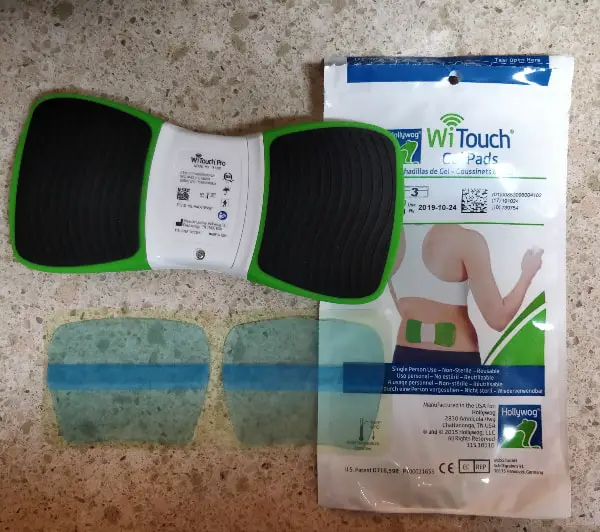 As I said earlier you get 3 pairs of gel pads.  These are very sticky and adhere to the skin well.  The good thing is that when you remove them from your back no residue is left behind.
 Optimize health 365 tip: To get the most life out of your electrode gel pads always do these 2 things:
Use a baby wipe or damp cloth and clean the area of the skin where the pads will be placed. This will remove any dirt and oils that can clog up the electrode pad.
Always put the pads back on the plastic backing.  This will prevent dust, dirt and lint from clogging up the electrode pads.
Do these 2 things and you will easily extend the life the electrode pads.  I get about 25-30 uses from one pair of electrode pads.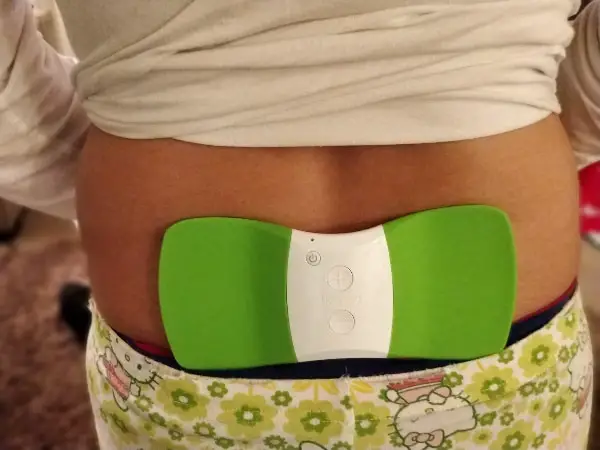 Make sure the device is on and connected to the app on your smartphone. Simply place the TENS device on your lower back.  Use the center of the device and line it up with your spinal columns.
You will notice that there is a gap between each pad. This is done by design as you should never place a TENS unit pad directly onto your spinal cord.
Press firmly and you are all set to run the desired program. You get to choose from 4 different programs:
Low Frequency
High Frequency
Hi-Lo Combo
WiTouch Pro exclusive
Once you select a program you can set the time and the intensity level. When I tested this device I used the low setting and the Hi-Lo combo.
I have to say I was impressed.  This TENS unit is powerful.  I did not go past 6 for intensity level and found the Hi-Lo combo to be the sweet spot.  Everyone is different of course so experiment to find the best setting.
Once I zeroed in on my preferred setting my lower back pain disappeared completely.  
I have tried dozens of TENS units but this one felt different.  The Hi-Lo combo setting delivered a pleasant but strong enough stimulation that it effectively blocked the pain signals from my lower back.  This is well worth the $80 I paid.  It is a bit pricey but it works to alleviate lower back pain.
It is also easy to wear while walking around.  It fits easily underneath a shirt and does not stick out.  I ran a few errands in my car and the WiTouch stayed put.  These gel pads stick like no other.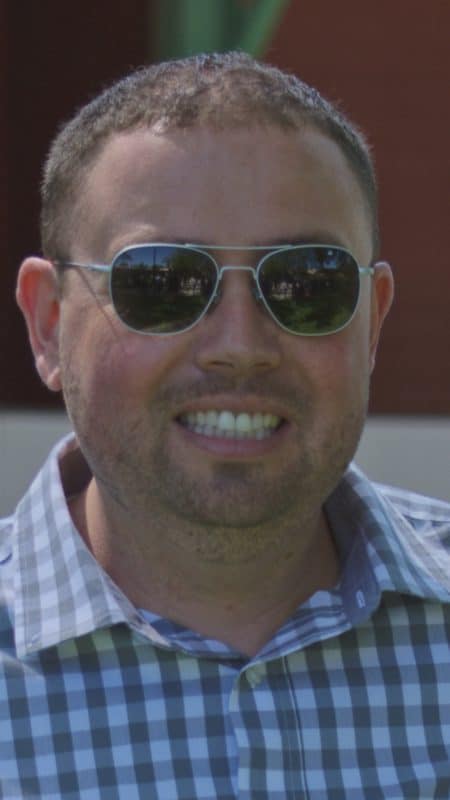 Why should you trust me?
I have extensively used TENS units for neck, shoulder, back and knee issues and became familiar with TENS therapy through countless visits to my chiropractor and physical therapist's office.
I have spent many hours researching and reading how TENS therapy can alleviate pain.
I consider myself knowledgeable in the use of TENS units and have used them regularly to help manage pain over the years.
Many of my recommendations are from firsthand experience/use and hopefully my information can be a benefit to you.
Bottom Line
I was blown away how the WiTouch pro performed in alleviating my lower back pain.  It is super easy to use and connects right away with the smartphone app.  I tested it on an Andoid and Apple phone and there were zero issues with connectivity and being able to use the TENS unit.
The only drawback is that you can only use it on your lower back.  WiTouch recommends the lower back only.  It is a rigid design so you would not be able to use it on your shoulder or other body parts.  So if you are OK with only being able to use it on your lower back then get this unit.
You will not be disappointed.  Click here to buy on Amazon ,since they have the lowest price.
Want to know where else a TENS unit can be placed?  Check out my TENS placement guide here for how to use one for-
Knee Pain
Neck Pain
Shoulder Pain
Tension Headaches
Golfer's Elbow
Plantar Fasciitis
Rotator Cuff Pain
Restless Leg Syndrome
Ulnar Nerve Pain
TMJ Pain
and more!!
Thank you for reading,