Many men will experience some symptoms of erectile dysfunction in their lifetime. Although it is perfectly natural common condition to experience as men age, it is often an embarrassing and uncomfortable for men to suffer from the symptoms of erectile dysfunction (ED).
There are treatment options for erectile dysfunction, including surgeries, injections, and prescription medications. A non invasive treatment option for erectile dysfunction is GAINSWave, a low intensity wave therapy that costs $500 per session.
It's your turn to try The Phoenix for 90 days, risk-free. Use code DRT300, while supplies last to save $300 and protect your investment with a complimentary ProGuard warranty. Don't sleep on this, because we won't be able to offer this pricing forever.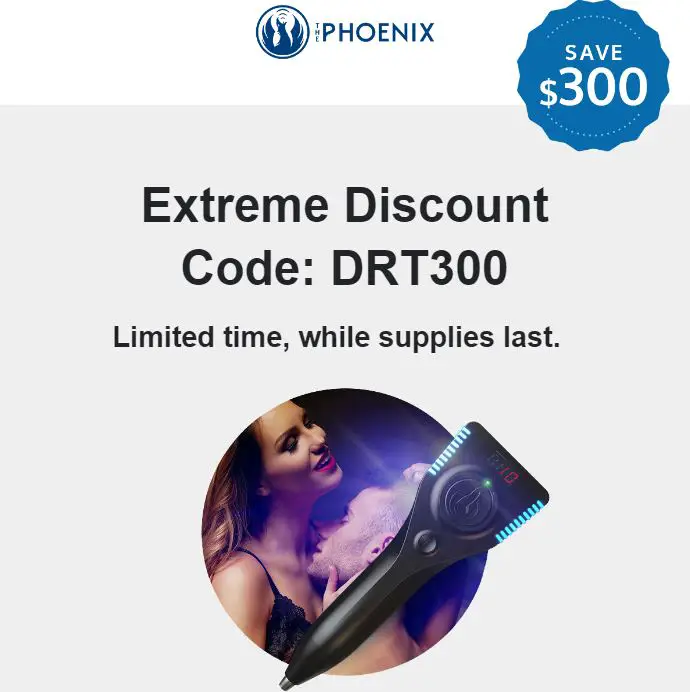 This form of shock wave therapy treats ED by improving blood flow to the penis and creation of new blood vessels. In this article, we will go over the cost of GAINSWave, the purpose of shock wave therapy, how much each procedure costs, whether or not insurance covers erectile dysfunction cost, other therapies, and more.
How Much Do GAINSWave Treatments Cost?
The cost of GAINSWave treatments will vary for each individual. Depending on how many sessions are needed, the price will change accordingly. There is currently not a simple answer regarding the cost of GAINSWave treatments.
GAINSWave cost can also change if multiple sessions are purchased at once. Package-rate discounts and benefits are available to help lower the costs of treatment. Most men will need six treatments to achieve their desired results, so buying multiple sessions at once can get you all the treatments you need for a lower price.
Overall, the price of shockwave therapy will change depending on the needs of each patient. Consulting with a doctor can help you determine if this treatment is right for you and how many sessions you may need.
What Is GAINSWave Treatment Used For?
GAINSWave is a type of low intensity shockwave therapy used to help improve blood flow to the penis to improve sexual performance. Unlike other treatments or medications, GAINSWave is a non invasive treatment designed to deal with the root cause of erectile dysfunction.
This particular form of extracorporeal shockwave therapy uses low intensity sound waves to break down micro plaque buildup inside penis' canals. The benefits of using GAINSWave treatments is stronger erections without the need for surgery or medications. Patients can also continuously maintain GAINSWave results with additional shockwave treatment sessions as needed.
Who Is GAINSWave Therapy For?
An erection occurs when additional blood vessels are directed to the penis due to sexual stimulation. Erectile dysfunction occurs when the necessary increased blood flow does not occur, resulting in a decrease in sexual function.
GAINSWave treatments are for men struggling to maintain blood flow to their penis, resulting in patients struggling to maintain an erection. Other reasons patients may be suffering from erectile dysfunction include the following:
Clogged blood vessels
High blood pressure
Certain diseases or medications
Stress
Depressions
Obesity
Diabetes
Use of illegal drugs
Some of these conditions, such as stress, can be fixed by a change in lifestyle. Other conditions, such as diabetes or clogged blood vessels, may require the help of a doctor. Either way, the use of GAINSWave treatments are meant to help patients' sexual health.
To learn about Peyronie's disease click here.
How Much Is A GAINSWave Procedure?
On average, an indivudual GAINSWave procedure will cost $500 per procedure. Every session has the same cost, including any additional procedures needed for future maintenance.
How Many GAINSWave Treatment Sessions Will I Need To Treat Erectile Dysfunction?
Most men need six sessions or shockwave therapy to see an improvement in their sexual performance and better erections. Some men might experience improvement with their ED in as little as one or two treatments.
More treatments may be required depending on each individual. However, this will also mean additional costs. Some men may need up to 12 GAINSWave treatments, which would cost about $6,000.
Will I Need Additional GAINSWave Sessions?
Most men will need additional treatments every couple of years to maintain the treatment of their ED. Since this form of treatment is non invasive and requires little down time, it is perfectly safe for the body to undergo additional treatment for ED in the future.
Is The Cost of GAINSWave Worth It?
The price tag that comes with GAINSWave can be daunting for many. The treatment is known to be effective when other forms of treatment, such as the blue pill, did not help those suffering from ED.
Overall, the effectiveness of the treatment seems to be worth the price but it is ultimately up to the patient. If the cause behind their ED is from something easier to remedy, such as stress, it may be best to explore more cost effective avenues before trying GAINSWave.
Will Insurance Cover The Cost of GAINSWave Therapy For Erectile Dysfunction Cost?
GAINSWave is typically not covered by medical insurance. It is considered an elective procedure and is therefore not covered. Some insurance providers may offer financing to help alleviate treatment costs. It is best to explore your package and pricing options with your provider before undergoing treatment, as you will likely still need to cover some of the costs out of pocket.
Low Cost Alternatives To GAINSWave Therapy
Although GAINSWave is known to be quite effective, there are many other ways to treat ED. Medications, such as Viagra, Cialis, Levitra, and Stendra are avaialble. Additionally, men can choose to get a p-shot as a form of treatment.
Other Types of Shockwave Therapy That Help Treat ED
GAINSWave is not the only shockwave therapy men can choose to treat their ED. Other devices, such as the Phoenix Acoustic Wave Device can help men get an erection as effectively as GAINSWave at a lower price.
How To Save Money On GAINSWave Therapy Treatments
If you are interested in trying GAINSWave but are worried about costs, the best way to save money is to consult with your doctor first. They will be able to walk you through all possible treatments and determine which one best suits your needs and your budget.
Additionally, trying less costly forms of treatment, such as medications, before trying GAINSWave can help you save money. Knowing what is causing your ED can further assist you in treating it.
Conclusion
GAINSWave is a non invasive treatment that is effective at treating ED. However, it can come at a large cost and is not typically covered by insurance. Consult with your doctor to see if GAINSWave is the right treatment for you.