Acoustic Wave Therapy and Shockwave Therapy are two similar but different types of therapy that are primarily focused on patients who suffer from chronic pain issues. Both therapies use pulse waves to target these pain areas and they are also used in other applications as well. 
There is one, primary difference between the two therapies. Shockwave therapy is a focused, extracorporeal shockwave, targeted at specific areas to facilitate healing and pain reduction. Acoustic Wave Therapy is a pulse wave that is targeted at more superficial pain areas. 
Both therapy types have their specific uses and both are frequently used by doctors to treat pain patients. The type of therapy that you go with is highly dependent on what type of injury you have and how long you have had it. Fortunately, both therapies are available and neither is a rarity or difficult to find. 
Get a fresh start and join the 55,000+ men who love The Phoenix. Use code GOLF300 to save $300 on your device today. Celebrate summer with $300 off The Phoenix for a limited time!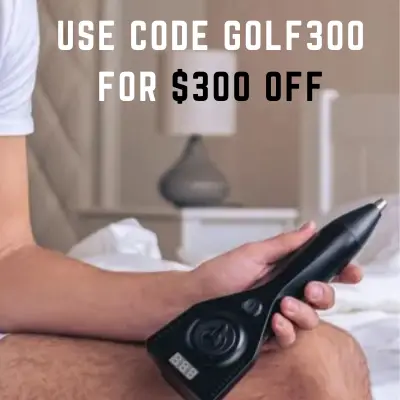 What is Shockwave Therapy?
Shockwave therapy is an FDA-approved therapy that is meant for deeper and more chronic pain, rather than superficial and acute injuries. You will most commonly find Shockwave Therapy in use for the following types of injuries:
Tendinitis
Back pain
Facial pain
ACL and MCL injuries
An adjustable applicator is used to generate the shockwaves that it converts from a power source. The applicator is designed to focus these shockwaves so that they can be easily controlled and directed. Since it is fully adjustable, the intensity levels can be raised and lowered according to the patient's needs. 
Does Shockwave Therapy at home work? Click here to learn more.
Of the injuries that shockwave treatments are generally used for, tendinitis is by far the most common and shockwave therapy has a relatively high success rate in treating these injuries because it relieves pain through healing. 
It's especially useful for areas of the body where there is a low amount of blood flow. Bloodflow is absolutely essential for rapid healing and if you have a lack of it, your injuries go from acute to chronic. Shockwave therapy improves blood flow and, as a result, improves the healing process. 
Because it promotes blood flow, shockwave therapy has been known to improve the condition in those who are dealing with erectile dysfunction. Sure, it's not a pain issue but erectile dysfunction is every bit as challenging, stressful, and difficult to deal with. 
Shockwave therapy is also growing in popularity as both a device for treating pain and for treating erectile dysfunction. Urologists are embracing the use of shockwave therapy increasingly in their own practices. 
Acoustic Wave Therapy
Acoustic Wave Therapy utilizes a pressure wave (radio wave), traveling at a speed of roughly 10 meters per second. Unlike Shockwave Therapy, Acoustic Wave Therapies have not been approved by the FDA and there is far less literature on the subject of their efficacy. 
Acoustic Wave Therapy is supposed to be more focused on superficial injuries, however, it is often used for deeper injuries as well. Like shockwaves, acoustic waves are focused with an applicator so that the administrator can target specific areas of the body to promote the healing process. 
Check out the Best Shockwave Therapy Device for Home Use here.
There are a few, primary injuries or illnesses that Acoustic Wave Therapy is often used for. 
Erectile Dysfunction
Peyronie's
Tennis Elbow
Bursitis
Plantar Fasciitis
While shockwaves travel at well over 1,500 meters per second, acoustic waves are far less speedy at 10 meters per second, which is why acoustic waves are generally used for more superficial injuries or pain. 
At a much slower speed, acoustic wave therapy isn't capable of penetrating deep enough to target deep injuries, such as pain caused by chronic arthritis, which is an inflammation deep within the joints. 
The best aspect of Acoustic Wave Therapy is that it is a completely safe treatment. Acoustic Wave Therapy will never cause any side effects or long-term issues. Acoustic Therapy is also moving into a new area of use. 
Cosmetics are something that Acoustic Therapy is now being turned to. While there is not much in the way of data on the efficacy of Acoustic Wave Therapy in Cosmetics, initial word is that there is a degree of success in treating stretch marks and other cosmetic imperfections either caused by injury or age.
Advantages and Disadvantages of Shockwave Therapy
As with everything in life, there are distinct advantages and disadvantages to using shockwave therapy. Knowing what they are will help you if there is a point in your life where you need to decide whether or not this treatment is right for you. 
Fast and Effective
Zero risk of infection or adverse reaction
No supplemental medication is required
Expedites blood flow and healing
Improves mobility
Pain relief
Non-invasive You may need multiple appointments
If you have a pacemaker or are pregnant, you can't use it
The biggest drawback to Shockwave Therapy is that it is not an instant cure. It's a treatment and as such, you will have to go in for multiple appointments and will have to go through multiple rounds of the Shockwave Therapy.
Think of it as physical therapy. Like any kind of physical therapy where you are rehabbing an injury, it's going to make multiple visits to see it through to the end. 
Advantages and Disadvantages of Acoustic Wave Therapy
Safe and Non-invasive
High success rate
Treat the root cause
non-painful procedure
70% success rate
Highly successful with ED Requires multiple Appointments
Usually coincide with additional medication
Usually, Acoustic Wave Therapy does not work in a bubble. Since it is not as deeply penetrating as Shockwave Therapy, it requires additional medication. It is a treatment that is designed as a conglomeration of different techniques to promote a targeted therapy.
Like Shockwave Therapy, Acoustic Wave Therapy also requires multiple appointments for continued treatment. It's a lot like a repetitive exercise that builds muscle memory. 
If you were a weightlifter five years ago, and took a hiatus, when you return to weightlifting, you will experience faster results because of muscle memory. The same thing applies here. Multiple appointments are necessary to achieve a sort of muscle memory.
Areas of the body that are frequently dealing with reduced blood flow will have to acclimate to increased blood flow, requiring multiple treatments. It's the same with shockwave therapy, however, and once you start the treatment, you will want to stick with it for the best, long-term results.
Which One Should You Use?
This is largely dependent on what is going on with you. If you have deep, lingering, or otherwise long-lasting injury, you need Shockwave Treatment because Acoustic Wave Therapy simply doesn't have the penetration power of Shockwave Therapy.
If you're dealing with cosmetic injuries or, perhaps, want to look into something that might be able to combat stretch marks, you may want to give Acoustic Wave Therapy some consideration. 
Most importantly, however, you want to talk to your family doctor before you make your decision one way or the other. Your family doctor is going to be able to refer you to the right doctor that can give you the type of treatment appropriate for the problem. 
Final Thoughts
Both Acoustic Wave Therapy and Shockwave therapy are similar in terms of their functionality, or the process in which they are applied. However, as you can see, there is a vast gulf between them. 
Deciding which one is right for you is determined by the chronic or acute nature of your injury, how deep it is, and your doctor's best recommendations.
References
Acoustic Wave Therapy vs. Shockwave Therapy: What Are the Differences?
Retrieved from: https://oceanusamerica.com/acoustic-wave-therapy-vs-shockwave-therapy-what-are-the-differences/
Dr. Truong, A. MD. (THE DIFFERENCE BETWEEN FOCUS LINEAR SHOCKWAVE AND ACOUSTIC RADIAL SHOCKWAVE TREATMENT FOR ERECTILE DYSFUNCTION)
Retrieved from: https://www.ncbi.nlm.nih.gov/pmc/articles/PMC7658170/