There are many different types of home shockwave therapy machines available on the market today to treat ED but which ones are the best? These machines use high-frequency vibrations to improve blood flow and increase erectile function. We did the work and found the best shockwave machines for ED that can be used in the comfort of your own home.
Get back to your most confident self now. The Phoenix is doctor supported, urologist recommended, and specialist trusted.
Enter FS175 for $175 off at checkout before your coupon expires.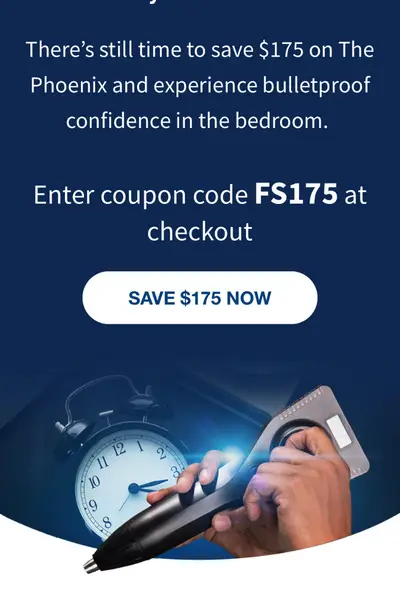 Best Shockwave Therapy Device for ED: The Phoenix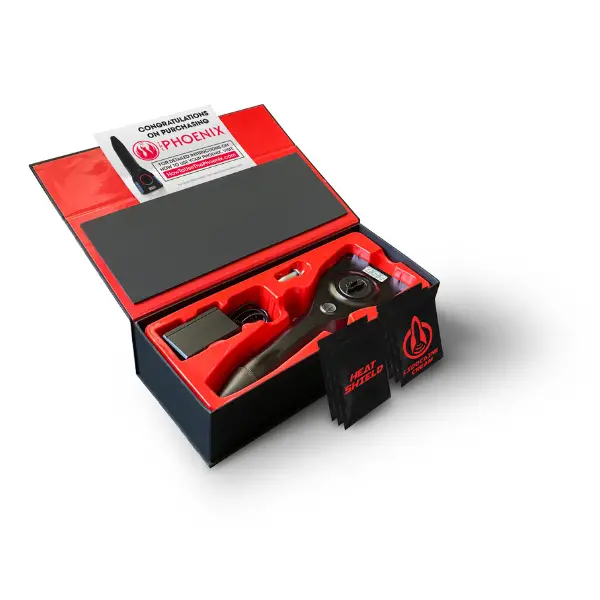 The Phoenix is the first home-use therapy device specifically made for erectile dysfunction and improve men's sexual health. What sets this apart from other shockwave machines is that its specifically made for treating ED. The acoustic waves are programmed to increase blood circulation to the penis and even repair damaged blood vessels. Use code OH365 to get $85 off with free shipping!
What I like about The Phoenix
Easy to use- The Phoenix is ready to go right out of the box. No need to program settings. Just press the start button and its ready to go.
It's proven- 85% of men experienced reducing or eliminating ED after 4 months of treatment.
Quick treatment- each session takes less than 20 minutes and only needs to be done twice per week
Portable- Lightweight machine allows you to travel and get relief from ED anywhere
Amazing customer support. Qualified reps will answer any questions via chat or on the phone
Things I do not like about The Phoenix
It's noisy- The Phoenix is a very loud device and sounds like a jack hammer. You do get used to the noise level after a couple of treatments but be prepared for the loudness factor
Only treats ED and Peyronies Disease- If you're looking for a device that can relieve multiple conditions such as joint pain or back pain then look elsewhere as this machine only targets ED and other sexual medical conditions.
What's Included in The Phoenix?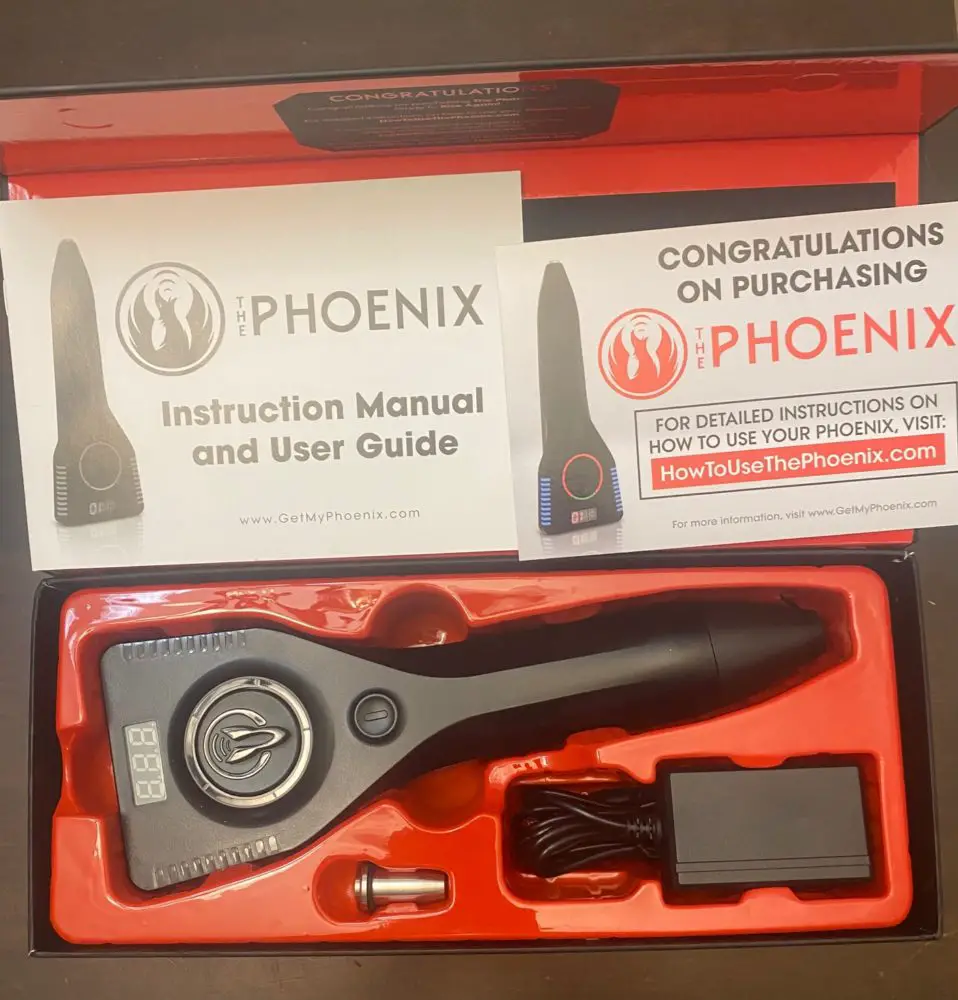 The Phoenix device
Medical-grade stainless steel tip
AC Power Adapter
Packet of lubricant
Packet of topical numbing cream (if needed)
Detailed instructions
How Many Treatments are Needed for Erectile Dysfunction?
2 treatments per week for 30 days
30 days of rest / recovery
(repeat at least once, then as-needed)
Each session takes less than 20 minutes
Here is how the treatment protocol works:
Week 1-4– Performing 2 easy treatments per week
Week 4-8 Taking 4 weeks off is vital to maximizing your results
Week 8-12 Resume treatments 2x weekly
Week 12+ 94% of men report significant improvement
To get the best results possible its recommended that you use a penis pump. You don't need anything fancy or expensive. Any pump from Amazon will do. Use the pump 1-2 per day in between sessions.
How to Optimize Your Results
The Phoenix is not a magic pill that will solve your ED all by itself. In order to get the best results its recommended that you include diet and exercise to your routine. Living a low inflammation lifestyle through diet and exercise will supercharge your results when using The Phoenix. If you are serious about fixing ED or peyronies disease you must take a holistic approach.
#2 PhysioLITE III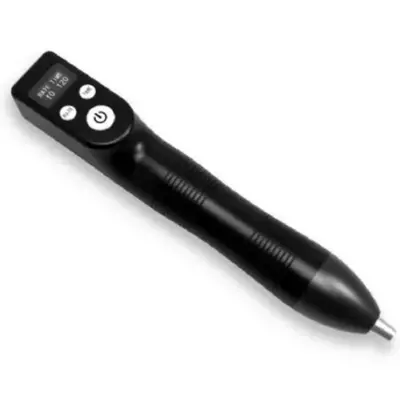 The PhysioLITE III is a therapeutic shockwave device from Oceanus that works by delivering penetrating impulses into soft tissue. The pulse waves accomplish 3 things:
Increase blood flow
Reduce pain
Assist with recovery
The PhysioLITE III is light weight, and is easy to use. There are 3 frequency settings (10Hz,15Hz and 20Hz) and adjustable time on the hand control. The PhysioLITE III offers multiple intensities that allow you to target several painful conditions such as back and knee pain. Bottom line this device can provide a wide range of pain management treatments.
The PhysioLITE II FEATURES:
Multiple settings for mild or acute pain management
Focused deep penetrating shockwaves
Therapy treatment guide included with over 25 different setting for targeting pain
Built-in timer
Bright intuitive control and display
One year warranty
What I Don't Like
As with all shockwave therapy machines they are loud. Doesn't matter which brand you go with the noise level will be pretty much the same. This device is rated high but falls a bit short in terms of customer support. The Phoenix definitely outdoes the PhysioLite III in that category.
#3 Budget Friendly
Pevor Shockwave Therapy Machine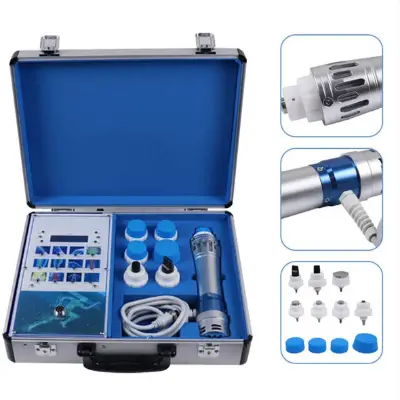 shockwave therapy machine for ED
What I Like
Priced under $400. Hard to find a quality shockwave device in this price range
Portable case makes it easy to store and travel with
Numerous attachments that can target many medical conditions
What I don't Like
Does not come with written instructions
User face is not intuitive and can be difficult to use.
Big and bulky wand
If you are a budget shopper consider this device but be prepared to do alot of research to figure out how to use the device. There is no customer service to call so you will have to look on You Tube or search google to find out how to use it.
What to consider when purchasing a home shockwave therapy machine:
The type of condition you are hoping to treat. There are machines designed specifically for treating a variety of conditions. This article will tell you the top 3 that treat erectile dysfunction.
Your budget. Home shockwave therapy machines range in price from around $300 to several thousand dollars.
Whether or not you need a special training or certification to use the machine. Some machines require no training at all; others may require instruction on how to use them properly.
The size of the machine. Some machines are small and portable, while others are larger and can be placed in more difficult to access areas.
What to Look for When Buying a Shockwave Machine
1. Price
Shockwave machines can range from $300 to over $3,000. The ones that I recommend fall under $1,000 which should make it within your reach.
2. Features
Look for a shockwave machine that targets erectile dysfunction. While some machines can be used to help with a multitude of conditions they may not be effective.
3. Reviews
Check the manufacturers website for user reviews. Also see if anyone on YouTube has reviewed the device and can offer their first impressions along with a demonstration
4. Size of the Machine
There are many different types of home shockwave therapy machines on the market. The size of a machine can vary depending on what type of machine it is. Some machines are small and can be placed on a desk, while other machines are larger and can be placed in a room. Some machines have features such as heat therapy, massage treatment, and noise reduction that make them more versatile than others. It is important to choose the right machine for your needs so that you can get the most out of your therapy sessions.
5. Weight of the Machine
 There are a variety of home shockwave therapy machines on the market. Some weigh as much as 50 pounds, while others are lighter. The weight of the machine is not necessarily a determining factor in whether or not it is the best home shockwave therapy machine for ed. However, if you have limited space, you may want to consider a lighter machine.
Another thing to consider when choosing a home shockwave therapy machine is its features. Some machines have more than one type of treatment available, while others only offer to help with a specific medical condition. If you are looking for a specific type of treatment, be sure to look for a machine with that option available.
Finally, consider how frequently you will use the machine. If you only plan on using it sparingly you may want to opt for a cheaper model. If your goal is to treat a specific condition such as ED or peyronnies disease take a look at The Phoenix.
6. Portability of the Machine
One of the great things about home shockwave therapy machines is that they are portable. This means that you can take them with you wherever you go, making them ideal for use at home or on the go. Some machines even have built-in speakers so that you can listen to music or audiobooks while receiving treatment.
7. Ease of Use
Pick a shockwave machine that is easy to use right out of the box. Some of the more sophisticated ones require programming the frequency to get the best result. Choose a device that is user friendly.
8. Durability of the Machine 
Some of the best home shockwave machines for ed are very durable. They typically last for a long time, and they are easy to take care of. This means that you will not have to worry about them getting damaged or needing repairs.
9 . Manufacturer's Warranty 
Manufacturer's warranties range from 1 year to lifetime, and many home shockwave therapy machines come with a warranty. While the length of the warranty may vary, most warranties include coverage for defects in materials and workmanship.
10. Reputation of the Manufacturer
The reputation of the manufacturer is very good. They have a lot of satisfied customers. The machines are very reliable and produce results as promised.
Conclusion
With so many factors to consider, it can be difficult to decide which home shockwave therapy machine is right for you. However, by considering these 10 factors, you should be able to make an informed decision.