With so many TENS unit devices on the market is it possible to buy one under $50? We have reviewed dozens of TENS units over the years and we believe we found the best one under $50. The Auvon TENS EMS delivers insane value and you will be hard pressed to find another quality device with all the features that this includes.
The Auvon TENS EMS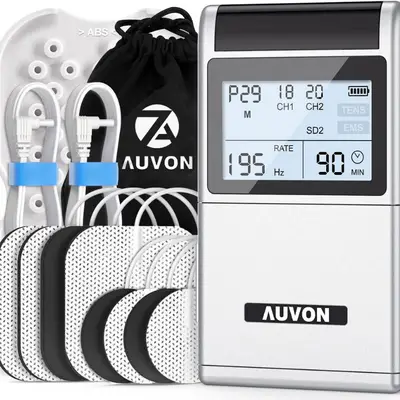 The Auvon TENS EMS device is in a class by itself in this price range. The amount of features along with the ease of use makes this a no brainer. We tested out this TENS unit for two weeks and you will not find a better TENS unit under $50. Get relief for back, lower back, knee, leg and shoulder pain and more through this safe, non-invasive, drug free method of pain management.
What's in The Box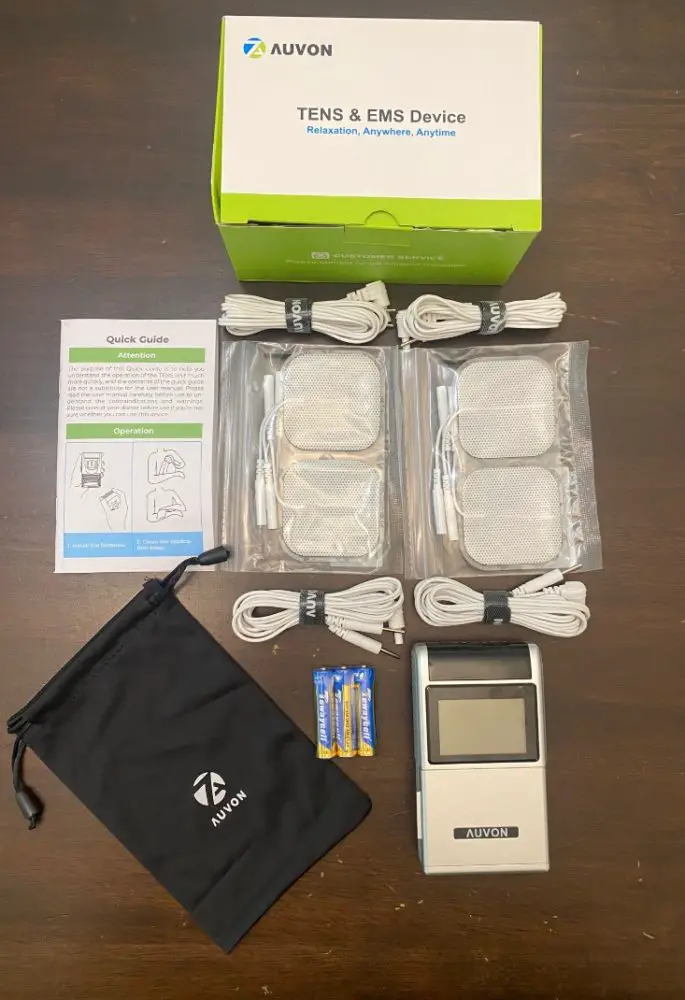 AUVON TENS Device
8 x TENS Unit Pads (4 pcs 2"x 2" Pads, 4 pcs 1.3″ round)
2 x Lead Wires (with Cable Ties),
User Manual with Quick Guide
Dust-Proof Bag
Electrode Pad Holder
3 x AAA Batteries included
36-month Worry-free Services and Lifetime Technical Support.
Features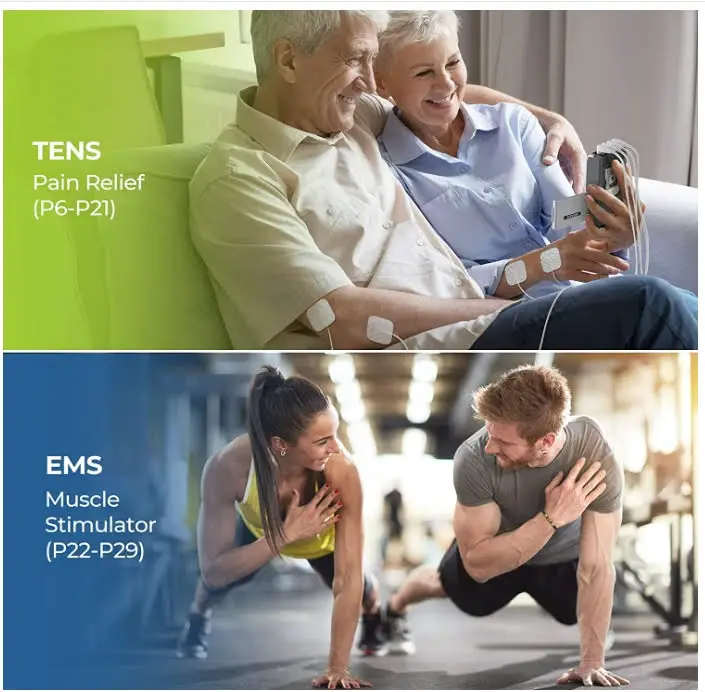 The Auvon TENS EMS offers the following features:
AUVON includes 8 electrode pads with 2 sizes to use on different pain areas of your body
Timer that can be set from 10-90 minutes
TENS for pain relief and EMS for massaging sore mucles
4 channels which allows to use 8 electrode pads in order to target multiple parts of the body
Large display screen that can be read easily
Settings
29 Modes (5+24) – 5 custom stimulation modes to meet the requirements from professional users, 24 preset modes to meet the needs of general users.
TENS+EMS – Relieve pain (P1-P16); Improve muscle performance (P17-P24).
Independent Dual Channel – Use independent intensities & modes in 2 different areas, to meet multiple pain relief needs.
The Auvon TENS EMS has 5 modes:
Burst-Adjustable rate from 1-5HZ with varying levels of intensity
Normal- continuous stimulation
Modulation Mode- Automatic pulse and width in a cycle pattern
Strength Duration- SD1: Pulse decreased by 50%
Strength Duration 2- SD2: Increased pulse and width to 70%
There are 29 modes to choose from that allow you to multiple parts of the body. Here are my favorite modes used to reduce various types of pain:
P1- Continuous shallow tingling. Perfect for sensitive areas such as hands, feet and upper back
P20- Scrapping sensation- Used for larger muscles such as upper and lower back
P24- Accelerating tingling- Good for arms, shoulders and knees.
Need help using a TENS unit? Check out Auvon's comprehensive placement below.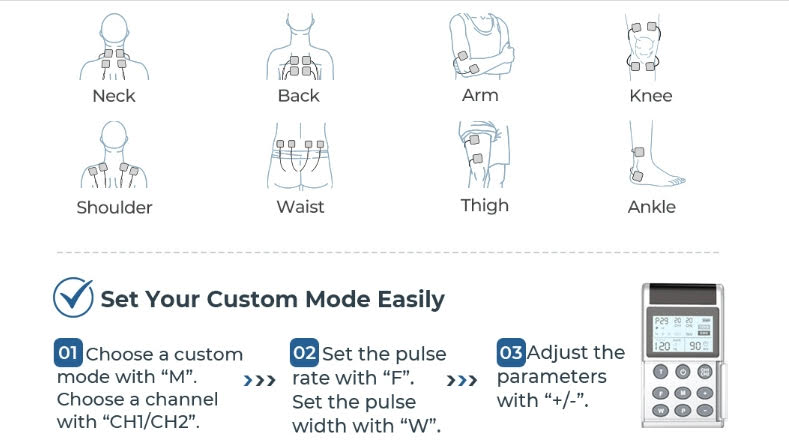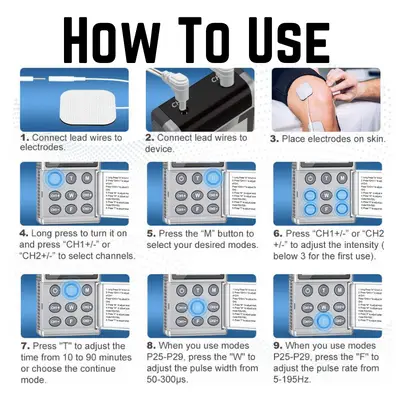 What We Like
High quality and sturdy device
Portable size with belt clip
FDA approved
TENS and EMS settings allowing pain and massage functions
What We Don't Like
A little bulky compared to other TENS units
Battery operated- some prefer built in charging
Not wireless- Not a deal breaker since its well priced at under $50
Learn how to setup a TENS unit here.
How Does a TENS Unit Work for Pain?
Electricity, Nerves, and Pain
The nervous system is an incredibly complex biological system that extends throughout the entire body. The 'main hub' of this system is the brain, which processes signals from the bodywide nerve endings to make life-saving decisions. Many of these decisions are unconscious, reflexive processes, including the sensation of pain.
Signals travel along nerves via small, electrical currents. The goal of a TENS unit is to temporarily interrupt specific electrical signals to prevent pain signals from reaching the pain and manifesting as an unpleasant sensation. However, there's still very little information on how a TENS unit achieves this precise result. Still, there are two prevailing theories.
Theory One: Gate Control
The Gate Control theory posits that electrical stimulation can close specific 'signal gates' along the spinal column, preventing pain signals from reaching the brain. This theory essentially purports that TENS units overload the sensory response system, temporarily disabling the body's ability to sense pain.
Theory Two: Endorphin Release
Alternatively, there's the Endorphin Release Theory. In this theory, the TENS unit supposedly induces a euphoric, pain-relieving effect in users by encouraging the brain to produce and release sizable amounts of endorphins. These hormones are often released during exercise, periods of extreme stress, or while laughing. They can reduce our perception of pain, albeit only temporarily.
Final Thoughts
The pros definitely outweigh the negatives. The Auvon TENS unit sets itself apart with 4 channels allowing you to attached 8 electrode pads giving you the option of targeting multiple body parts. The belt clip is a nice feature giving you the freedom to walk around while using the device. Overall you will not find a TENS unit that is loaded with all the features and settings that the Auvon has. Get yours today!