Nerve pain can affect the entire body, which means it can also affect every activity you enjoy. Transcutaneous electrical nerve stimulation (TENS) may help relieve some of that pain, and there are tons of devices from which to choose. We've researched to find the best TENS unit for nerve pain, saving you time and helping to make the entire process straightforward and simple.
For us, the best TENS unit for nerve pain is the iReliev Premium TENS + EMS Therapeutic Wearable System. The TENS Unit Pain Relief System is equally impressive, and it's a fantastic budget-friendly option. Still, the TENS + EMS Pain Relief & Recovery System is an excellent middle-ground upgrade. 
Throughout this article, we'll take a more in-depth look at the above iReliev TENS units and examine their features, advantages, and potential disadvantages. We'll also take a moment to discuss the benefits of using these devices, before answering some of the most frequently asked questions concerning TENS units for nerve pain. 
Our Favorite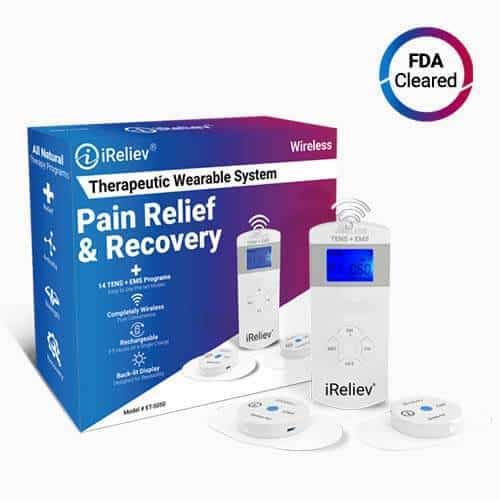 The iReliev Premium TENS + EMS System is our favorite model for at-home nerve pain relief. It features 14 distinct programs, eight of which are specifically designed to help relieve both chronic and acute nerve pain. This device even has a plan for nerve pain that is caused by arthritis. 
Wireless TENS units are incredibly rare, and this system features one of the most advanced and easy-to-use wireless networks available. To use, you only need to attach the adhesive electrode pads, connect the receiver pods, set your desired settings, and enjoy. The included electrodes have a sticky, adhesive side that can be reattached to skin multiple times. 
Included within this system are two adhesive pads, both of which are large-sized. However, replacement pads are available for purchase and come in both small and large sizes. The two receiving pods that come with the Wearable System go directly over the electrode pads and snap onto the connectors built into the pads.
The pods receive vital information from the wireless remote, allowing them to produce the right amount of stimulus at the right time. They're self-powered and completely rechargeable, just like the remote. These receiving pods are fantastically lightweight, and they are thin enough to be virtually unnoticeable beneath loose clothing. Consequently, this model is one of the most wearable and most convenient options. 
The included charging cable is outfitted with three identical adapters that fit into the receiver pods and wireless remote. This way, users can charge all three devices via a single USB cable. This charging cable can be plugged into your home computer's USB port, or you can attach the AC/DC adapter and plug it into a standard wall outlet.
Speaking of charging internal batteries, the charging time for this TENS unit is between two and three hours, all components included. The remote takes a little extra time to charge but can be ready for use in just three hours. The receiving pods take even less time to charge, and they can be ready for therapy after about two hours, though most will only need to wait an hour and a half to see a full charge. 
Comparable models don't have helpful battery indicators, but the Wearable System is unique. The receiving pods feature battery-charge indicator lights that change colors. The centers of these pods are bright blue when turned on, and they flash when the battery's energy levels are dwindling. While it's charging, the light shifts to a bright orange color. When it's finished charging, it turns gray. This helps users stay aware of their current battery usage.
Unlike the receiver pods, the wireless remote doesn't feature a light indicator. However, it does flash a low battery icon on the display screen to let users know that it's time to recharge. The wireless remote will also display a full battery icon while connected to a charge source, but only if the battery can no longer store any excess power.
The backlit screen is bright blue and incredibly easy to read, no matter what time of day it is. Besides alerting users about their unit's battery life, the wireless remote's display screen also shows: 
The wireless connection status
The chosen program number
The time remaining for the treatment session/set timer amount for the session
The desired intensity level
The current channel that you're accessing
The display screen works hand-in-hand with the four directional buttons laid below it. These buttons allow users to select their settings. The directional buttons are labeled with clean, clearly legible text for improved ease of use. Browsing through the 14 programs is nearly as exciting as experiencing them all.
Though these programs are divided into TENS and EMS therapies, those with nerve pain can benefit from both types. Some of the programs included in this system are:
Seven TENS therapies designed to help treat chronic and acute pain
Focused arthritis TENS therapy
Pre-exercise EMS therapy for athletes or active individuals
Specific muscle-recovery therapy
Two unique muscle-strengthening therapies
Each of the 14 programs uses a specific pulse rate and pulse width, helping users target their pain and discomfort more accurately and appropriately. When you take advantage of the included Output Mode guide, you'll discover what each mode is capable of and decide which programs best suit your needs. Thanks to the quad-channel capability of this system, you'll be able to treat multiple target areas simultaneously. 
To enjoy the benefits of having four channels, you'll need to purchase additional receiving pods, as the system kit only comes with two. You'll also need to invest in additional electrode pads. This is a generally wise purchasing decision, as you'll eventually need to replace the original pads, especially as the adhesive wears thin. 
However, the included accessories and additional pieces of equipment make this system more than worth it. The included hard plastic carrying case and the soft unit tote bag are great practical extras that can help extend the life of the system and its components.
The iReliev Premium TENS + EMS System is an overall fantastic choice for individuals with nerve pain thanks to its wide range of effects TENS therapies. Its EMS therapies are also useful, especially for active users who experience frequent muscle soreness or stiffness.
Battery Type: Rechargeable 
Channels: 4
Wireless: Yes
Included Pads: 2
Programs: 14
EMS: Yes
Budget Pick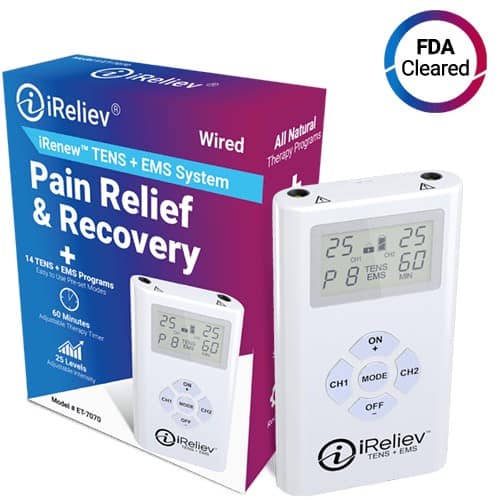 The iReliev TENS Unit Pain Relief System may be the better option for managing your nerve pain if you're more inclined to pain-reducing TENS therapy. While it lacks any EMS therapy options, it can provide effective and nearly-immediate TENS therapy, allowing users to enjoy the benefits of nerve stimulation. 
While this particular unit is battery-powered (it runs on three AAA batteries), it has an exceptional battery life that's facilitated by an automatic shut-off feature. Also, while it may not be as convenient as a rechargeable unit, non-rechargeable TENS devices tend to enjoy longer lifespans. This model may be right for you if you intend to enjoy pain-relieving TENS therapy for many years. 
One of the excellent qualities of this model is it's potential bonus materials. iReliev often offers incredible discounts and extras, including electrode pads, carrying cases, and fantastic sales. Taking advantage of these offers is as easy as checking their online store every few weeks or so, or signing up on their mailing list for product updates.
But if you end up purchasing this model at full price, you're still making a killing in overall savings. That's because this unit is built to last and incredibly easy to maintain. Besides, you won't need to immediately purchase additional pads, because the iReliev TENS Unit Pain Relief System comes with the perfect amount. 
Yet, while the included electrode pads are easy to use, their skin-friendly adhesive does eventually wear off, prompting users to purchase replacements. However, individuals hoping to enjoy the greatest nerve pain relief are bound to enjoy the small pads, as they are easy to place near difficult-to-treat regions, like the knee.
The pads also have an attractively long lead length, allowing users to place the pads and tuck the unit away into a free pocket. The locking mechanism ensures that users won't accidentally increase or decrease intensity levels, or turn the device off by accident.
There's even an included belt clip to help you tote the system around more conveniently. And as if that weren't enough to make you feel confident about using this TENS unit while running simple errands or relaxing, the added tote bag makes component organization and storage a breeze. 
The simple display screen isn't illuminated like our favorite model's wireless remote, but it does feature a slightly wider screen that may be easier for some users to read. This TENS device displays the traditional range of information, including:
The set timer amount for the session
The device's current lock status
The set program number
The battery status and charge level
And while this model doesn't provide any EMS therapy programs, it does feature an excellent range of effective, pain-relieving TENS modes that can help users manage their nerve pain and discomfort. It's a drug-free option that can be placed on over 11 different regions of the body for maximum potential usage. 
However, if combined TENS/EMS functionality is especially important to you, you can always choose to upgrade to the iReliev TENS + EMS Pain Relief & Recovery System.
Battery Type: Replaceable
Channels: 2
Wireless: No
Included Pads: 8
Modes: 8
EMS: No
Get an Upgrade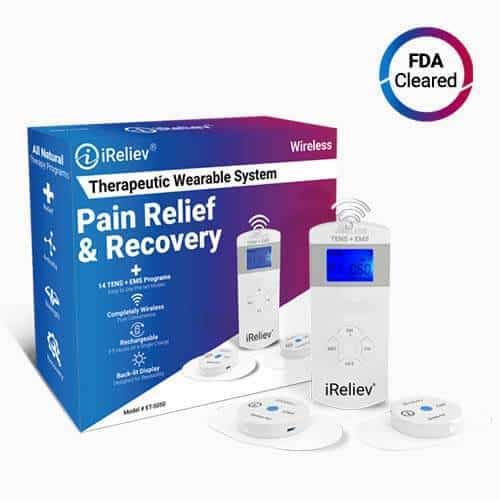 The iReliev TENS + EMS Pain Relief & Recovery System is an upgraded version of the wallet-friendly Pain Relief unit. It has a lot more going for it than additional electrode pads. The most significant difference from its lower-priced alternative is its functionality. You see, this sweet little device is capable of both TENS therapies and EMS treatments. 
To facilitate this additional function, the manufacturers added a few extra electrode pads to this system, including two large-sized ones that are perfect for larger body regions like the back and shoulders. While these bonus pads aren't entirely necessary, they are a nice addition. 
This system offers 14 unique TENS/EMS therapies, and each one is programmed to provide maximum pain relief for chronic and acute sufferers. There is also an arthritis-focused program for those suffering from painful joints and inflammation.
Getting ready to use this system is simple and straightforward. All you need to do is follow these steps:
Attach the electrodes above, below, or beside the desired treatment area. Placing electrodes directly onto the sore area can result in excess pain or prolonged discomfort.
Snap the lead cables onto the electrode pads and plug their adapters into the control unit.
Turn the unit ON.
Select the desired timer, program, and intensity settings. 
The timer works in ten-minute increments and has a maximum limit of an hour. Still, for your first time using a TENS/EMS device, you should only attempt a 15-minute, low-intensity program. From this point forward, you'll be better able to adjust and customize your required settings without risking self-injury. 
And like the Pain Relief unit, this system includes a belt clip adapter and expansive lead cables, allowing users to wear their TENS/EMS unit while performing simple errands and tasks. Unlike comparable models that typically have very short cables, this system seems to encourage movement and mobility. 
Of course, if you're someone who often bumps into objects around you, it's easy to feel concerned about possibly changing the program mid-session, or increasing the intensity level while walking around the house. However, if you activate the locking mechanism, this won't be an issue. 
If the Premium Wearable System is a little too much, but the Pain Relief unit is just too little, then the TENS + EMS System may be just right.
Battery Type: Replaceable
Channels: 2
Wireless: No
Included Pads: 12
Programs: 14
EMS: Yes
Why should you trust me?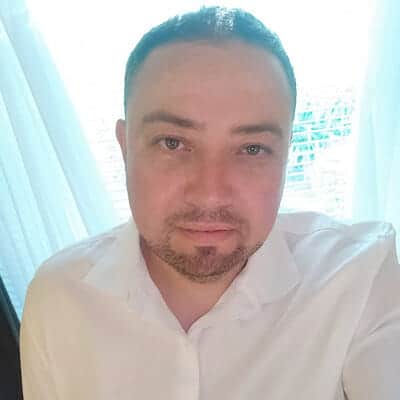 I have extensively used TENS units for neck, shoulder, back and knee issues and became familiar with TENS therapy through countless visits to my chiropractor and physical therapist's office. I have spent many hours researching and reading how TENS therapy can alleviate pain.
I consider myself knowledgeable in the use of TENS units and have used them regularly to help manage pain over the years. Many of my recommendations are from firsthand experience/use and hopefully my information can be a benefit to you.
Want to know where a TENS unit can be placed?  Check out my TENS placement guide here
Benefits of Using a Tens Unit for Nerve Pain
TENS units are the ideal solution to nerve pain, as their very design focuses on nerve manipulation and pain relief. And while it might seem counterintuitive to think that nerve stimulation could help facilitate nerve-related pain relief, these processes work hand-in-hand. 
While the exact mechanism behind TENS units isn't completely understood, there are two competing theories as to how these stimulating machines help reduce the sensation or perception of pain signals. 
The first theory, known as the Gate Control Theory, says that TENS units produce enough electrical stimulation to override "gates" along the spine that process pain signals, effectively blocking them from reaching the brain. At the very least, according to this theory, TENS units can prolong the time between each received signal.
The second theory is often called the Endorphin Release Theory. This one purports that TENS units cause the body to enter a slightly stressed state, causing increased hormone production. The primary hormone released during this state is endorphin, a naturally occurring drug that increases heart rate and body-wide circulation.
No matter how these machines work their magic, they are often incredibly effective. And while some users may not experience as many apparent benefits or effects, the majority of TENS users do report at least a minimal improvement in pain management.
Frequently Asked Questions
Here are some answers to a few of the most frequently asked questions regarding TENS units and nerve pain. Don't be afraid to reach out to your healthcare provider or physician for more information. After all, knowledge is power.
Is a TENS Unit Good for Nerve Pain?
A TENS unit could be a useful device for individuals suffering from neuropathic pain. The effectiveness of a TENS unit depends on several factors, such as the physical origin of the pain, the pain tolerance of the user, and the program's chosen intensity. Still, many users report lower levels of pain for several hours after using a TENS unit. 
How Do I Choose a TENS Unit?
Choosing a TENS unit is not easy, especially if you're looking to secure the best possible model. Still, the best model for you may not be the best one for your neighbor. Your personal preferences and health needs will help you to determine which model is right for you, though there are a few additional features and factors to consider. 
To turn a challenging (and potential tedious) purchasing experience into a fast and easy one, simply keep the following aspects in mind while searching for your new TENS unit.
Price 
Depending on your budget, the price may either be a massively influential factor or barely an inconvenience. Still, it's important to choose a TENS unit that adheres to your budget, and selecting a price range before browsing can help significantly. 
Higher-priced units are often higher-quality, but this isn't always the case. Still, TENS/EMS units, fully-stocked kits, and advanced smart devices all tend to fall on the higher-end of the affordability spectrum.
Size
The size of the TENS unit can affect its portability, so if you're looking for an easy-to-wear system, a heavy control unit could quickly become a bothersome disadvantage. 
Battery Type
Some TENS units are rechargeable and contain a long-lasting lithium battery. These units can last for up to three years, and they're incredibly convenient and modern. Still, once these internal batteries kick the bucket, you'll have to toss the entire unit out.
This is where non-rechargeable models truly shine. Because it relies on removable batteries, it can last far longer before needing to be replaced. While the long-term cost of replacement batteries is an important aspect to consider, it's not likely to be any more expensive than purchasing a brand-new unit. 
Still, at the end of the day, the choice between battery convenience and unit longevity comes down to you, the user.
Programs
Nearly every TENS unit contains some amount of pre-programmed modes. Some contain only a handful of basic program options, while others offer dozens of potential TENS and EMS therapy options. The amount and quality of these programs differ from device to device, so it's important to review your preferred product's programs before making a purchase. 
It's better to choose a TENS unit with a wide variety of TENS programs if you're looking for a powerfully pain-relieving device. However, if you're more focused on muscle-soothing therapies and massages, you may want to consider investing in an EMS machine. 
For the best of both worlds, you may want to consider a TENS/EMS machine that features a combination of programs that represent both types of stimulation therapy.
Functionality
Not all TENS units are created equally. Some are only capable of emitting pain-relieving signals, while others can produce muscle-toning EMS signals as well. Choosing a multifunctional device is a fantastic option for active individuals or athletes.
However, a multifunctional TENS/EMS unit can be a boon for any user who'd like to benefit from the pain-reducing effects of a TENS unit and the muscle-relaxing capabilities of EMS programs.
Ease of Use
You could get a TENS/EMS unit with a plethora of splendid features, included equipment and plenty of programs, but if you don't know how to operate that unit, it's of no use to you. Gauging ease of use is especially important for "technologically challenged" individuals who consistently find themselves battling against confusing technology. 
So, if you're feeling overwhelmed by a TENS unit's features and options, it may be better to use a simpler model. Fewer varieties of programs or options can occasionally by limiting, but it doesn't change the potential or effectiveness of the device. Some of the most powerful TENS units only have six or seven pre-programmed modes and timer options. 
Intensity
A unit's intensity can easily equate to its maximum power potential. Some TENS units are designed for incredibly intense therapy, while others lean toward the gentler side. Check the number of intensity levels included in a specific unit can offer clues as to its potential maximum power output. 
Still, the maximum output should be included within the owner's manual and guide. You can check the specific pulse widths and frequencies of your chosen unit if you're able to access an online version of this document. 
Channels
The number of channels a TENS unit has dictates how many electrodes can be used concurrently. For example, a standard TENS unit contains between one and two lead ports/channels. This allows users to enjoy multiple therapy points, which is a huge bonus for those suffering from body-wide discomfort or pain. 
By weighing your priorities and deciding which of these factors is most important, you'll be able to make an informed and satisfactory purchasing choice.
Can a TENS Machine Cause Nerve Pain?
No, there is no evidence to show that TENS units can cause nerve pain. However, they can cause localized soreness or discomfort if used improperly.
Can a TENS Unit Repair Nerve Damage?
In some cases, yes. Further studies are needed to completely confirm the nerve-healing effects of TENS units. Still, there is some emerging evidence to support the idea that TENS therapies can help heal diabetes-related nerve injuries and spinal cord nerve injuries.
Can You Wear a TENS Unit All Day?
Yes, you can wear a TENS unit all day. However, users should not use a TENS or EMS unit for more than three consecutive hours. Also, it's important to avoid overusing these devices. While the consequences of TENS unit overuse are often mild and easily treatable, those with pre-existing nerve damage should use extra caution. 
While overuse is highly unlikely to worse or cause nerve damage, it can cause treated areas to feel sore or inflamed. Because the entire point of a TENS unit or EMS device is to rid a user of overwhelming pain, it makes no sense to actively cause yourself more suffering by ignoring the operating instructions and recommendations.
Conclusion
The iReliev Premium TENS + EMS Therapeutic Wearable System is our favorite TENS unit for nerve pain, and for many reasons. Perhaps it's the wireless capability and lengthy battery life. Or, perhaps it's the brightly lit display screen. Still, the thing that captures our attention the most about this model is arguably its powerful selection of TENS and EMS therapies. 
Shoppers searching for the most affordable TENS machine may want to ditch the additional EMS options and focus on a solid device like the iReliev TENS Unit Pain Relief System. It may not have many frills, but it packs a lot of power in its tiny, battery-powered body. 
But, then again, there's always the iReliev TENS + EMS Pain Relief & Recovery System, which is essentially an upgrade of the budget model. While it's not as splendiferous as our favorite TENS/EMS machine, it offers a similar range of programs, including two large-sized pads for convenience. 
TENS units can be incredibly effective at helping reduce nerve pain, though results vary and depend on a few unique, personal factors. Still, with so many great TENS models available and so much potential for improved health, there's little reason not to give one a try. 
Sources