The TechCare plus 24 massager is the self described as the ultimate massager. It even says so on the box! so it must be true, right?. Well in this review I will go over every aspect of this device. I own this TENS unit and use it often so this will be a genuine review with real pictures taken by yours truly. No stock photos or generic information about the product.
This TENS unit from TechCare is loaded with settings and programs. I want to give you the most authentic review possible so lets see if this TENS unit delivers and can live up to being the best TENS unit you can buy under $50. You can purchase this device from Amazon here or keep reading to learn more…..

What is in the box
So first off the packaging is very nice and high end looking. The box has a glossy look to it and the TechCare massager sits nicely on top. The box is really durable. I have owned this TENS unit for almost a year and it goes back in the box after each use and has held up really well.
So lets take a look at what you get:
1 TechCare TENS unit
6 Large Electrodes ( Pads )
2 Electrodes Cables
User's Manual
Usb and Wall Charger
1 Small Electrode Pad and Wire Holder
1 Treatment Points Chart
A couple of things stand out. Getting 6 electrode pads is a nice bonus as many TENS units in this price range only give you 4. TechCare also gives you a wire holder that you can use to wrap it after each use. This is a nice touch as these wires can easily get tangled and it can be a chore to have to untangle them.
That's enough about what is inside the box lets move on to how to use the TechCare Plus 24 massager.
How to use the TechCare massager Plus 24
It is pretty straightforward. After allowing a couple of hours to fully charge, take each lead wire and plug it into the inputs located on the top of the device.
Adjust time as needed by pressing the bottom left button (it is set to 20 minutes by default, but can be increased in 10-minute increments). Then you use the two buttons on the right to increase or decrease the intensity.
Each is responsible for the two pads attached to respective port, A or B. Finally, the left top button toggles through 24 different modes. Try them all to see what suits you best. I usually use all of them in a 30-minute treatment cycle, but it is entirely up to you.
When the preset time expires, the device will turn itself off. You can increase it while in use, as much as needed by pressing the time button.
When the cycle is over, bring the switch on the left back into the OFF position until the next time. Detach the pads, cover them with protective film to preserve their longevity.
You are done.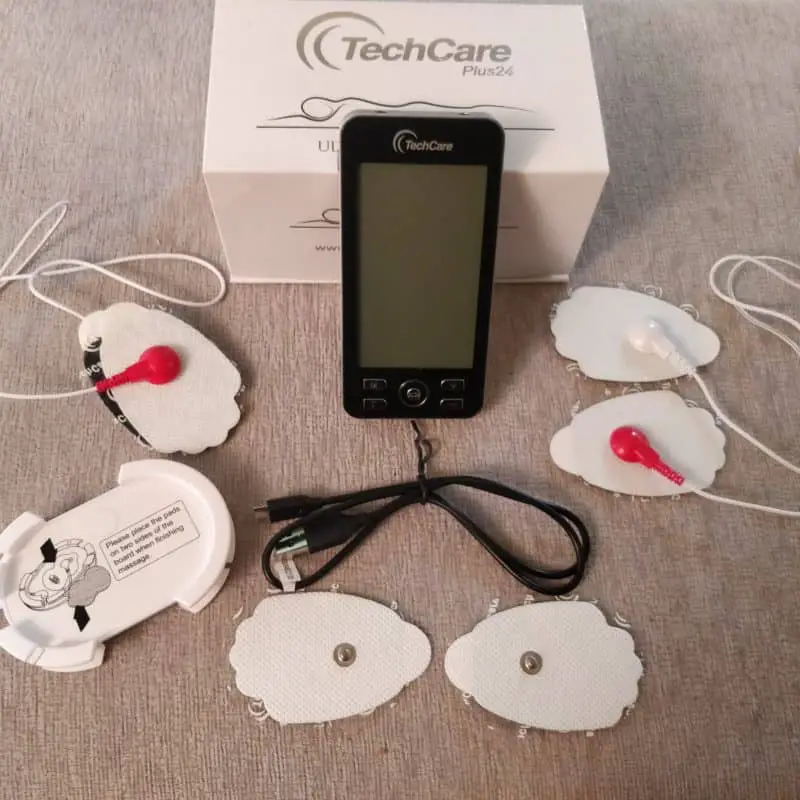 TechCare states that there lithium powered battery lasts 20 hours between charges. I believe that claim to be 100% true.
The device keeps the charge for a very long time (a few weeks), so you will have to recharge it only when the indicator on top shows it is low (fewer bars).
From my personal use I can attest that typically you will get approx. 20-25 uses per charge.
TechCare massager Plus 24 modes
This device has 6 modes have 4 intensity levels:
Kneading
Swedish
Cupping
Scrapping
Reflexology
Tai-Chi
So within each mode you get to choose between 4 different intensity level.
If you long press T button, lock feature will be on. you can turn the lock feature off by long pressing T button again.
Check out my video review and how to use this device……
Pros
The price. As mentioned before it costs under $50 and for that price you get a lot. 24 different programs to choose from, high quality electrode pads and TechCare lifetime warranty.
You can run different modes and intensities on the two outputs. Yes the two outputs are isolated. This means on output 1 you can run two pads on Kneading mode and output 2 can run Cupping. So you are able to target 2 problem areas at once using different modes.
So you can use 1 lead wire (2 pads) placed on your lower back to treat sciatica and the other lead wire (2 pads) on your shoulder. Having this type of functionality at this price point is hard to come by.
The Screen. The TechCare 24 plus comes with a large, easy to read LCD screen. It is really bright as well which makes it really easy to use at night.
Cons
It does not have a belt clip. It would have been cool if they had incorporated a belt clip but it is not a deal breaker. If I'm walking in the house I simply place it in my front pocket with no issues.
It is not a touchscreen. Granted at this price point getting a touchscreen would have been unrealistic but it sure would have made going through the various modes and setting a lot easier.
You have to scroll though the entire sequence to get to the mode you want. Ok. This part can get annoying really quick. If you want to go from Kneading (mode) to Reflexology (mode) you have to go through all the modes and intensity levels in between to get there.
Again it is tedious at times but then again at under $50 it is a trade off between price and ease of use.
Bottom Line
The TechCare plus 24 is a great little device and has a lot of going for it. It is affordable, has a several programs to choose from and is small enough to fit in your pocket. You do not need to spend hundreds to get a quality TENS unit and TechCare gives you a ton of value for the price being paid. Get yours today on Amazon by clicking here.
Why should you trust me?
I have extensively used TENS units for neck, shoulder, back and knee issues and became familiar with TENS therapy through countless visits to my chiropractor and physical therapist's office.
I consider myself knowledgeable in the use of TENS units and have used them regularly to help manage pain over the years. Many of my recommendations are from firsthand experience/use and hopefully my information can be a benefit to you.
Want to know where else a TENS unit can be placed? Check out my TENS placement guide here
Thank you for reading,