Are you wondering what the best TENS & EMS (electric muscle stimulation) combo machine out there is?  Want to reduce and eliminate your aches,pains,muscle spasms and other inflammatory conditions?
Using a TENS & EMS combo machine is a safe effective way to help live a pain-free life without having to rely on over the counter medicine or prescribed medications.  No doctor's prescription needed. Best of all they are really easy to use.
How do I decide which one is best?
Picking the best device is all about comparing the features and buying the unit that best meets your needs.  I have reviewed 6 units across different price points ranging from $70-$150 that deliver awesome features that will make it easier for you to decide.
What to look for when buying a TENS & EMS combination unit
You want a device that has many modes and should be easy to read and use.  Having a rechargeable battery is preferable to having to buy AA or AAA batteries every time it runs out.  A back lit display is not must but just a nice feature to have as it allows you to use the device at night with ease.
Price point is another consideration.  You can easily spend several hundred dollars on a top end device or find one that is under $50 that will have many features that the average person is looking for.
It all comes down to what you need as a consumer.  Just list out what you need in a device and check out some of the customer reviews and you will end up buying a TENS or TENS/EMS device that fits your needs.  OR………….
Keep reading to find out more information on each TENS/EMS combo unit. Each of these units are FDA approved and are extremely well rated on AMAZON with hundreds of 5 star reviews.  You can buy with confidence.
TechCare Plus 24
This is probably the cheapest TENS/EMS unit you can buy and still get plenty of options and features.  Click HERE to view on Amazon.
So lets take a look at what you get:
1 TechCare TENS unit
6 Large Electrodes ( Pads )
2 Electrodes Cables
User's Manual
Usb and Wall Charger
1 Small Electrode Pad and Wire Holder
1 Treatment Points Chart
A couple of things stand out. Getting 6 electrode pads is a nice bonus as many TENS units in this price range only give you 4. TechCare also gives you a wire holder that you can use to wrap it after each use. This is a nice touch as these wires can easily get tangled and it can be a chore to have to untangle them.
What is in the box
So first off the packaging is very nice and high end looking. The box has a glossy look to it and the TechCare massager sits nicely on top. The box is really durable. I have owned this TENS unit for almost a year and it goes back in the box after each use and has held up really well.
So lets take a look at what you get:
1 TechCare TENS unit
6 Large Electrodes ( Pads )
2 Electrodes Cables
User's Manual
Usb and Wall Charger
1 Small Electrode Pad and Wire Holder
1 Treatment Points Chart
A couple of things stand out. Getting 6 electrode pads is a nice bonus as many TENS units in this price range only give you 4. TechCare also gives you a wire holder that you can use to wrap it after each use. This is a nice touch as these wires can easily get tangled and it can be a chore to have to untangle them.
TechCare states that there lithium powered battery lasts 20 hours between charges. I believe that claim to be 100% true.
The device keeps the charge for a very long time (a few weeks), so you will have to recharge it only when the indicator on top shows it is low (fewer bars).
TechCare massager Plus 24 modes
This device has 6 modes have 4 intensity levels:
Kneading
Swedish
Cupping
Scrapping
Reflexology
Tai-Chi
So within each mode you get to choose between 4 different intensity level. If you long press T button, lock feature will be on. you can turn the lock feature off by long pressing T button again.
iReliev TENS + EMS Combination Unit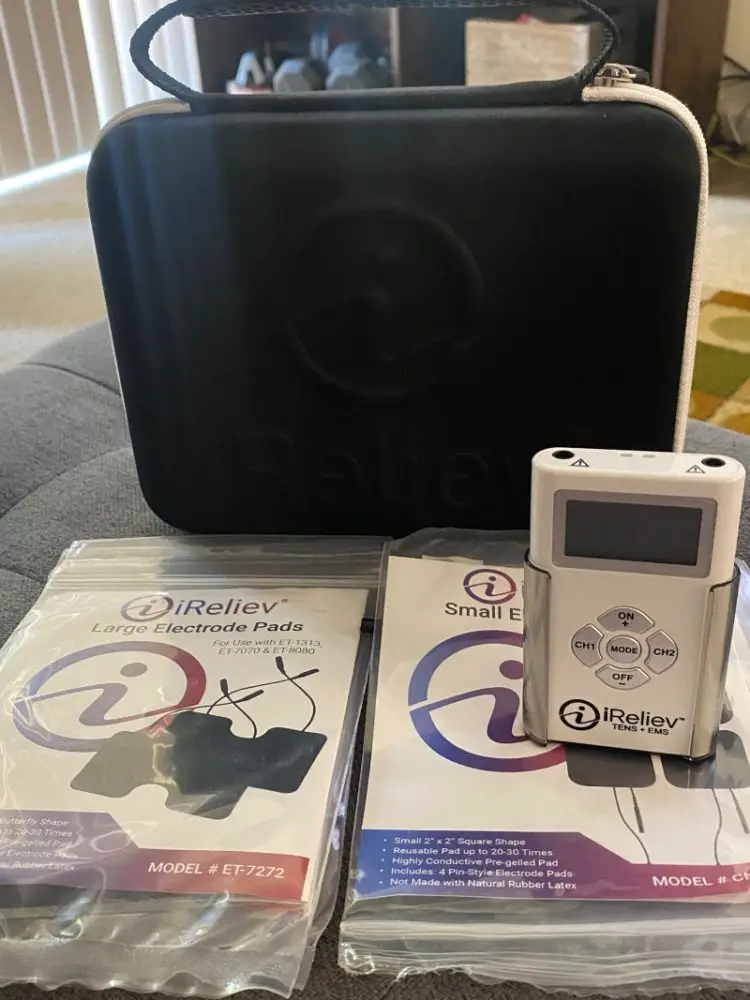 The iReliev TENS & EMS is the most portable of the devices that I have reviewed.  It is the same size as a credit card, while only being 3/4 of an inch in thickness.
It runs on 3 AAA batteries and on average you can get about 15 hours of use before having to insert new ones.
So this has two output modes: TENS and EMS (electrical muscle stimulation)
TENS mode: Is a strength and recovery system and has 14 different preset programs.  There are 3 types of pain program that you can choose from: Chronic, Acute and there is even a mode for Arthritis.
EMS mode:  There are 5 different pain programs to select from depending on your need.
Exercise Prep- Gently warms up the muscles prior to exercising using a rhythmic massage
Muscle Recovery- This helps reduce muscle stiffness by using a low frequencies using a tapping massge
Active Recovery- Produces a kneading massage to relax the muscles.
Endurance- Helps reduce fatigue by using low frequency pulse to initiate slow twitch fibers for developing aerobic capacity.
Muscle Strength- Provides strong deep muscle contraction to help improve with strength.
On a negative note, it does not have a back lit screen, so using it in the dark would be an issue but in this price range it is acceptable for all the features you get.  Also the LCD screen is on the small side however this is a very nice unit with a lot of settings and programs to choose from.
Best part is they are based in Dallas, Texas and have phenomenal customer service FREE shipping and delivery in less than 5 days.
Get yours today on the iReliev website by clicking here. 
See this short video on how to use the IReliev TENS/EMS combo unit:
---
 TenStim TENS EMS Combo Unit
The 2 best feature that I like with the TenStim is the back lit display and the large LCD screen.  Most TENS units do not have a back lit screen so its nice to have when using at night.  Also the large LCD makes for quick  and easy readability.
The TenStim features 12 therapeutic modes and 20 intensity settings.  It has the typical modes like cupping,scraping and kneading.
What stands out to me is the "foot massage" mode.  Unfortunately, you need to purchase separately a pair of massage slippers in order to take advantage of this feature.  It would have been nice for the company to include them with the TENS/EMS unit. 
Another great feature is that there is no need to buy batteries with this unit.  It uses a rechargeable lithium battery.  Plug into a wall outlet or your laptop's USB port for charging.
I like that it does come with a pair of XL electrode pads, which can be used on larger areas, such as the lower back and shoulders.
The most interesting part of this unit is the ear clip that comes with it.  Per the product description: "by stimulating the ear you effectively stimulates various parts of your nerves and muscles and relaxes your body."  I have not used this feature so I cannot confirm TenStim's assertion that it relaxes your body.
The one drawback are the instructions.  They are not as specific and detailed as other TENS units provide.  It does not go into detail as to what setting is used for what body parts.  So you do have to do some experimenting but if you  need any help I have created a TENS Placement Guide.  
This is the most expensive unit on the list but with its back lit display, lithium rechargeable battery and the many modes and intensity settings it is a great buy.
---
Pure Enrichment Pure Pulse Duo 
The Pulse Duo comes equipped with 8 TENS modes ,6 EMS modes and 25 intensity levels, so you won't have an issue finding the right mode for the job.
Even though it is small, the LCD is easy to read and it is simple to navigate between modes using the buttons.  A negative is that there is no back lit LCD.
It comes with 2 large butterfly electrode pads ( 5″ x 3.5″) that are great for your back,abdomen and neck.  Does the job for large areas.  2 pair of smaller pads (2″ x 2″) are included that are perfect for your neck, knee, shoulder and feet.
Although the unit does need 3 AAA batteries you can get about 35-40 hours of use before you need to replace them.  Bonus points for great battery life.
A nice selling point is that you are able to access online videos from Pure Enrichment's website that guide you on how to use their TENS/EMS unit for pain management.
Just go to visit www.pureenrichment.com/purepulseduovideos and register to access the videos.  These videos feature orthopedic physical therapist Jeff Waldberg that show you how to use the device and helpful stretching exercises and tips on how to manage your pain.  This is great especially for those that are new to these devices.
You are getting a lot for under $80.  The added instructional videos make this a must buy.
---
HealthmateForever   
This is my favorite TENS/EMS combo unit.  It has 4 channels while the other units I reviewed only have 2.  That means you can have a total of 4 pairs of electrode pads (8 pads in all) at one time.  This means you can have 2 pads on placed on each knee and another 2 on each shoulder.
Another great feature is the back lit screen that makes it easy to read in the dark.  The Healthmate can be programmed for 80 minutes of continuous use. Most other units are in the 20-60 minute range.
With 15 massage like modes and 20 different intensity levels you will have no problem finding the right mode and level.  No AAA batteries needed as the HealthmateForever 15 is powered by a removable replaceable lithium battery.   The battery life is awesome and has an indicator to let you know when it needs to be recharged.
The best part of the HealthmateForever 15 is how easy it is to use.  You can select what part of the body from neck,knee,shoulder and back just by simply pressing the button.
This takes out much of the guesswork in trying to configure the settings.  It makes using the device straightforward and simple right out of the box.
Check out this very short video to see just how easy this is to operate.
So for just over $100 you get a back lit LCD screen, lithium rechargeable battery that lasts and most importantly the 4 channels.  You get a ton of features and should consider getting one today.
---
NURSAL Touch Screen 
The Nursal TENS-EMS has a large, easy to view touchscreen.  The newer units being released are offering touchscreen models that work just like your Iphone or Android phone.
It has 8 modes and 20 intensity levels. The best feature has to be the touchscreen. If you want to use the unit on your feet just simple touch the feet icon on the screen and you are all set.  It also has a back lit screen handy for use at night.
As you can see in the picture below the top portion the the screen lists the body parts while the bottom has the modes that can be selected by touching the appropriate icon.
Another feature I would like to highlight is that both channels (A/B) can be set on different modes and intensity levels.  So for example you can have one electrode pad near your elbow for tendinitis at one setting and another pad on your neck on another mode and intensity setting.
The Nursal TENS/EMS includes 4 pairs of electrode pads ( 8 in total). It also has a built in lithium battery so no need to keep replacing batteries all the time.  This device uses standard 3.5mm snap on electrode pads.
If you are looking for a TENS/EMS combo device that has a huge touch screen high definition display and is so easy to use then check out the Nursal Touchscreen TENS EMS.  This device is highly rated.  Check out the many 5 star reviews on Amazon. 
 Shield Class IV Touchscreen 
Here is another touchscreen TENS/EMS unit from Shield.  The Class IV has a large LCD screen that is back lit and the light shuts off after 10 seconds so it safes battery life.
It is powered by a built in lithium battery and can be plugged into an outlet or you can charge it via the USB cable that is provided.
The Shield has 6 massage modes and 4 mode selections giving you 24 massage patterns to choose from.  It is very compact, about the size of an Iphone 5 and fits easily into your pocket for on the go use.
Check out this quick  review on what is included with the Shield Class IV TENS EMS unit and how to use it.
What I like about this TENS/EMS unit is how easy it is to use.  It is intuitive and you will quickly figure out how to use it.  The battery life on this is amazing.  You get about 10-12 hours of use before you need to charge it.
3 pairs of electrode pads are included (small,medium large) so you can target large areas like your back and shoulders and you can use the smaller electrode pads to target areas such as your neck, elbow, hands or knees.
Another cool feature is the lock button located on the bottom just below the screen.  You just click the button to put the device in "lock mode".  This allows you to place the device in your pocket without having to worry about the settings or modes being changed.
At under $70 this is a cost effective way to try a TENS/EMS unit that has a back lit display, large touchscreen and amazing battery life.   Get yours today!
---
Need help wondering how to use a TENS unit?  Check out my TENS Placement Guide for how to place the TENS pad for:
Knee Pain
Neck Pain
Shoulder Pain
Tension Headaches
Golfer's Elbow
Plantar Fasciitis
Rotator Cuff Pain
Restless Leg Syndrome
Ulnar Nerve Pain
TMJ Pain
and more…..
Need electrode pads for your TENS/EMS unit?
Buy in bulk and save!  Get 48 pads for under $20  These are high quality and can be used multiple times per pad.  These are from Amazon and work great and last after many uses.
To get the most life out of your electrode pads, always make sure you wash the area that the pads will be placed on. This will remove some of the natural oils in the skin, that overtime breakdown the pads sticky residue.
Why should you select a TENS/EMS combo unit?
I prefer a TENS EMS device over a regular TENS unit because a TENS/EMS is more versatile and can be used to treat a wider array of ailments.
For example, if you have a tight calf muscle the EMS mode can help massage and loosen up that area.   Have a knot in your neck?  Well this is another good reason to have a device with an EMS mode.  The TENS mode can help block the pain.  This is great for chronic and ongoing pain.
So what's the difference between TENS and EMS?
When deciding which electrotherapy device is right for you, consider your goals. Are you aiming to reduce the burden of chronic daily back or knee pain? Or are you aiming to strengthen weak muscles affected by injury or inactivity?
TENS units are specifically designed for pain management. This includes acute pain that occurred a few hours ago or chronic pain that has been bothering you for several years. TENS can be used on a variety of body areas including the lower back, knees, shoulders, and neck. They are easy to use and can be utilized several times per day for pain relief.
EMS devices are intended to aide in the strengthening of muscles affected by injury or surgery such as total knee replacements or ACL repair surgery. This can also include muscles atrophied or wasted by disuse in medical conditions such as stroke and multiple sclerosis.
EMS can be a little more challenging to master than a basic TENS unit. If you intend to use this device simply to strengthening weakened muscles from an old injury then you are in luck. However if you intend to use EMS following surgery or a serious medical condition such as stroke, it would be best to follow the guidance of a trained health professional.
For those who desire to use their device for both TENS and EMS benefits, there are combination devices available that include both treatment modes. An example of this may be a person who suffered a back injury several months ago and would like to use the TENS unit for pain relief but add EMS treatment to their strengthening and recovery program. These combination devices of course will cause a slightly larger hole in your wallet.
Regardless of which mode you choose, you should know that these devices are not for everyone. Consumers should not use these products if they have pacemakers, implanted defibrillators, active cancer, or seizure disorders. Individuals who are pregnant should speak with their physicians before using either device.
Pads should never be placed on the front of your neck or chest, eyes, or over an area with known cancer or wounds. While all devices will include an instructions manual, consult your physician, physical therapist, or chiropractor if you experience adverse reactions or are not achieving the desired results.
So how do these devices work? TENS units transmit small electrical impulses from gel pads on the user's skin that block pain receptors from reaching your brain. In the world of science this is known as the gate control theory.
For some individuals this relief spans only the time of treatment, while for others it can last several hours beyond treatment completion. It can be used several times per day and is often utilized in conjunction with pain medication, gentle exercise, or heat or ice therapy.
EMS devices also send electrical impulses but aim to activate nerves to cause muscle contraction. While EMS devices are more effective at muscle strengthening than NO exercise, they are NOT more effective than voluntary active exercise.
Most effective results with EMS include a combination of electrotherapy WITH voluntary active exercise. This may be best accomplished by including a supervised home exercise program designed by your physical therapist.
How to use a TENS EMS device
Once you have chosen your device and made the purchase, where do you begin? The instructions manual! Because each device operates differently, please read your instructions! Regardless of your desired goals or outcomes, understanding how your machine operates is vital to your success.
Care for your gel pads and keep them clean. A good conduction between the gel pads and your skin is key to achieving optimal results. Make sure your skin is always clean, dry, and free of wounds or rashes prior to pad placement.
The pads for your TENS units may often be placed directly at the site of your pain aiming for muscles and avoiding direct placement over bone.
The desired outcome is a strong but tolerable tingling sensation that may be modulated or adjusted over time. Treatment time may last around 20-30 minutes.
When utilizing EMS devices, you are trying to elicit muscle contractions for strengthening. This requires your pad placement to be very specific to the desired muscle group. An efficient use of EMS devices elicits a strong muscle contraction and not just light twitching.
This sensation is often uncomfortable to novel users. Adjustment of pads may be required to achieve a full contraction. Refer to your device's user manual for specific questions on pad placement.
Electrotherapy devices are great additions to any rehabilitation program. TENS units tend to be a little more user friendly as an easy way to manage even daily aches and pains.
EMS devices are effective to aide in muscle strengthening and recovery from illness or injury. However they may require a bit more understanding of human anatomy and training on proper use. Understanding their differences is key to selecting the correct device for your needs and reaching your treatment goals.
Conclusion
You should not have a problem picking a TENS/EMS combo unit for yourself.  The use of these types of devices is on the rise and gaining popularity as an alternative to medication to relieve and reduce the everyday aches and pains.
Try one out today and you will not be disappointed.
Thank you for reading,