When it comes to the Auvon Dual Channel TENS Unit, you'd be hard-pressed to find a more affordable, effective, and convenient pain-relieving TENS device. The fact that this model also comes with a wide range of accessories, including an excellent selection of reusable pads, also males this deal a no brainer.
This unit is about the same size as a credit card. In addition, it only weighs about 4 ounces, which is lighter than the average handheld TENS unit. To ensure that users don't accidentally lose the unit, Auvon includes a high quality drawstring storage pouch that's just large enough to hold everything you'll need. Here is what you get:
The display unit
The USB charging cable and wall outlet adapter
The 8 included electrode pads
Travel bag
1 pair of electrode wires
1 Pad Holder
User manual
The handheld display/operation device has a nicely backlit screen and large, easy-to-read icons. Users can view the battery percentage, timer setting, chosen program, and level of strength. If you'd like to adjust any of these settings, you only need to press one of the four directional buttons below the screen.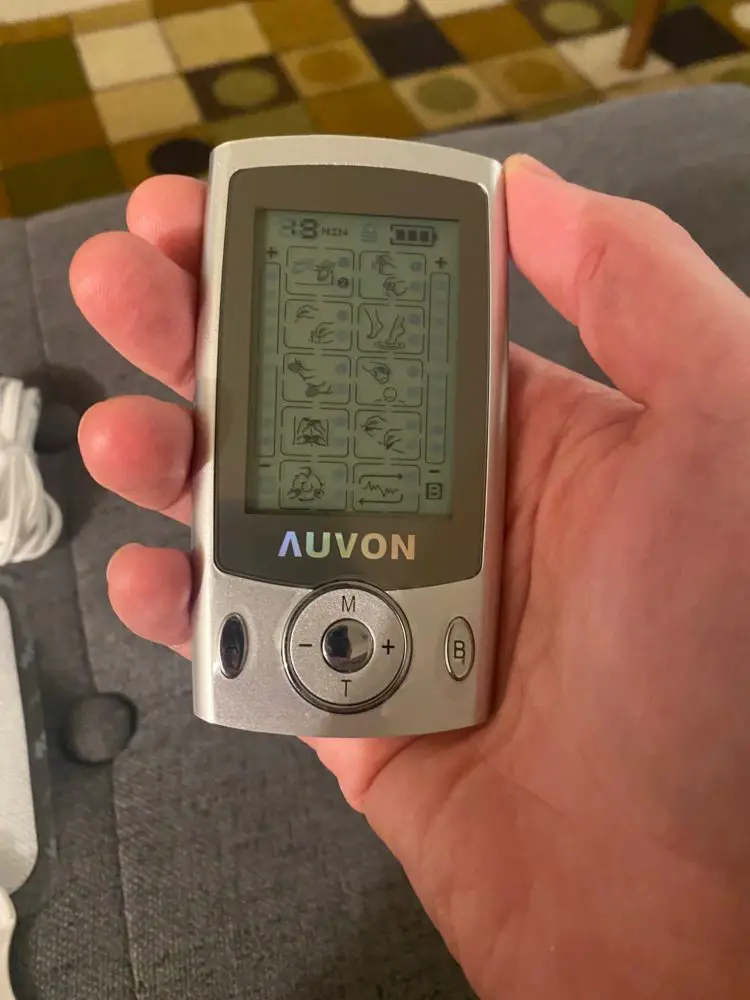 There are 20 different types of programs that users can choose from, and these groups are represented by the 5 boxes on the screen. Each box contains 2 programs, Users can choose among the following types of popular treatments:
Kneading. There are four different kinds of kneading available within this group. Each one focuses on the hands, with crosscut fist kneading and vertical fist kneading being the two TENS treatments. However, users can also choose to try the two EMS options.
Shiatsu-Deep. Both of the therapies within this category are EMS functions, but that doesn't make them any less effective at helping users relax and find comfort. Within this circle, you could choose to either try the Thai massage or the Shiatsu massage.
Tapping. Both of the treatments included within this group are fantastic examples of TENS therapy. Users can choose between a vibrating manipulation and a lifting-pinching manipulation, both of which are designed to treat the shoulder area.
Cupping. While no TENS unit can perfectly replicate the sensation and benefits of cupping, they can get fairly close. If you decide to try the cupping mode, you'll have three treatment options from which to choose. There are rubbing reduction and fibrillation massage modes, in addition to a basic cupping option.
Acupuncture. The acupuncture kneading therapy is technically an EMS function, but the moxibustion and acupuncture options are purely TENS. Again, while it's impossible for a TENS unit to accurately replicate an authentic acupuncture experience, it can produce similar benefits within the treated muscle and tissue.
Auto-Combination. There are two auto-combination modes from which to choose. There's a TENS combo mode and an EMS combo mode. For those looking to enjoy a full-body therapeutic experience, this mode may be the most beneficial option.
The Auvon TENS unit contains a non-replaceable, rechargeable lithium battery. To charge, you need only connect the handheld display unit to the USB charger cable and insert the USB adapter into a powered PC or USB outlet. A completely drained unit may take up to eight hours to fully charge, though most will experience a far faster charging time. At full battery, this model can last for up to 10 hours of continuous use.
Speaking of the number 20, users can choose from among 20 levels of strength, allowing for perfectly customized treatment. Rather than struggling with an overpowered unit, or an ineffectively weak one, this model allows you to find the perfect settings for your arthritis relief needs.
When you order this TENS unit, you get a set of multi-sized adhesive pads. There are eight pads in total (four large, four medium), and though they are disposable, they can also last multiple uses before losing their stickiness. The gel adhesive on the pads is latex-free, making them an excellent option for those skin allergies and sensitivities.
For maximum ease of use and enjoyment, you can set the Auvon TENS unit to a specific time limit. This way, you can close your eyes and relax while the unit goes to work. Timer options include 10, 20, 30, 40, or 60 minutes. Also, operating this model could not be easier. Users can complete all of the setup steps in as little as two minutes, depending on the areas being treated.
To operate the Auvon TENS unit effectively, you only need to:
Connect the pads to the lead wires.
Attach electrode pads to the areas you'd like to treat.
Plug the wire adapter into the bottom of the unit.
Turn the unit on.
Adjust to your desired setting.
Press and hold the center button to lock-in the treatment and begin.
Lastly, this unit is backed by a limited lifetime warranty and 1-year money-back guarantee. If, for any reason, you're not completely satisfied by this tiny-yet-powerful device, you can return it. And if you're happy with the Auvon TENS unit, you can feel confident that it will last a long time. 
Overall, this model is an exceptional option for individuals of all budgets and pain levels. Anyone seeking pain relief can feel comfortable using the Auvon TENS unit.
Battery: Rechargeable 
Programmed Modes: 20
Hours of Continuous Use: 10
Included Pads: 8, various sizes
Backlit Screen: Yes
Bottom line
This is one of the best TENS units for under $50. I highly recommend due to its ease of use and the versatility. 20 different programs to choose from that will provide quick pain relief. The high quality electrode pads are a nice bonus and you can expect to get between 30-45 uses per pad. Buy yours today by clicking here.