The iReliev TENS + EMS Pain Relief & Recovery System is an upgraded version of the wallet-friendly Pain Relief unit. It has a lot more going for it than additional electrode pads. The most significant difference from its lower-priced alternative is its functionality. You see, this sweet little device is capable of both TENS therapies and EMS treatments. 
What I like about the TENS +EMS TENS
Compact design fits easily in your pocket or clips onto your pants with the plastic holster
Easy to use with clearly visible buttons
Several therapy programs to choose from
Device has EMS which is used to stimulate muscles to improve strength and performance
Lock function which prevents accidental setting changes
Click here to check out current price of the iReliev Pain Relief Recovery System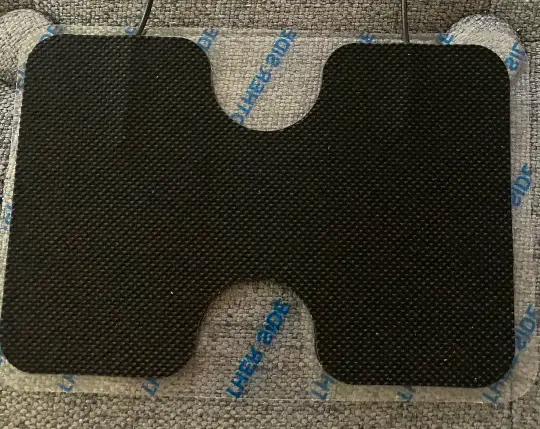 As an added bonus iReliev included 2 extra large electrode pads to this system. These are perfect for larger body regions like the back and shoulders. Most TENS devices only include the small electrode pads so this addition is a nice perk to have.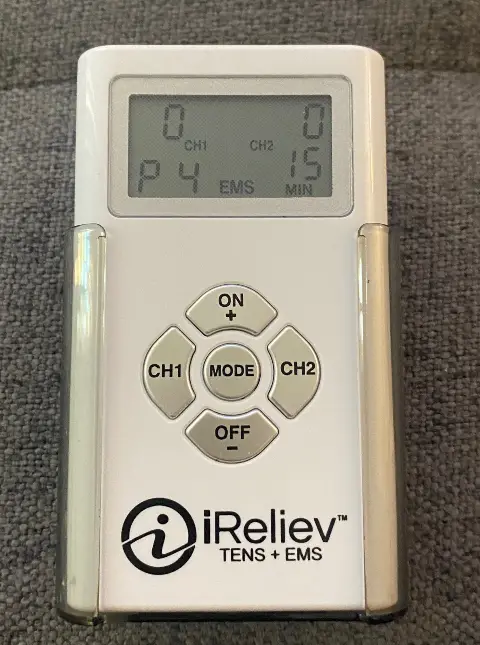 This TENS unit has 14 unique TENS/EMS therapies, and each one is programmed to provide maximum pain relief for chronic and acute sufferers. There is also an arthritis-focused program for those suffering from painful joints and inflammation.
What's in the Box
Here is what you get:
iReliev TENS+EMS device
Belt Clip & Holster
4 2"x2" Electrode pads (small)
4 3.5"x5" Electrode pads (large)
3 AAA Batteries
2 Lead Wires
iReliev travel case
How to use the iReliev TENS +EMS unit
Getting ready to use this system is simple and straightforward. All you need to do is follow these steps:
Attach the electrodes above, below, or beside the desired treatment area. Placing electrodes directly onto the sore area can result in excess pain or prolonged discomfort.
Snap the lead cables onto the electrode pads and plug their adapters into the control unit.
Turn the unit ON.
Select the desired timer, program, and intensity settings. 
The timer works in ten-minute increments and has a maximum limit of an hour. Still, for your first time using a TENS/EMS device, you should only attempt a 15-minute, low-intensity program. From this point forward, you'll be better able to adjust and customize your required settings without risking self-injury. 
And like the Pain Relief unit, this system includes a belt clip adapter and expansive lead cables, allowing users to wear their TENS/EMS unit while performing simple errands and tasks. Unlike comparable models that typically have very short cables, this system seems to encourage movement and mobility. 
Of course, if you're someone who often bumps into objects around you, it's easy to feel concerned about possibly changing the program mid-session, or increasing the intensity level while walking around the house. However, if you activate the locking mechanism, this won't be an issue. 
Battery Type: Replaceable (AA size)
Channels: 2
Wireless: No
Included Pads: 12
Programs: 14
EMS: Yes
Want to know how high you can set a TENS Unit? Click here to learn more.
Want to know where a TENS unit can be placed?  Check out my TENS placement guide here. Below are a few common TENS electrode pad placements: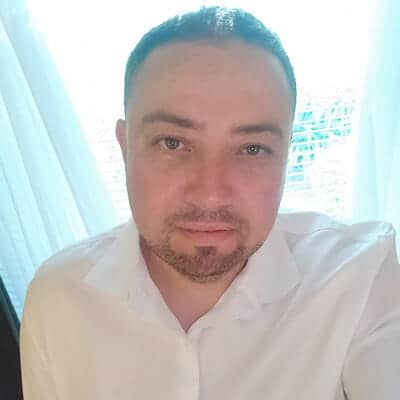 Why should you trust me?
I have extensively used TENS units for neck, shoulder, back and knee issues and became familiar with TENS therapy through countless visits to my chiropractor and physical therapist's office. I have spent many hours researching and reading how TENS therapy can alleviate pain.
I consider myself knowledgeable in the use of TENS units and have used them regularly to help manage pain over the years. Many of my recommendations are from firsthand experience/use and hopefully my information can be a benefit to you.
Overall for under $90 you will not get a better TENS device that is loaded with several pain relief programs. iReliev is based in Dallas,Texas and provide prompt customer service if you have any questions. I prefer dealing with USA based compaines vs TENS units on Amazon.
The device is well made and I have been using it for over two years and it works just as good as from day 1. If you are interested in checking it out click here