Using a far infrared heating pad is a great way to get quick pain relief from all sorts of aches and pains that you may experience. From cramps, to neck, shoulder and back pain to name a few.
The best far infrared heating paid you can get is from iReliev. It is affordable (under $150) and is made from high quality natural jade and tourmaline stones. Far infrared wavelengths are made to penetrate the tissue resulting in incredible pain relief. The all-natural stones allow for deep relaxation and have incredible therapeutic benefits. The stones retain heat longer and emit negative ions for the most effective treatment.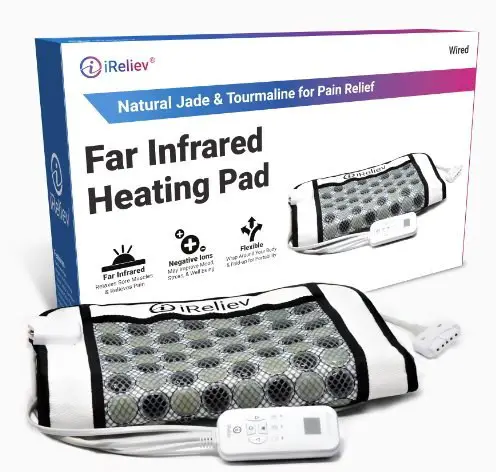 Most infrared heating pads are stiff and do not easily conform to your body. The great thing about the iReliev pad is that its very flexible which allows you to wrap it around knees, neck or legs with ease.
Another great benefit is that the heat that this pad emits can penetrate clothing so you do not have to directly apply it to skin. With its built in carbon fiber heating elements it can reach a temperature of 160°F and has a 5 hour treatment time (10 minute increments) which is more than enough to get results.
Made from all-natural jade and tourmaline stones, 112 in total. The Far Infrared Heating Pad from iReliev is perfect for relieving pain, reducing inflammation and improving blood circulation. It is also ideal to use post workout for those sore muscles or from a long day at work.
It is lightweight and flexible and measures in size at 24″ x 16″ making it big enough for any area of treatment.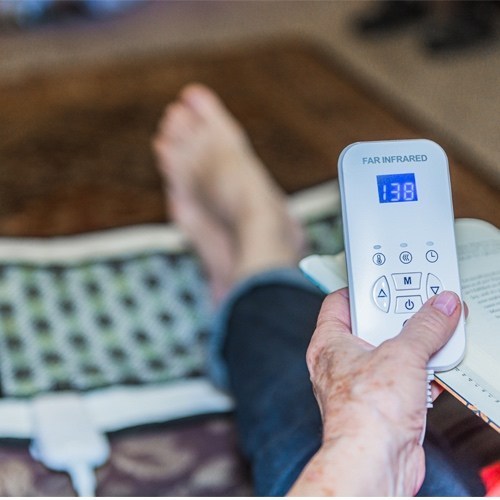 The infrared pad uses a remote control that is easy to read and also allows you to adjust temperature and time at the push of a button. With a ten foot electrical cord you wont have to worry about finding a place to plug in the device.
To read about the pros and cons of an infrared heating pad check out my article here
How to use the Far Infrared Heating Pad
Place the pad in the area that you want to treat and turn on the heating pad by pressing the power button on the remote control. Next you will want to select the temperature: To use the temperature setting press the mode button (M) on the remote control and a blue light will appear above the   
Press the up or down arrow button to increase or decrease the temperature, then press the mode button to select a treatment time. To select your treatment time, press the  up or down arrow to increase or decrease the time. Once the amount of time selected has lapsed, the controller will automatically turn off. Temperature can be adjusted in 10-degree increments from 55-160. Treatment time can be adjusted in 5-minute intervals from 5-300 minutes at the maximum.
Can you sleep with an infrared heating pad? Check out my article here
What's in the Box?
Far Infrared Heating Pad
Hand Control With 10 feet of cord
Carry Bag
Operating Manual
If you are wondering if far infrared heating pads work check out our article that talks about their effectiveness here.
About iReliev
iReliev is USA based out of Dallas, Texas. They have excellent customer service and stand behind their products. They offer a money back guarantee and any product you purchase comes with a 2 year warranty to give you peace of mind. Their shipping rivals Amazon and you can expect to receive your package within 3 business days.