The pain that women experience when they go into labor is one of the most intense forms of agony that any human can survive. However, many expecting mothers resist drug-based options due to their potent effects on newborn infants. For these women, transcutaneous electrical nerve stimulation (TENS) may be an excellent pain-reducing option, but choosing from among the thousands of models can be a challenge.
We believe that the best TENS unit for labor pains is the iReliev Premium TENS + EMS Therapeutic Wearable System. However, the TENS Unit Pain Relief System is a fantastic budget-friendly alternative. But shoppers looking for an upgraded unit may enjoy the TENS + EMS Pain Relief & Recovery System.
In this article, we'll discuss these three capable TENS units for labor pain, in addition to touching on some of the benefits of using a TENS unit for pain relief, and some common questions and concerns regarding this topic.
Our Favorite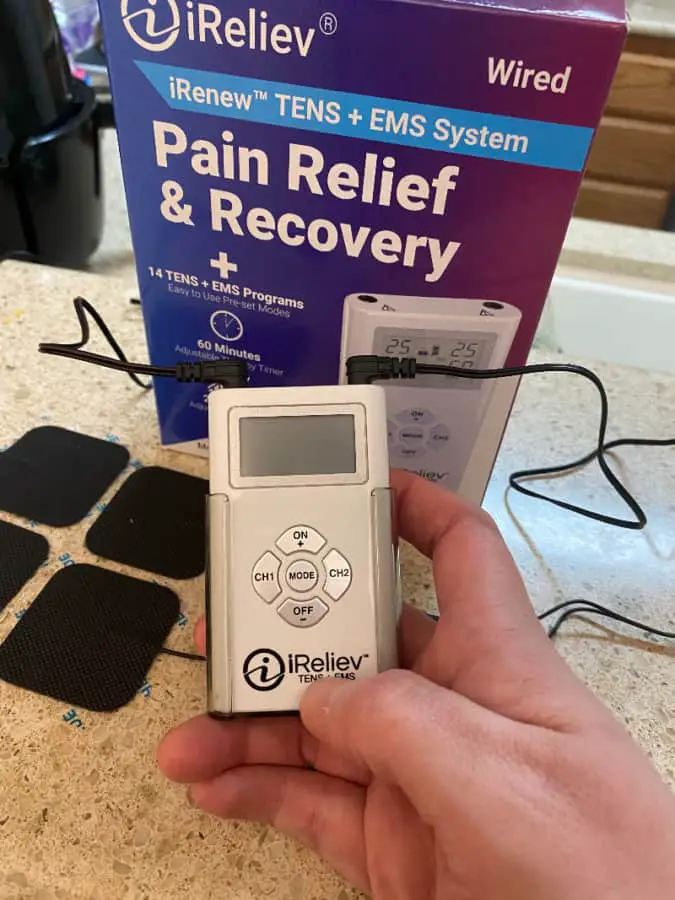 After careful consideration, we decided that our favorite TENS unit for labor pain is the iReliev Premium TENS + EMS System. With this nifty system, you can enjoy both pain-relieving TENS treatments and therapies, and muscle-strengthening EMS therapies. This makes the Premium Wearable System a useful tool for labor and post-labor healing.
There aren't very many wireless TENS/EMS units available, and this one far outperforms many of the comparable models. With its quick setup, easy-to-use design, and wide range of pre-programmed modes and therapies, it's a fantastic option for mothers hoping to lessen the intensity of labor pains. This system can also be utilized for postpartum muscle healing and strengthening, which is a great additional functionality.
Though this model only comes with two electrode pads, they're perfectly designed to fit with the two included receiver pods. Extras for both of these components can be ordered online, and the compatible wireless electrode pads do come in multiple sizes. The pads and pods snap together to form a strong, secure wireless connection.
These wireless receivers transmit data instantaneously, ensuring that the pads beneath express the appropriate amount of stimulation at the right time. They're fantastically lightweight and incredibly thin, ensuring that they fit comfortably beneath comfortable, somewhat loose clothing. Besides, these pods are rechargeable, so they're likely to last for several years.
Unlike standard charging cables that only have a single adapter head, this system includes a uniquely engineered three-adapter cable that allows users to charge up to three components (multiple receiver heads and the wireless remote) concurrently. This cable's other end is a USB adapter so that you can charge your system via your laptop or home desktop computer. The included wall outlet adapter ensures lightning-fast charging from a wall outlet.
The manufacturers have designed them to charge insanely quickly because this model features a large number of rechargeable components. The receiver pods take only about an hour and a half to load, and the light-up wireless remote takes a mere three hours to fully charge.
Even if you forget to charge these components for weeks or months, they'll be ready to go when contractions begin to increase in regularity. But this system has a lot more to give than fast charging times and wireless capability. It also features several useful battery indicators, most notably on the receiver pods.
When the internal pod batteries begin to lose charge, the pod will start to flash a bright blue. During regular use, they'll maintain a friendly, blue glow. But during charging, the center indicator will become bright orange until the pod is ready for use. At that point, the sign fades to a neutral grayish color.
This ensures that users are always able to have access to a fully-charged, robust set of TENS equipment. The wireless remote doesn't have any kind of light indicator but instead utilizes the display screen to warn users of a soon-to-be empty battery. This display screen also comes into play while charging the remote, as it will display a full battery icon when charging is complete.
The screen does feature a bright backlight, making it possible for users to read it in all environments and lighting conditions. Using this screen, users can access the device:
Set program number
Time remaining during a session
Set timer for the session
Set intensity level
Wireless connection status
Below this display screen is an inlaid set of directional keys that allow the user to choose their desired settings. Each one of these keys is labeled, facilitating greater ease of use. It's also a super convenient feature.
The Wearable System is a combined TENS/EMS unit that makes it a more attractive option for expecting mothers. After all, the TENS therapies can help women get through painful labor, and the EMS options are great for postpartum muscles. Some useful programs to consider include:
TENS Program Two. This program is designed for intense, acute pain, which is why it's an excellent option for labor pains. It produces bursts of 60Hz electrical pulses that may help decrease overall pain levels.
EMS Program Two. This is a muscle recovery program that is best suited to women in the later stages of postpartum recovery, as it produces a mild muscle-twitching massage. This program is designed to help stiff muscles relax, but may be too intense for some.
EMS Program Three. This active recovery program is gentler than the previous one but primarily stimulates muscle tissue in the same way.
EMS Program Four. This is the smoothest, most relaxing EMS option for those recovering from giving birth. It's somewhat intense but never painful.
Using the Output Mode guide can help you decide which program may be best for your labor pain and recovery process. You may also want to take advantage of the remote's quad channel capabilities, as this feature allows you to attach several electrode pads and pods at once. If you need to treat a large area or multiple areas at a single time, quad channels are a must.
Unfortunately, to take full advantage of the quad-channel feature, you'll need to invest in additional equipment, namely receiving pods and electrode pads. Still, pad refills are an eventuality, and shopping for replacements ensures that you get the right-sized pads to fit your needs.
Also, this system's bonus materials are incredibly useful. The hard plastic carrying case is great for travel, and the soft tote bag helps to keep the components in ideal condition.
The iReliev Premium Wearable System is a fantastic feat of home medical technology and can be a useful tool for women experiencing labor pain. The EMS therapies included in this system are also an excellent option for postpartum muscle recovery therapy.
Battery Type: Rechargeable
Channels: 4
Wireless: Yes
Included Pads: 2
Programs: 14
EMS: Yes
Budget Pick
The iReliev TENS Unit Pain Relief System may be the better choice for those on a tight budget or simply like to keep an eye on their wallet. It may not offer EMS functionality, but it does have a great selection of pain-relieving TENS therapies, and that's the most crucial aspect to keep in mind when dealing with labor pains.
This TENS device runs on three AAA batteries and is not rechargeable. While this may inflate the initial cost of operating the unit, it could prolong the overall life of the device. Rechargeable TENS units have internal batteries that cannot be replaced, so when they die, the entire unit is gone.
This model comes with between four and eight electrode pads, depending on when you decide to order. iReliev offers tons of discounts and bonus equipment throughout the year, so you may want to check back every few weeks to get the best possible deal. Planning early will help you here.
Still, if you're not able to score this model on sale, it remains an affordable and effective TENS option. Though it sports two channels rather than four, you can strategically place the included electrode pads to handle intense bouts of pain. By surrounding the affected area with the small-sized pads, you can soothe even the most significant regions.
These tiny square pads secure to the skin via a non-allergic adhesive that can be activated with a little water. Because this unit is not wireless, it's essential to take note of the attached lead lines that connect the pads to the control unit. Fortunately, these cables are reasonably long, allowing for plenty of freedom of motion.
If you're concerned about accidentally ramping-up a program's intensity during labor, or turning the device off, don't be. This unit includes a built-in locking mechanism that helps keep button-mashing accidents to a minimum. 
While you may not get a lot of use out of the belt clip attachment during labor, the included tote bag is sure to come in handy during the quick drive to the hospital. It will help to keep all the unit's necessary components safe and in one convenient place.
The display screen on this TENS unit is a little different from the one featured on the wireless remote from the iReliev Wearable System. Firstly, it doesn't light up. Secondly, it's far broader, which could make it easier for some users to read. All of the information displayed in the Wearable System unit is also shown on this model's display screen, including:
The battery charge status
The set timer amount
The set intensity levels
The chosen program
Of course, one additional bit of information not displayed on the Wearable System's control unit is the locking status. Every TENS program has a specific mode (constant, modulated, burst, or cyclical) and pulse rate. Finding the best one for you and your labor pains depends on your comfort level and the professional medical advice of your physician or obstetrician.
Yet, if you're looking for a device that can help you with your immediate labor pains and your long term recovery process, this model may be disappointing. That's because it lacks any EMS therapy options that may help stiff or torn muscles heal and strengthen.
However, when you consider how many positive qualities this TENS unit possesses, and how downright affordable it is, it's easy to see how it earned its spot in this article. It may not be able to perform a crazy amount of functions, but the TENS therapy it provides is fast, effective, and convenient.
Even so, if you're in the market for a budget-friendly TENS/EMS device, you could upgrade to the iReliev TENS + EMS Pain Relief & Recovery System.
Battery Type: Replaceable
Channels: 2
Wireless: No
Included Pads: 8
Modes: 8
EMS: No
Get an Upgrade
Shoppers with a keen eye may be drawn to the affordability and multifunctionality of the iReliev TENS + EMS Pain Relief & Recovery System. This is only a natural reaction, as this model is highly effective, incredibly portable, and a fantastic upgrade on the budget model.
And while this system shares an overwhelming amount of similarities with the Pain Relief unit, it includes a greater variety of electrode pads and more of them. It also has a handful of useful EMS therapies, and the more budget-friendly Pain Relief unit lacks this capability.
But this system can provide a combination of electrical stimuli, topping-out at 14 distinct programs for pain-relief, muscle-strengthening, and improved circulation. No matter which plan you chose, you're bound to feel more relaxed after trying this model.
When you're ready to give this system a whirl, you'll need to attach the electrode pads above, below, or parallel to the painful area. The more pain you're experiencing, the more intensity you may require. The larger the affected area, the more pads you'll need to experience heightened pain-relief.
After attaching the pads, you'll want to set your desired intensity, timer settings, and program mode. You can choose a five-minute session, a ten-minute session, or a full hour-long therapy. These aren't all the timer options, and you'll be working in ten-minute increments for the most part.
For your very first session, it's a good idea to start with fifteen minutes and the lowest intensity settings on your device. If you feel you need a more intense treatment after this trial experience, you can adjust your settings as required.
Another similarity between this upgraded model and the budget option is its ability to lock, preventing accidental button mashing. This feature increases general device safety and makes it an exceptional TENS/EMS unit for anyone hoping to multitask while enjoying some electrical therapy.
The additional electrode pads in this set are far more substantial than the ones included in the Pain Relief unit, making them an excellent choice for hip, lower back, or shoulder placement. And because this unit has dual channels, users can experience intensely focused relief by employing these large-sized electrode pads.
The best aspect of this model (and there are quite a lot from which to choose) is its TENS/EMS functionality. After giving birth, aided by the pain-relieving TENS therapies, women can benefit from the relaxing, muscle-soothing EMS options. Overall, this system is an excellent choice for those caught between the fully comprehensive Premium System, and the wallet-happy Pain Relief unit.
Battery Type: Replaceable
Channels: 2
Wireless: No
Included Pads: 12
Programs: 14
EMS: Yes
Benefits of Using a TENS Unit for Labor Pain
A TENS unit can be safely operated to help reduce pain associated with contractions and childbirth, and it's an excellent idea to get healthcare providers (attending nurses or physicians) involved in applying the right amount of stimulus during this process. Throughout pregnancy, women can safely benefit from using a TENS/EMS device as long as they follow safety guidelines and manufacturer instructions.
Still, the effectiveness of this treatment option is bound to vary from person to person due to a smattering of various factors. Even so, the majority of women who have used a TENS unit during childbirth would quickly opt to use it again should they ever decide to have another child.
And though an EMS unit may not provide pain-relieving therapy, it can also be a boon for new or expecting mothers. TENS programs can handle postoperative pain and discomfort, but the EMS options can help strengthen and tone sore muscle tissue. If you're looking for a relaxing series of deep-tissue massages and muscle-strengthening therapies, an EMS device would be a fine choice.
If you're interested in helping your postpartum body heal safely, quickly, and without a need for dangerous painkillers, a TENS/EMS device may be the right choice. It combines the benefits of both systems into a single, safe, ridiculously convenient machine.
Frequently Asked Questions
You may have some lingering questions, which is perfectly normal. Below you will find some of the answers to the most frequently asked questions regarding TENS units and labor pain. Remember, if you don't see the answer you're looking for here, always reach out to a medical professional for further clarification.
Can You Use a TENS Unit During Labor?
The short answer is yes. You can use a TENS unit during labor. However, the long answer is a little bit more complicated. TENS units are a drug-free alternative to powerful epidurals, and they're incredibly flexible, making them great additions to nearly any birthing room.
And while TENS units do emit electrical impulses, they are not strong enough to directly interfere with fetal monitoring during the birth process. Having medical professionals handy while using a TENS device can help to ensure correct and safe usage.
A TENS unit is most effective at counteracting childbirth pains when employed during the earliest stages of labor. To keep this effectivity active, expecting mothers will need to continue using the device as the birth process progresses. The most considerable downside to using a TENS unit during labor is its variable effectiveness. 
While some women have reported a massive impact on pain perception, others report feeling minimal pain reduction while using a TENS unit. The amount of relief experienced by any individual depends on their current pain tolerance, a complication associated with giving birth, and about a dozen other vital factors. As always, consulting with an obstetrician can help guide you toward the correct choice for your labor.
Can a TENS Unit Slow Down Labor?
It's a common misconception or myth that the electrical stimulation produced by a TENS unit could slow down the process of labor. The primary function of any TENS unit is to reduce the user's perception of pain. It has very little interaction with the process of labor and is only meant to block pain signals or induce an endorphin-rich state of consciousness.
To put it in simpler terms: No, a TENS unit cannot slow down labor.
How Do You Use a TENS Unit to Stimulate Labor?
Firstly, most physicians do not recommend using a TENS unit to stimulate labor. In fact, they often warn pregnant women not to place TENS electrodes in specific areas that may prematurely stimulate contractions. These high-risk areas include:
The webbing of the thumb
All parts of the leg beneath the kneecap, including the ankles
The top of the shoulders
Still, it's important to note that if TENS users accidentally place an electrode in one of these areas and find themselves entering the early stages of labor, in most cases, turning the device off and removing the electrodes will reverse the effects.
Can a TENS Machine Harm a Baby?
In some cases, yes, a TENS unit could cause injury or harm to an infant. However, this would only occur in one potential scenario.
If an adult decides to attach TENS unit electrodes to a young child or infant, and leaves the settings on a high-intensity level, this would be a dangerous situation. TENS units are not designed to be used by children, and using such a device on an infant (while the intensity is set to medium or high levels) may cause injury or death. 
Consulting with a physician can help you arrive at appropriate solutions for your child's ailments or conditions. However, in general, using a TENS unit while pregnant is considered exceptionally safe, especially if users follow guidelines and usage directions. Take extra care when placing the electrode pads, and you should be absolutely fine.
Where Shouldn't a Pregnant Woman Use a TENS Unit?
Pregnant women shouldn't use a TENS unit on their:
Hands
Legs (specifically beneath the knee)
Shoulder tops
Neck
Face
Head
Chest (directly over heart)
Women with a history of seizures, epilepsy, heart conditions, or miscarriage may want to avoid using a TENS unit during pregnancy. That's because the electrical signals produced by a TENS unit could induce seizures or aggravate pre-existing heart conditions.
Also, anyone with a pacemaker or internal electrical device should avoid using a TENS device. Combating electrical impulses and signals could result in heart failure or critical organ failure for individuals who rely on these types of devices to survive.
Can You Overuse a TENS Unit?
Unfortunately, yes. While it is relatively rare to overuse a TENS unit, and the consequences are often reasonably mild, it's especially crucial for pregnant women to follow usage guidelines. Otherwise, they may experience heightened areas of extreme soreness, or irritated, reddened patches of skin.
Pregnant women also have the added hazard of accidentally stimulating early labor by placing TENS electrode pads in the wrong areas. Over-usage in these spots could prove incredibly dangerous for expecting mothers and their developing infants. EMS programs tend to increase localized blood flow, so it's also vital to take extra care when placing electrodes for these types of therapies.
The most prevalent cause for TENS unit overuse is not the time spent using the device, but the set intensity level. For example, those who crank their unit's intensity level up to maximum capability are likely to feel more fatigue or soreness directly after usage. This is a counterintuitive and potentially painful side effect of using a TENS/EMS unit incorrectly and unwisely.
The bottom line is, always follows the rules when you use a TENS unit or an EMS device. Otherwise, you may end up feeling worse than when you started.
Conclusion
Our favorite TENS unit for labor pain is the iReliev Premium TENS + EMS Therapeutic Wearable System. Its wireless functionality, a combination of TENS and EMS therapies, and rechargeable battery are all critical features that help this model to stand out from the crowd.
However, the budget-friendly iReliev TENS Unit Pain Relief System is an excellent alternative. While it does lack any EMS functionality, it offers a practical core set of pain-relieving TENS programs. Besides, if you're ready for a little upgrade, you can always invest in the iReliev TENS + EMS Pain Relief & Recovery System.
A TENS/EMS unit can be a practical solution to intense labor pains, and women can benefit from utilizing the system for postpartum muscle stimulation. Though the effectiveness of TENS and EMS therapies varies from person to person, there's very little reason not to give this type of at-home healing a try.
Sources