Well I finally decided to buy and review the iReliev Premium TENS + EMS Therapeutic Wearable System. It is a wireless TENS and EMS device. Wireless TENS units have been around for a few years and I have always been hesitant to try them out. Concerns about stimulation strength, loss of Bluetooth signal and overall durability kept me away from such devices.
Until now.
I purchased the iReliev Wireless device here. Fair warning. I will be honest with you. This device is not cheap.  At just under $200 it is the most I have spent on a TENS, EMS device.  Granted it is a wireless device, but the question is it worth the price?
What you get with the iReliev Wireless TENS+EMS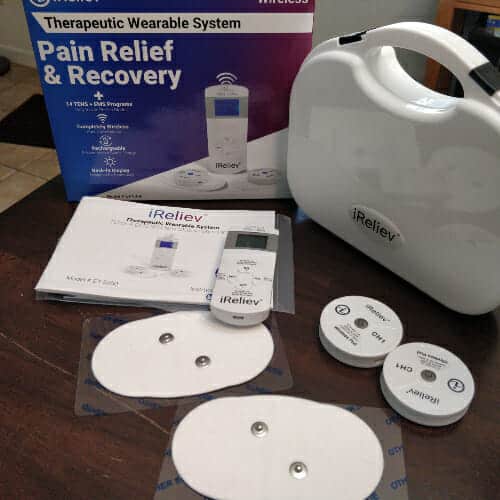 Wireless TENS + EMS Muscle Stimulator Hand Control
2) Wireless TENS + EMS Pods (Paired as Channel 1)
(1) Dual USB Plug Adapter
(1) Dual USB Charging Wires
(4) 3″ x 5″ Electrode Pads
(4) 2.75″ x 2.75″ Electrode Pads
Hard Carrying Case
(4) Pod Decals (2-CH2, CH3 and CH4)
Programs & Modes
Below the display screen are four directional buttons to help users select their desired program, mode, intensity level, channel, and timer amount. Everything is clearly labeled and easy to read, making operation a breeze. Users can select one of 14 programs to help facilitate maximum relief. 
The preset programs encompass both TENS and EMS therapies and include:
TENS therapies for chronic and acute pain
An arthritis-focused TENS therapy
Constant, modulated, or 'burst' intensities for each program
Pre-exercise EMS warm-up therapy
Muscle-recovery therapies
Muscle-strengthening therapies
Each program uses a specific pulse rate and pulse width, ensuring that users experience the ideal amount of stimulation for their pain level and injury. The included Output Mode guide is a fantastic resource for learning more about what each program can do. Thanks to the quad-channel design, you can use as many four pads and pods per session, and target multiple areas of the body at the same time.
But, if you are planning on taking advantage of the four channels, you'll need to purchase additional receiving pods, as the system kit only comes with two. Still, the included hard plastic case with snapping closures is a nice touch, and can help you keep all the components together, and in top-notch condition.
In addition to relieving shoulder pain, the iReliev Premium TENS + EMS System is also an excellent option for those with fibromyalgia, as the gel electrode pads contain zero salicylates. Overall, there's no better, more convenient, or more effective TENS/EMS unit for shoulder pain than this one, which is why it's our favorite.
Battery Type: Rechargeable
Channels: 4
Wireless: Yes
Included Pads: 10
Programs: 14
EMS: Yes
Channels
The system comes with 14 preset programs, 8 TENS programs for pain relief and 6 EMS programs for muscle conditioning. Treatment times can be set in 5 minute increments for up to 60 minutes per session.
Pros and Cons
The iReliev Premium TENS + EMS Therapeutic Wearable System has a lot of positive things going for it.  Here are a few reasons why you should consider buying it:
No wires to hassle with
Compact handheld device that can easily fit in your pocket
Wireless range of at least 30 feet
Amazing long lasting battery life
Here is what I didn't like about this device:
Somewhat clunky interface and not easy to click through all the modes and programs
Small LCD screen
Price- At almost $200 it is a premium price to pay.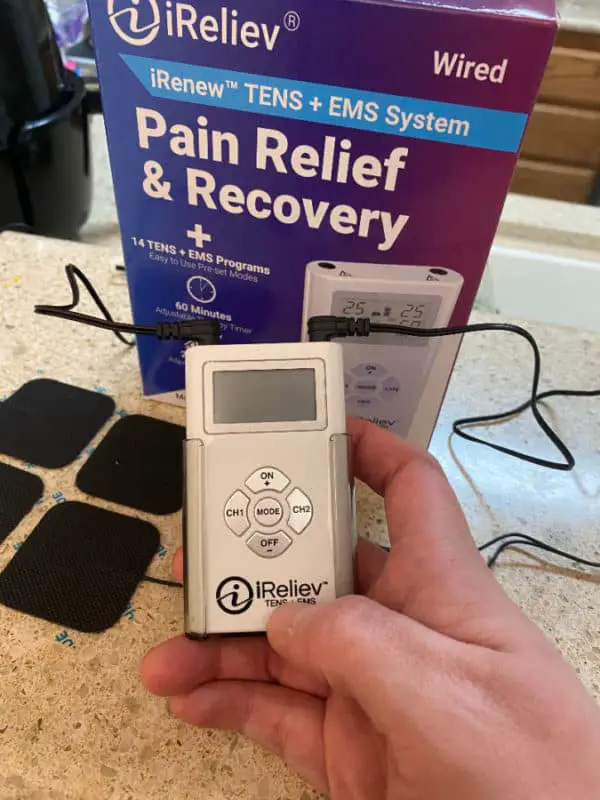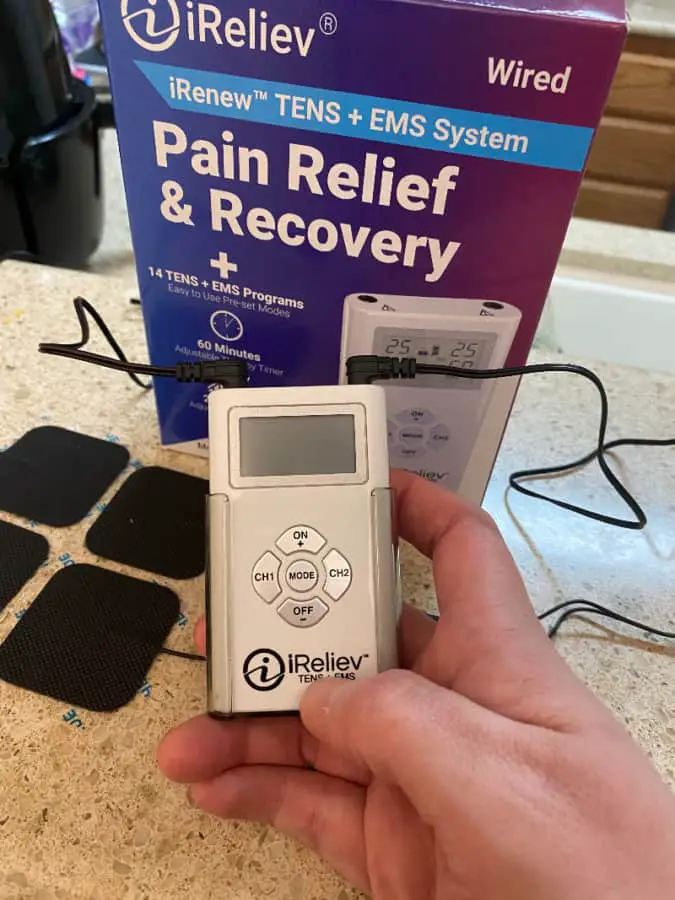 If you are looking for something more affordable check out the iReliev's TENS EMS unit at under $90 here. 
It is not wireless but if you want pain relief without the premium price this is the perfect alternative.
It has similar functions and modes as the more expensive wireless model and if you don't mind the wires I would definitely recommend checking it out.
Want to know where else a TENS unit can be placed?  Check out my TENS placement guide for how to use one for-
Knee Pain
Neck Pain
Shoulder Pain
Tension Headaches
Golfer's Elbow
Plantar Fasciitis
Rotator Cuff Pain
Restless Leg Syndrome
Ulnar Nerve Pain
TMJ Pain
Bottom line
If you can handle the price, I highly recommend this device.  Not having to deal with tangled wires or a bulky unit that does not fit in your pocket has been worth it.  I have been able to use this device while driving on long trips and have had no problems.  It works great for sciatica, lower back pain and plantar fasciitis.
You  can buy the iReliev Premium TENS + EMS Therapeutic Wearable System directly from iReliev here.