Whether it is from typing for hours on a keyboard or using your hands to fix cars or sew, having chronic wrist pain is no fun but knowing the correct TENS unit placement is important and the first step in reducing your pain.
TENS unit placement for wrist pain
The placement of the electrode pad on the wrist is very important.  If you suffer from an overuse injury such as tendinitis using a TENS unit can help reduce and alleviate the pain.  Here are a couple of pics that show where the pads can be placed.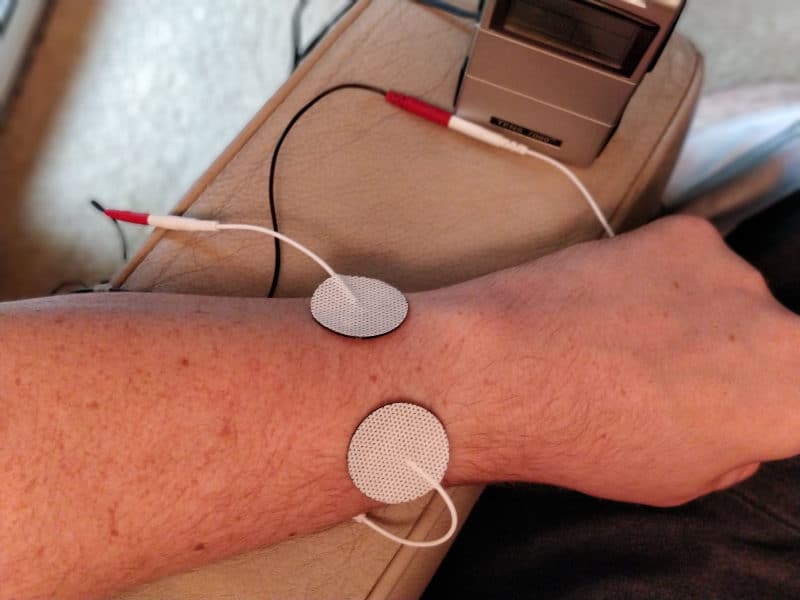 You are going to want to place each electrode pad on either side of your wrist about 1-2 inches apart.  I'm using smaller electrode pads as they are better when treating smaller areas such as the wrist/hand.
 Note: Typical TENS units come with large square pads which may cover a large portion of your wrist.  They also are just too big and will cover part of your wrist bone which is not ideal when using a TENS unit.
I prefer to use smaller electrode pads like these from Amazon.  These round TENS pads are the perfect size to pinpoint pain effectively.  The size of these pads will deliver the right amount of electrical stimulation.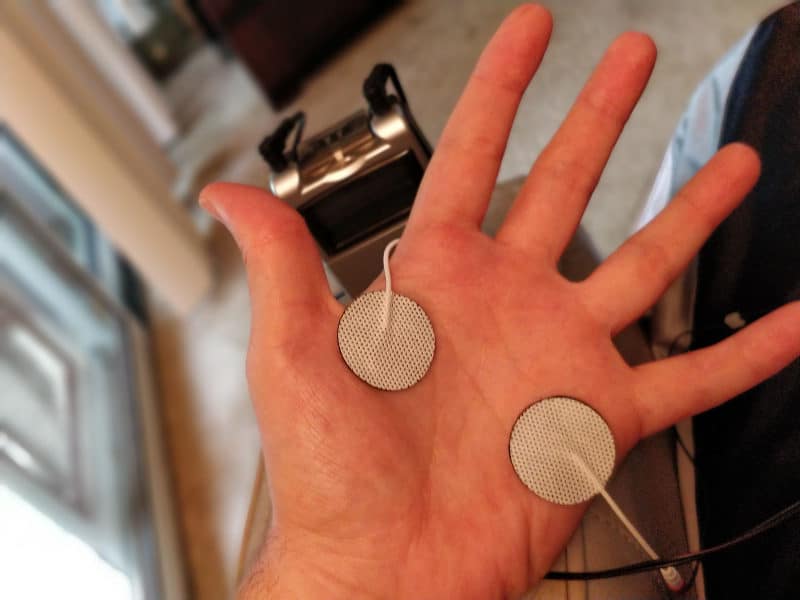 The second set of TENS electrode pads can be placed on the inside part of the hand.  Place one pad just below where your thumb connects with your hand.
The second electrode pad can be placed right below where your pinky finger connects with your hand.
It is OK to experiment to see what placement works best for you.  Generally when putting on the pads to your skin you want them surrounding the pain and spaced out by a 1-2 inches.
If you are new to TENS therapy check out how to use the setting on your TENS unit here.
TENS Conductive Electrode Cuff
Since you already have a TENS unit a good accessory to try out is a conductive cuff that you can connect to your existing device.  This cuff is just like a sleeve that you place over your wrist ,similar to a wrist band.
The electrode pads are built into the sleeve and as you can see from the picture all you  need to do  is connect your lead wire from your TENS unit into the wire from the cuff.
Click here or in the image to check it out on Amazon.
*Note: This accessory work on Healthmate, TruMedic, Prospera, Ultima Neuro for Neuropathy, ChoiceMMed, Omron Pain Relief Pro**, Omron PM3030**, XFT, Acclaim Digital, Gold Hand, ReBuilder, Digital Therapy Machine, Earthing and Grounding applications and other standard electrotherapy devices.   So just about any TENS unit will do.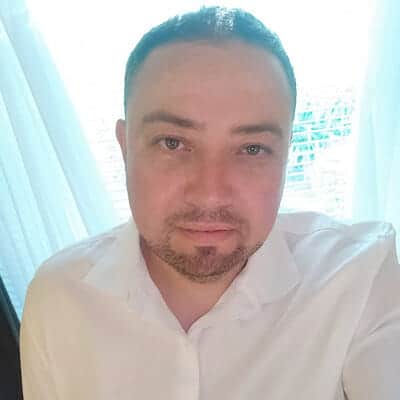 Why should you trust me?
I have extensively used TENS units for neck, shoulder, back and knee issues. I became familiar with TENS therapy through countless visits to my chiropractor and physical therapist's office. I have spent many hours researching and reading how TENS therapy can alleviate pain.
I consider myself knowledgeable in the use of TENS units and have used them regularly to help manage pain over the years. Many of my recommendations are from firsthand experience/use and hopefully my information can be a benefit to you.
Want to know where else a TENS unit can be placed?  Check out my TENS placement guide for how to use one for-
Knee Pain
Neck Pain
Shoulder Pain
Tension Headaches
Golfer's Elbow
Plantar Fasciitis
Rotator Cuff Pain
Restless Leg Syndrome
Ulnar Nerve Pain
TMJ Pain
When you are not using a TENS unit a great option to consider is wearing a wrist brace.  The great thing about this brace is that it is not bulky at all.  Its perfect for sleeping at night and is constructed from soft neoprene material.
The best part is that you can use it on either the right or left hand.  Check  it out on Amazon by clicking on the picture.
Helpful tips when using a TENS unit
Before using a TENS unit always make sure to wash the area of your skin where the electrode pads will be placed.  By removing the oils/dirt from your skin the pads will last longer and adhere to your skin better.
Never place the TENS unit electrode pads on:
Spinal cord
Over heart
Eyes
Mouth
Eyes
Carotid artery (sides of neck)
Lastly you definitely want to incorporate some simple stretching exercises to help with your wrist pain.  Below is a video from a licensed massage therapist who breaks down simple but effective stretching techniques for your wrist pain.
Thank you for reading,