Suffering from a tight or pulled hamstring is never fun but knowing where the correct placement of a TENS unit electrode pad is the first step in reducing pain and getting back on your feet.
TENS Unit Placement for Hamstring
Placement of the electrode pads is important.  Make sure you surround the pain in your hamstrings.  Most TENS units being sold have 2 channels (4 pads) so you can place 2 pads on each hamstring if needed.  Place one pad a few inches above the bend in your knee and the other electrode pad about 2-3 inches above that.
As you can see in the picture the pads are placed along the hamstring to ensure proper coverage.
How to use your TENS unit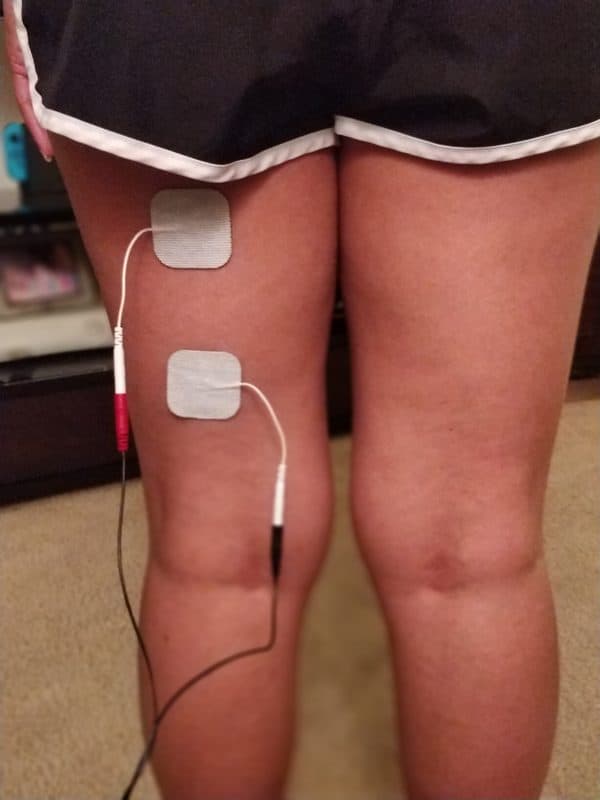 So when you have placed the electrode pads above and below the source of pain on the hamstring area you are ready to turn on your TENS unit.
Since these are large muscle groups you may have to turn the intensity level up before you feel the TENS unit doing its job.
Most basic TENS units only allow you to control the intensity level while more sophisticated ones allow you to switch between several different modes such as massage, cupping and kneading. 
Of course this all depends on ones preference but having multiple modes to choose from is always considered a positive in my book.
The Best TENS Unit For Hamstring Pain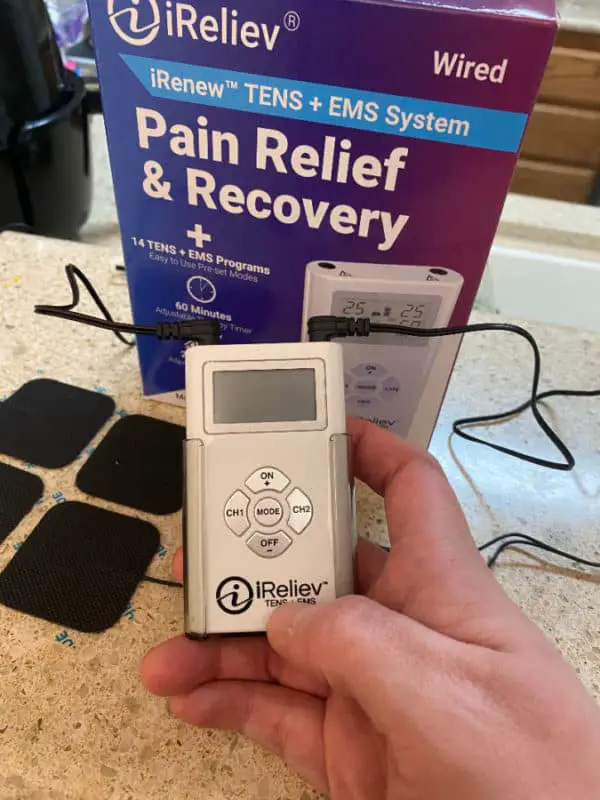 This is the exact TENS unit that I use. It is perfect for alleviating many common types of pain. The iReliev is a great little device and has a lot going for it. It is well under $80 and has several programs to choose from and is small enough to fit in your pocket.
You do not need to spend hundreds of dollars to get a quality TENS unit and iReliev gives you a ton of value for the price being paid. Best part is they are based in Dallas, Texas and have phenomenal customer service FREE shipping and delivery in less than 5 days.
Get yours today on the iReliev website by clicking here. 
Want to know where else a TENS unit can be placed?  Check out my TENS placement guide for how to use one for-
Knee Pain
Neck Pain
Shoulder Pain
Tension Headaches
Golfer's Elbow
Plantar Fasciitis
Rotator Cuff Pain
Restless Leg Syndrome
Ulnar Nerve Pain
TMJ Pain
Helpful tips when using your TENS unit
Make sure to wipe the skin where you plan on placing the TENS electrode pads.  Removing the oil on your skin will prolong the life of the TENS unit pads
Never put the electrode pads on your heart, eyes, mouth or directly on your spinal cord.
Always detach the electrode pads from the lead wires when not in use. Place the pads in a ziploc pad when finished to keep dirt and dust from sticking to them
If you have a battery powered device make sure they are fresh to keep the TENS unit is providing full power when in use
After using you can wrap the lead wires around the device to keep them from getting tangled or fraying the wires.
Thank you for reading,