Massage guns are quickly becoming the home therapy choice for consumers who desperately need a way to deal with daily back pain and for others who have to deal with Sciatica.
Massage guns are a dime a dozen nowadays, so you may have trouble sorting through the chafe and finding the best one. Technology has improved the massage gun industry, introducing the world to a percussive massage, rather than just vibrating.
A percussive massage gun quite literally punches the muscles and is thought to be a much better method for improving blood flow to the area, as well as loosening the muscles. With that being said, here are our top three best massage guns for Sciatica: 
iReliev Percussion Massage Gun (Best Pick)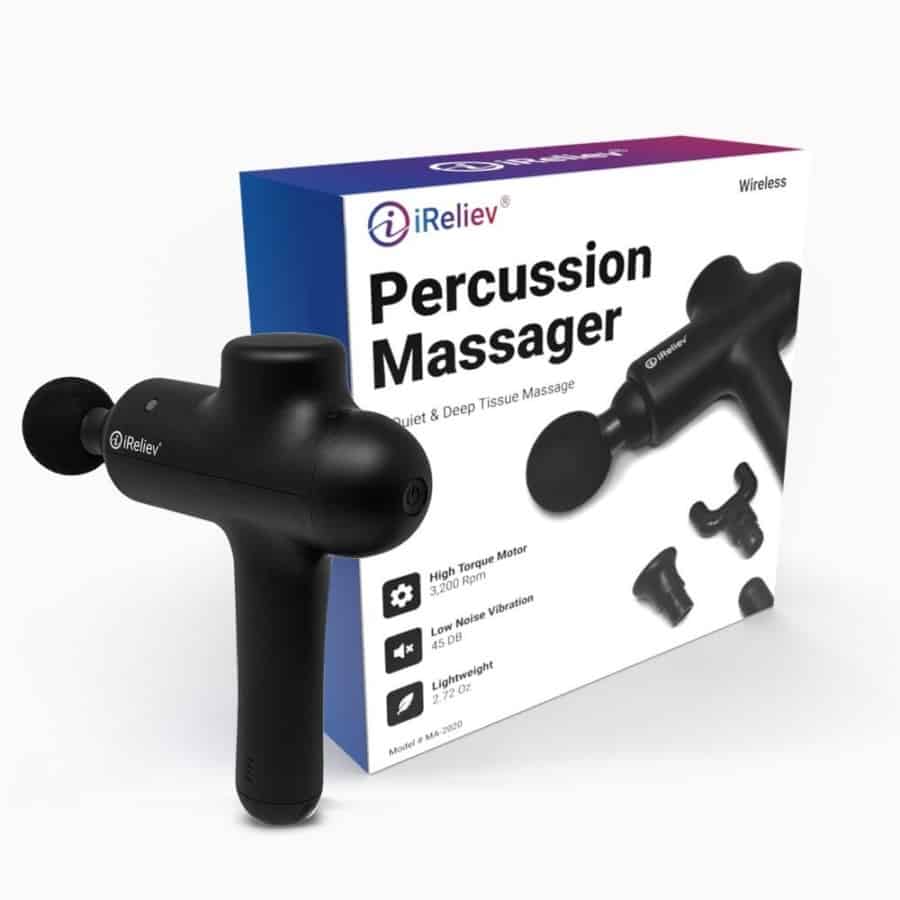 Theragun Prime (Upgrade Option)
Hyperice Hypervolt Go (Budget Pick)
What Massage Guns Do for Sciatica
Massage therapy has had proven and positive results for Sciatica sufferers and massage guns are a part of the solution. Of course, a great massage gun is not an all-encompassing healer and you will still want to see your doctor, use ice, heating pads, and stretch out your muscles at any given opportunity.
Massage helps promote blood flow to the area where you are experiencing the pain and, even though Sciatica is a form of nerve damage/pain/inflammation, extra blood flow helps reduce inflammation and pain.
It also reduces cortisol levels in the body, which will definitely help you relax and relaxation is always conducive to pain relief.
What is Sciatica
Sciatica is an inflammation of the Sciatic nerve, which is an unfortunately long nerve, running from your back and down through both of your legs. Since it's a long nerve, the pain is capable of running throughout the entire nerve path, regardless of where it was initiated.
Sciatica is a common problem in those who work in the construction trades, industrial work, and manufacturing, with little regard as to what trade. The symptoms of Sciatica vary from person to person, so there's no real way to lock down a general understanding of what to look for. 
However, most people experience pain in the buttocks area and down into the backs of each thigh, sometimes extending all the way down to the calf.
Can a Massage Gun Make Sciatica Worse?
There are countless studies on the effectiveness of multiple therapy types on an inflamed sciatic nerve. While nothing is truly definitive, the signs are mostly positive, with most sufferers who have gone through several months of massage therapy showing reduced pain and improved movement. 
Most of these studies revolve around massage therapy, not specifically a massage gun, however, if you have a massage gun, and target the source of the pain consistently and for solid periods of time, it will have an overall positive effect, although it can be painful during. 
There's no evidence at all that a massage gun will make Sciatica worse. However, it's a good idea to follow the recommendations of your primary care physician and utilize hot and cold therapies on top of using your massage gun. 
Are massage guns any good for sciatica? Click here to learn more.
Best Massage Gun for Sciatica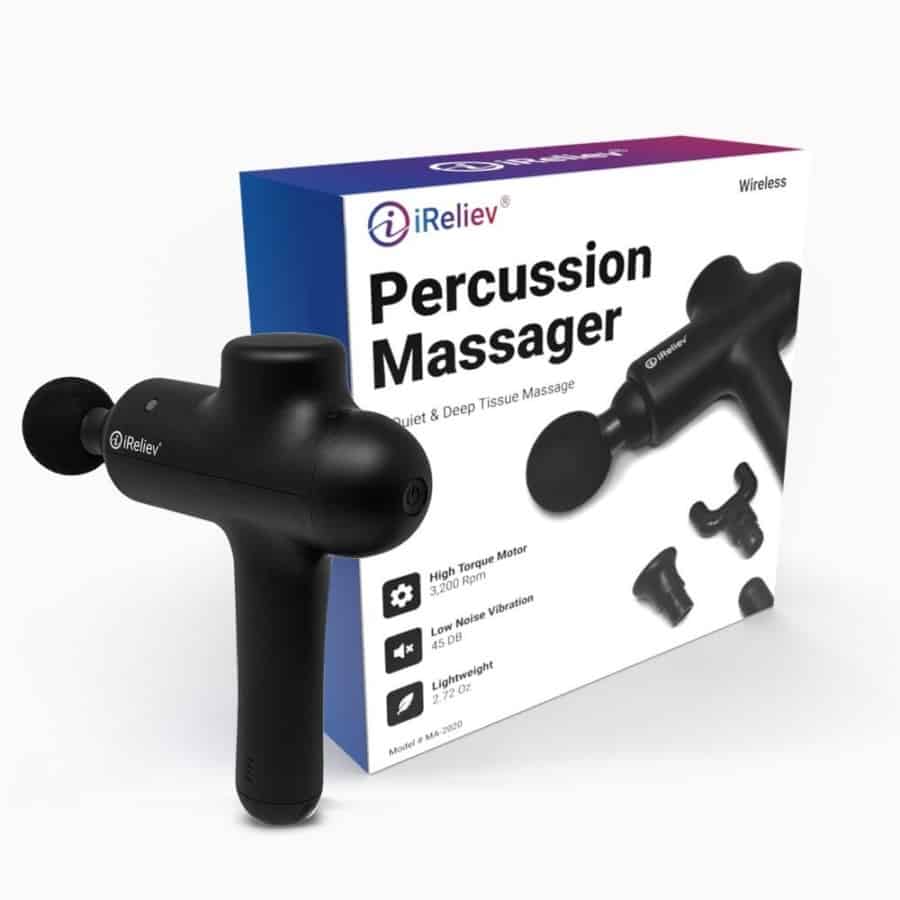 One of the reasons this made our top pick is because of how easy it is to use. iReliev doesn't embrace any sort of complex hardware, knobs, buttons, meters, and LED displays. Simply hold down the power button for a few seconds and it powers on.
Although it's very lightweight for a percussion massage gun, it sounds both smooth and powerful. It comes with four, different massage heads:
Fork Head
Bullet Head
Standard Head
Flat Head
To find out what each massage gun attachment does click here to learn more.
Since this is a percussive instrument, you can well imagine how each of these heads feel as they're punching into the muscle, effectively giving you a deep tissue massage. 
Features:
4 hours of runtime between charges
3 variable speeds
Easy-grip and lightweight
4 massage heads
Quiet 
The iReliev Percussion Massage Gun has the feel and looks of a premium product and it acts like one too. With the ease of use, lightweight, and long run time, it was easy to place this one at the top of our list. 
Pros
Excellent runtime
10mm percussive stroke length
Brushless motor operation
Cons
Not as powerful as comparably priced massage guns
There are more powerful guns on the market and with the price point, you would expect a little more power from the iReliev, however, it does deliver an outstanding massage.  Get yours here today.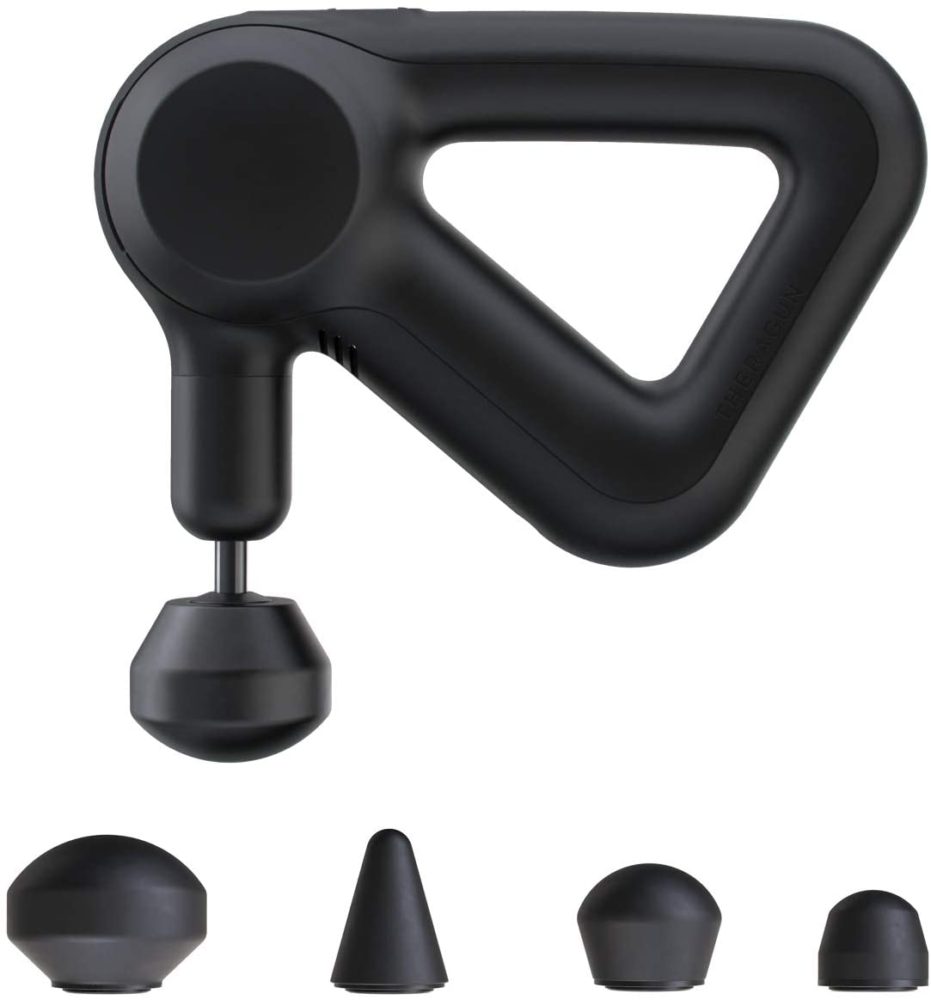 This is our upgrade option if there's not enough power in the iReliev to suit your needs. The Theragun Prime is a unique design, however, as soon as you pick it up, you realize that it's an ergonomic design that will give you the kind of leverage you want when you use it. 
The Theragun Prime raises the stakes with a 16mm percussive stroke length and it also comes with four, separate heads. There's the Dampener, Standard, Thumb Tool, and Cone. The cone is especially intense if you're really looking to dig deep.
Features
Unique ergonomic design
16mm percussive stroke length
Companion app for iOS and Android
High powered
2-hour runtime
The Theragun Prime is considered to be one of the more powerful massage guns on the market, so exercise some caution if you're using it for the first time or if you are unfamiliar with massage guns altogether. 
In terms of power, it's a big step up over the iReliev, however, all of that power deals a heavy blow to the battery, which is only a couple 1-2 hours at the most. 
Pros
Excellent ergonomic design
Very powerful massage gun
The companion app is very useful
Cons
The battery dies in two hours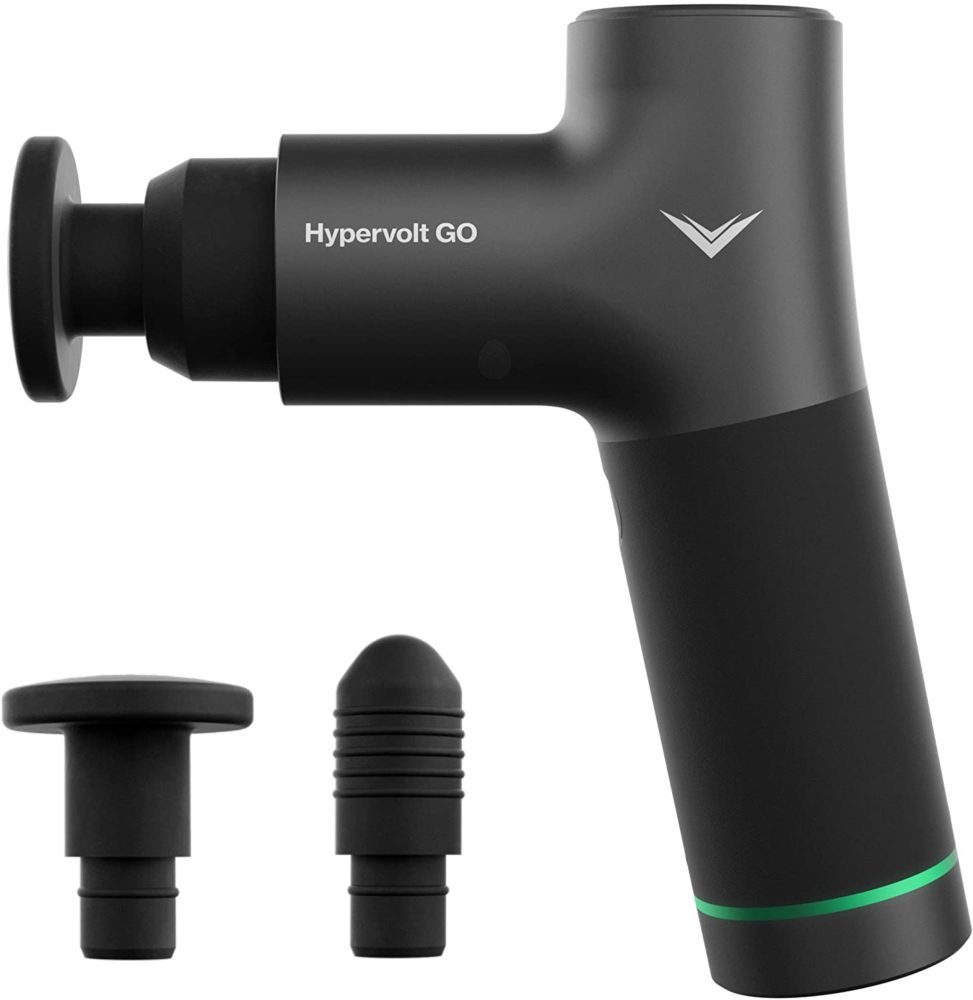 Our budget pick, the Hyperice Hypervolt Go is a mouthful, and while it may lack some of the premium feel and features of its predecessors on this list, it's still an excellent massage gun, especially for the price.
In terms of battery, it gives you an additional thirty minutes of use over the Theragun Prime and is a tad bit lighter than the iReliev version as well. It only comes with two, interchangeable heads, but it runs at a rate of 3,200 percussions per minute at three speeds. 
Features
Only 1.5lbs
Hi-torque, brushless motor
18v rechargeable lithium-ion battery
Multiple plug adapters
Interestingly enough, the Hypervolt Go doesn't feel cheap, and it's incredibly effective, which is a welcome feature for the lowest-priced device on our list. It's also a really quiet massager, which is nice for when you are trying to get into a relaxed state, which is the entire idea, to begin with. 
Pros
Very quiet
High-speed impact rate
2.5 hours of use per charge
Cons
Only two interchangeable heads
To learn more about the pros and cons of massage guns click here.
Final Thoughts
If you're dealing with Sciatica, you have three great options on this list to help you alleviate the pain and begin the healing process. If you include additional therapies, these massage guns will help you take it to the next level in terms of improved movement and reduced pain.