Unlike many other reviewers you will find, I actually own this device after it was recommended by my chiropractor. This is my honest review of the iReliev ET-7070 complete with my pictures and what the pros and cons are of this device.
I purchased the device directly from iReliev and received the product within 3 days. Click the button below and get 10% off your initial order: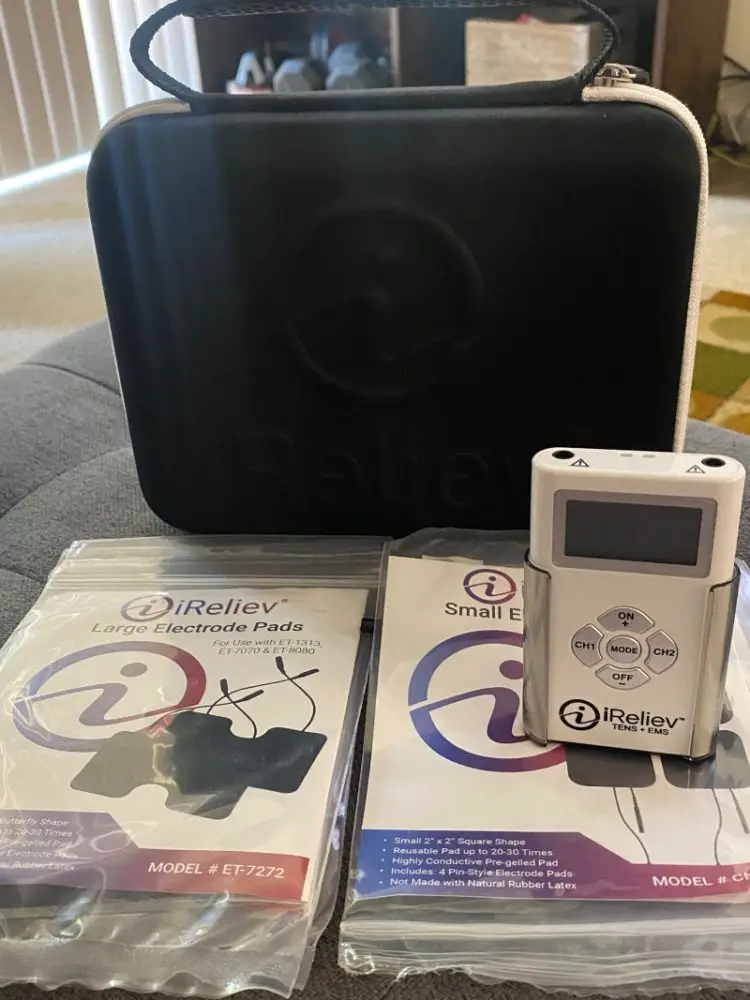 What's in the Box
TENS + EMS Device
(3) AAA Batteries
(2) Lead Wires
Belt Clip Holster
Tote Bag
(4) 2″ x 2″ Small Electrode Pads
(2) 3.5″ x 5″ Large Electrode Pads
The iReliev TENS + EMS Pain Relief & Recovery System is a unique compromise between the Premium Wearable System and the Pain Relief unit. While it doesn't feature a rechargeable battery or wireless connectivity, it does offer a great selection of both TENS and EMS therapies.
With a total of 14 programs from which to choose, users will never want for a potentially pain-relieving or muscle-soothing therapy option. This system utilizes all of the programs offered in the Pain Relief unit. It expands on them with six EMS functions that range from exercise warm-up therapy to active muscle recovery therapy. 
Another fantastic benefit of this model is how easy it is to use. You only need to attach the adhesive-covered electrode pads, snap the lead cables into them, plug those cables into the control unit, and choose your preferred program and settings.
In terms of settings, you can adjust:
Your session time (five minutes to hour-long periods)
The level of intensity you'd like to experience
Which channel you're accessing
Your preferred program
You can also switch back and forth between TENS therapies and EMS options, allowing for greater user clarity. You'll never wonder if the fifth program is a pain-relieving mode or a muscle-strengthening one with this system. 
Additionally, because this system comes with a belt clip and longer-than-average lead cables, it's an excellent choice for those who'd like to multitask while using their TENS/EMS machine. You could tuck the control unit into your pocket, or strap it to your belt loop. Either way, accidental button-pressing is a thing of the past, thanks to this unit's session-locking feature. 
Need to know how to use a TENS unit for back pain? Click here to learn more.
Those with back pain are bound to appreciate the included large-sized pads. These fit d comfortably over larger body areas, including the lower back, upper back, and shoulder region. Thanks to this model's dual channels, you can use two large pads at once.
If you're serious about experiencing fast back pain relief, but you're not willing to go all-the-way by investing in the wireless Wearable System, this upgrade-worthy model may be just right for you. 
Battery Type: Replaceable
Channels: 2
Wireless: No
Included Pads: 12
Programs: 14
EMS: Yes
Pros and Cons of the iReliev Et-7070
Pros
EMS and TENS all in one
Plenty of settings to choose from to target pain
Large and small electrode pads allowing you to use on various body parts
Cons
Small display that can be challenging to read
uses batteries as opposed to being rechargeable

Not wireless
Here are some common TENS unit placements:
To see a complete TENS unit placement chart click here.
Conclusion
Overall, the Ireliev Et-7070 Tens Unit is an excellent choice for anyone looking for a quality tens unit. It is easy to use and has many features that make it a great option for anyone needing quick pain relief.